Cheapest hybrid cars in the UK 2022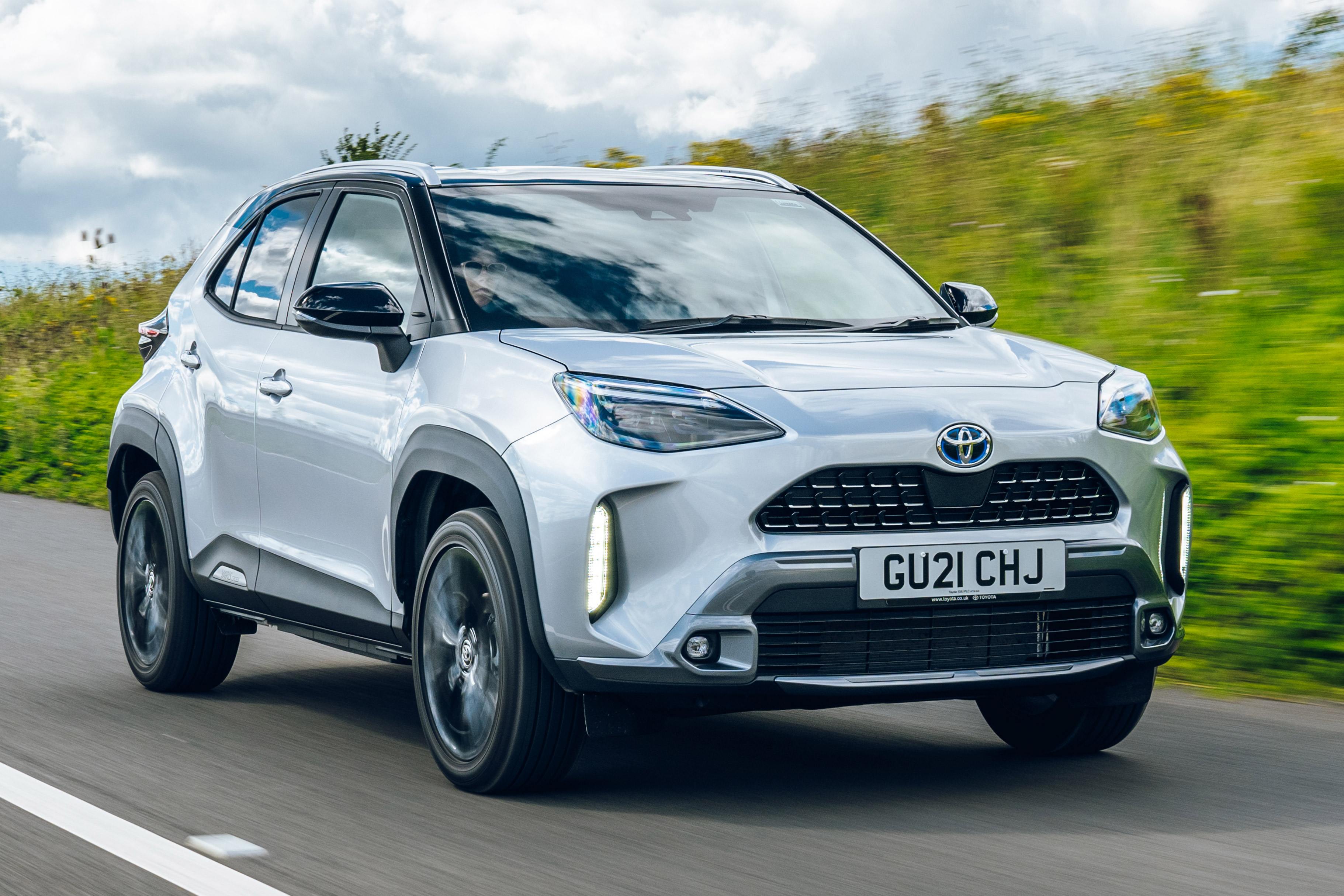 Hybrid cars are a great way to save money. They use clever petrol-electric engines to run in pure EV mode wherever possible, helping each gallon of fuel go that bit further.
The cheapest hybrid cars in the UK are affordable because the technology itself is relatively cheap to make. You don't have to pay for expensive plug-in hybrid batteries, for example, nor do you have the added complication of needing to plug them in.
This is why hybrid cars have become known as 'self-charging' hybrids. They are a good solution for those who don't have access to off-street parking, as well as high-mileage drivers who may not have time to regularly stop and plug in.
The best hybrid cars today are sometimes even more fuel-efficient than a diesel, making them a great solution for those on a budget. Here, we reveal the 10 cheapest hybrid cars in the UK, with every one starting from well under £30,000.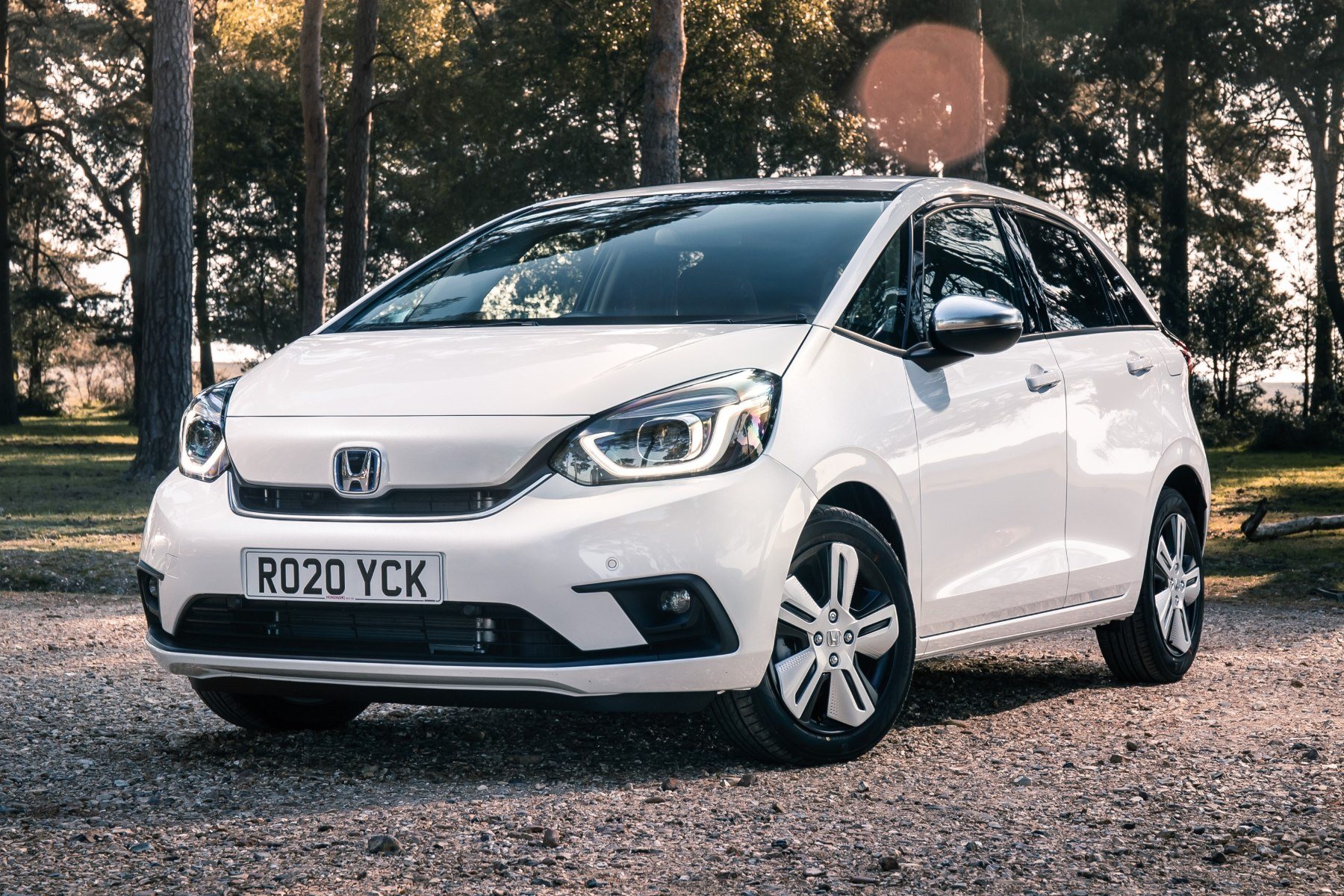 Honda Jazz
The Honda Jazz range is now all-hybrid, using the firm's 'dual-motor' e:HEV system. As the name suggests, this pairs an efficient petrol engine with two electric motors: the engine powers one, which produces electricity to drive the other. This motor in turn drives the wheels – and because they all operate independently, it allows the petrol engine to be regularly shut down. Real-world fuel economy is therefore excellent. So too are Jazz prices, with the entry-grade SE starting from less than £20,000. This makes it the cheapest new hybrid car on sale in the UK, yet it still comes with LED headlights and a full suite of Honda Sensing active safety tech.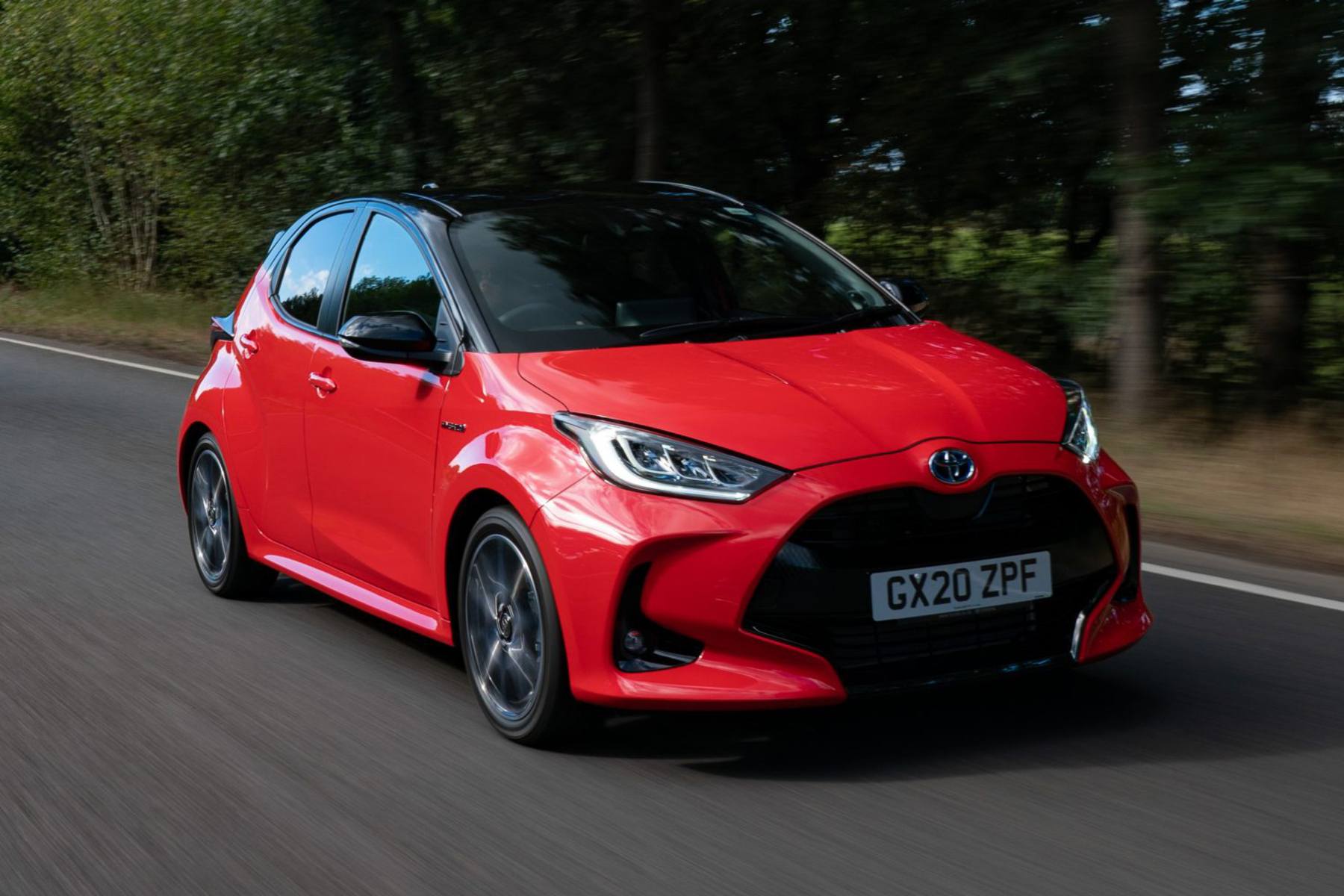 Toyota Yaris
Like the Honda Jazz, the Toyota Yaris five-door supermini comprises an all-hybrid range of cars. They all use the same 1.5-litre three-cylinder petrol engine, which is paired with a CVT automatic gearbox and an electric motor (a downsized version of the well-proven hybrid system in the Toyota Prius). Toyota fits a readout on the dash that shows how much of each journey is driven in EV mode. It often displays more than 50 percent, helping CO2 emissions start from an ultra-low 92g/km. Official fuel economy as high as 69mpg is quoted, and owners should easily see more than 50mpg in the real world. The latest Yaris is a really good-looking car, with a well-equipped and roomy interior. It drives really nicely, too.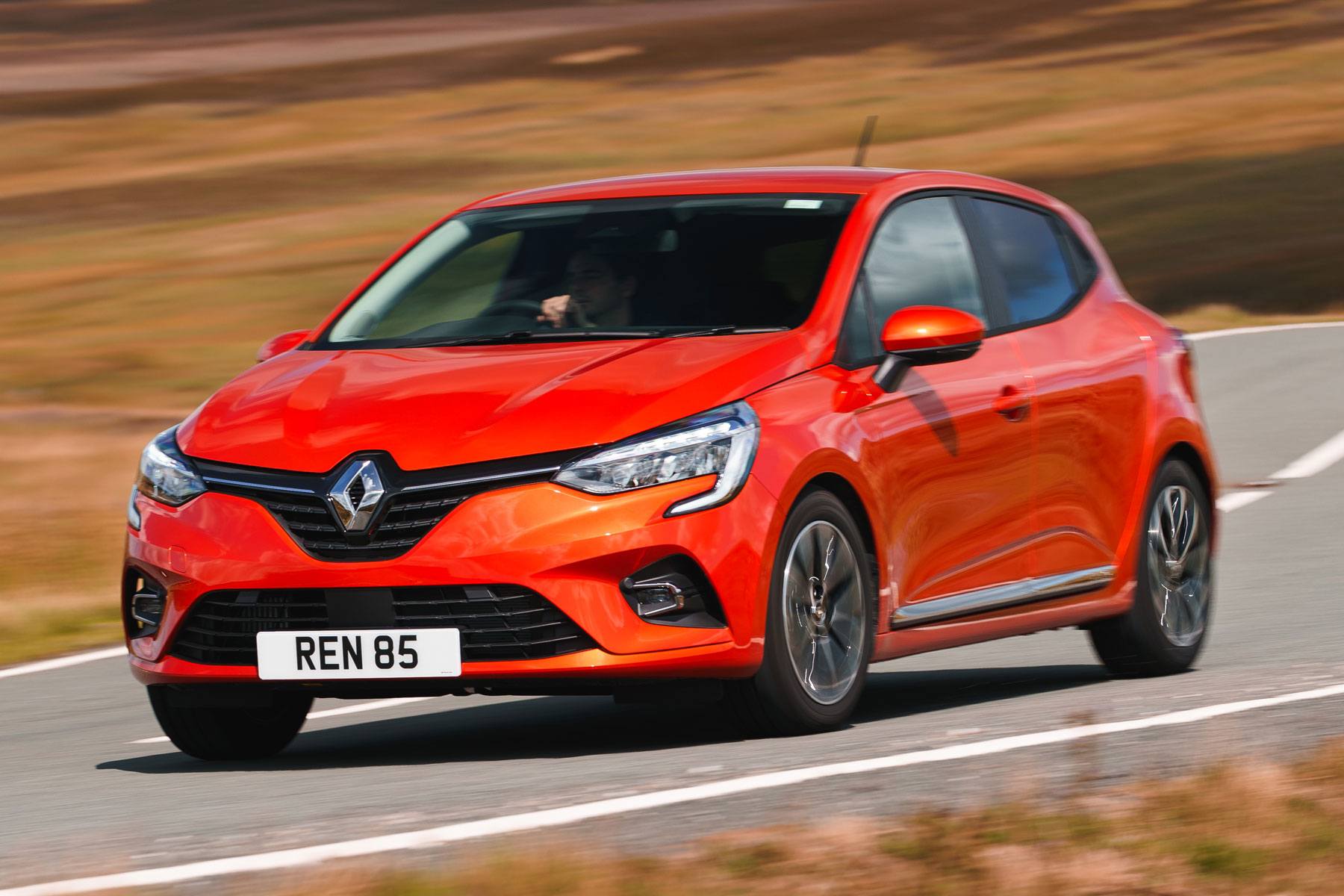 Renault Clio
Renault's hybrid drive technology is called E-Tech. The most affordable version is the E-Tech Hybrid, offered in the Clio with prices starting from just over £22,500. It's clever stuff, developed with input from the firm's Formula 1 division, and comprises a 1.6-litre engine and associated hybrid electric drive. It works well in practice, with a surprisingly dynamic feel that complements the latest Clio's nimble and safe handling. The latest Clio is a good-looking car, with elegant and understated lines, and its interior looks sophisticated. Even entry-level Iconic grade is well-equipped, with diamond-cut alloy wheels, air conditioning and dark-tinted rear glass.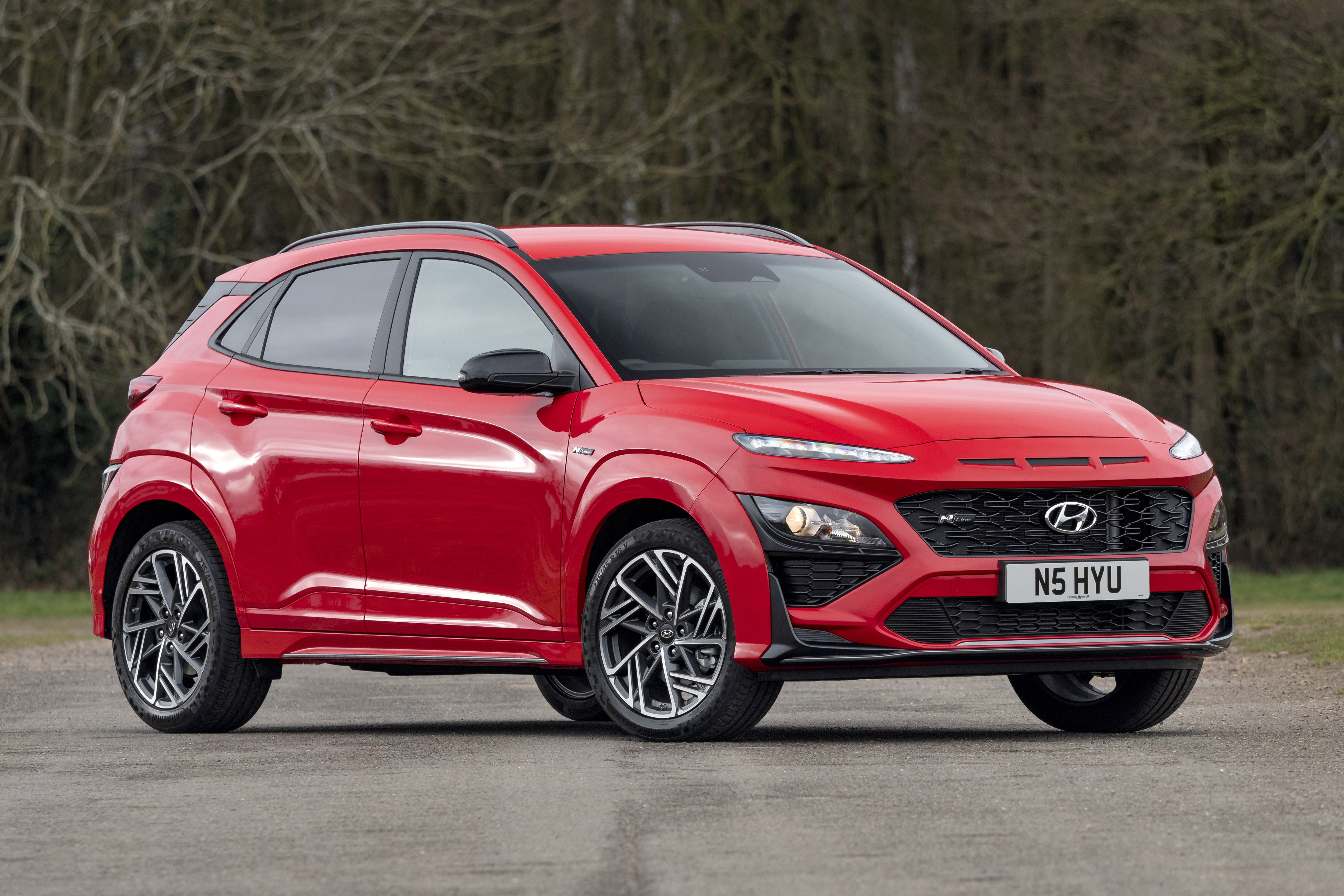 Hyundai Kona
Hyundai offers a diverse range of engines in the distinctive Kona SUV, including a mild hybrid turbocharged petrol and a pure electric variant. Sitting in the middle of the range is the Kona hybrid, priced affordably from just over £24,000. CO2 emissions start from just 112g/km, a tax-efficient figure for a higher-riding SUV, and Hyundai claims fuel economy of around 57mpg. The starter SE Connect version is well equipped, featuring a touchscreen infotainment system that is ready to pair with Android and Apple smartphones. Climate control air-con is also included and, being a Hyundai, the Kona benefits from an impressive five-year, unlimited-mileage warranty.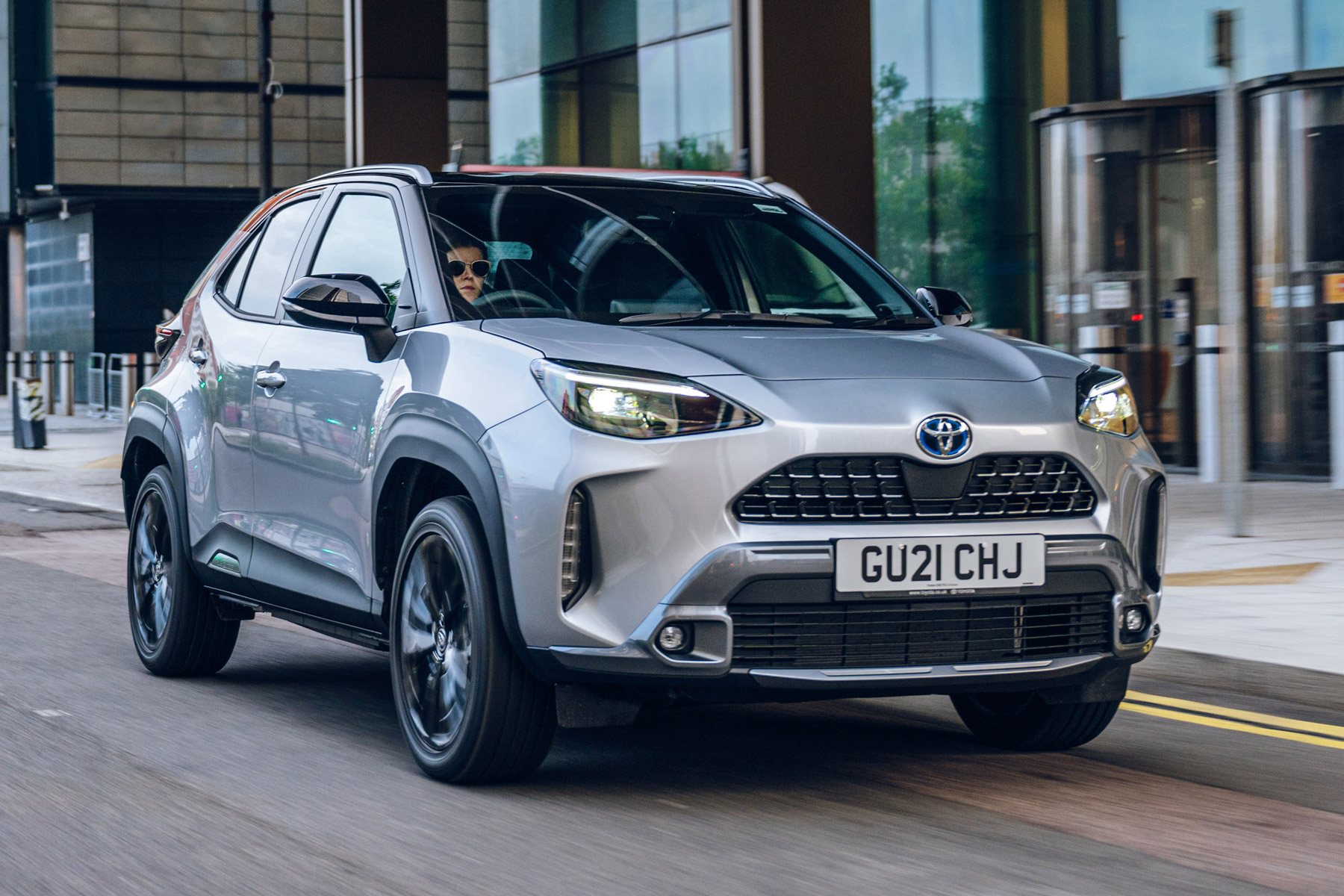 Toyota Yaris Cross
The Toyota Yaris Cross is the taller, crossover SUV version of the Yaris supermini. It has a bespoke body design, which looks bold and assertive; we like the styling cues taken from the larger and more rugged Toyota RAV4. Inside, the dashboard will be familiar from the Yaris hatch, but there's more space for passengers in the front and rear thanks to a higher roofline. The raised-up driving position feels more confident as well. It uses the same hybrid system as the Yaris, and it operates with similar sophistication. The 1.5-litre engine can frequently be shut down, which saves fuel, cuts exhaust emissions and improves refinement.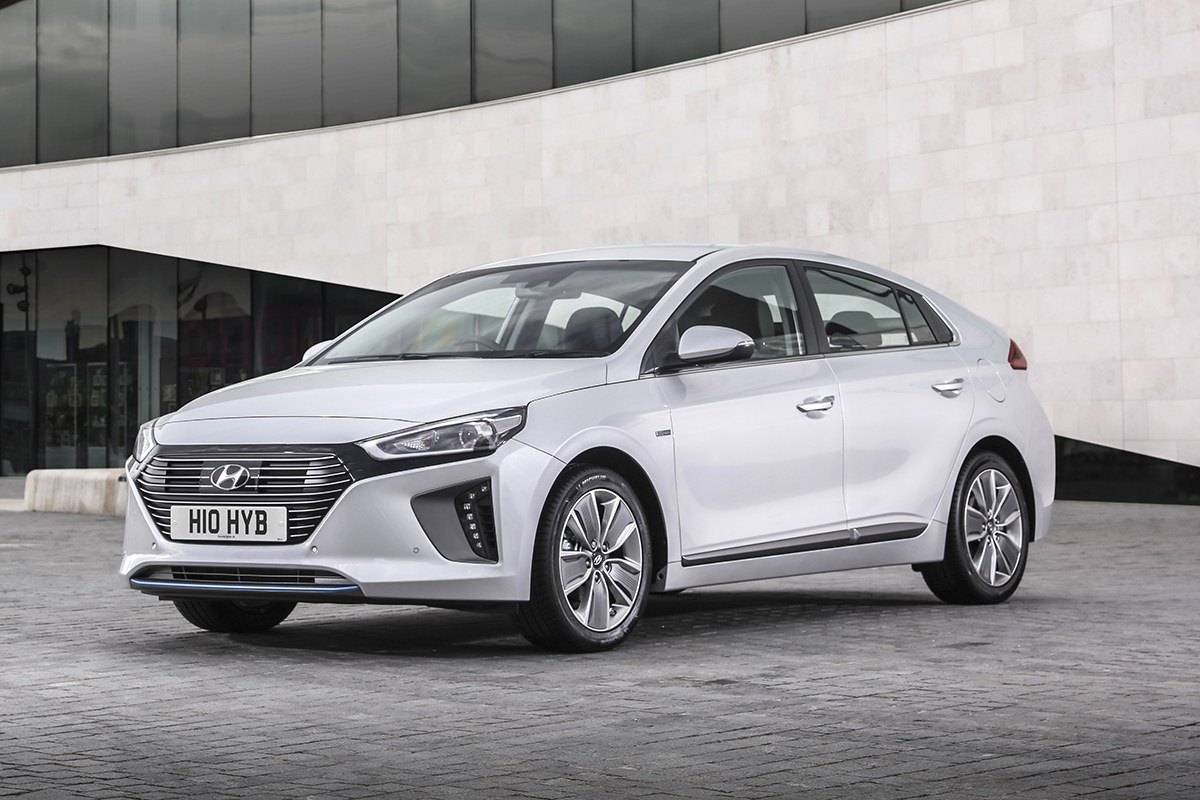 Hyundai Ioniq
The Ioniq is Hyundai's small family five-door, which is offered with a fully electrified range of drivetrains: hybrid, plug-in hybrid and electric. The hybrid is the most affordable, with prices starting from around £24,500. It's an extremely fuel-efficient car, capable of averaging almost 63mpg in the official combined test. CO2 emissions start from just 102g/km, proving the emissions-reducing ability of the 1.6-litre petrol-electric drivetrain. The super-aerodynamic Ioniq Hybrid should deliver good economy in all conditions. A generous spec ensures everyday comfort, with standard equipment including an 8.0-inch touchscreen and even a set of special aero-tuned alloy wheels.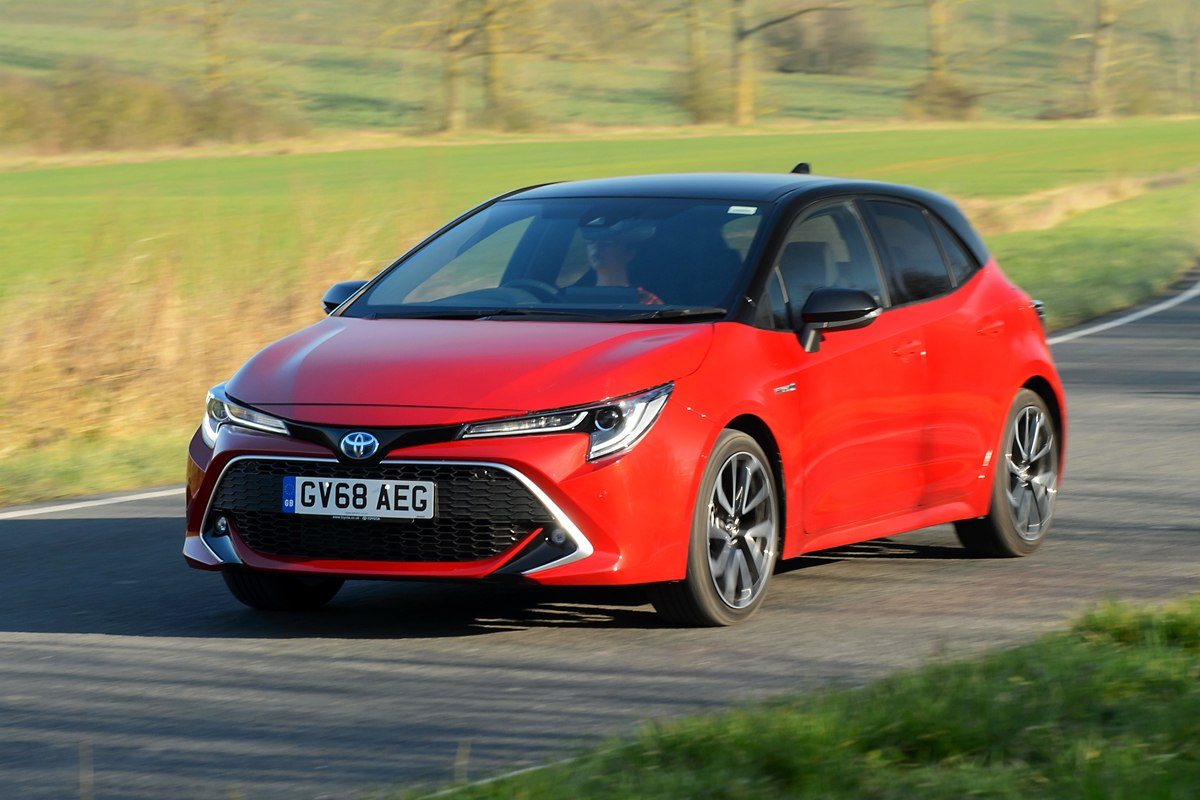 Toyota Corolla
The Toyota Corolla is the only mid-size family hatchback to be sold with a purely electrified range of engines. Choose from either the 122hp 1.8-litre Hybrid or the speedier 2.0-litre Hybrid, which produces a sprightly 184hp. CO2 emissions from just 102g/km are claimed for the 1.8-litre, but even the more powerful 2.0 emits an eco-conscious 111g/km. Toyota has perfected its hybrid tech over the decades, with the Corolla able to switch into EV mode frequently, particularly in town. And despite prices starting from less than £25,000, the five-door car is roomy and family-friendly. It comes with a good amount of standard equipment and is almost certain to prove ultra-reliable.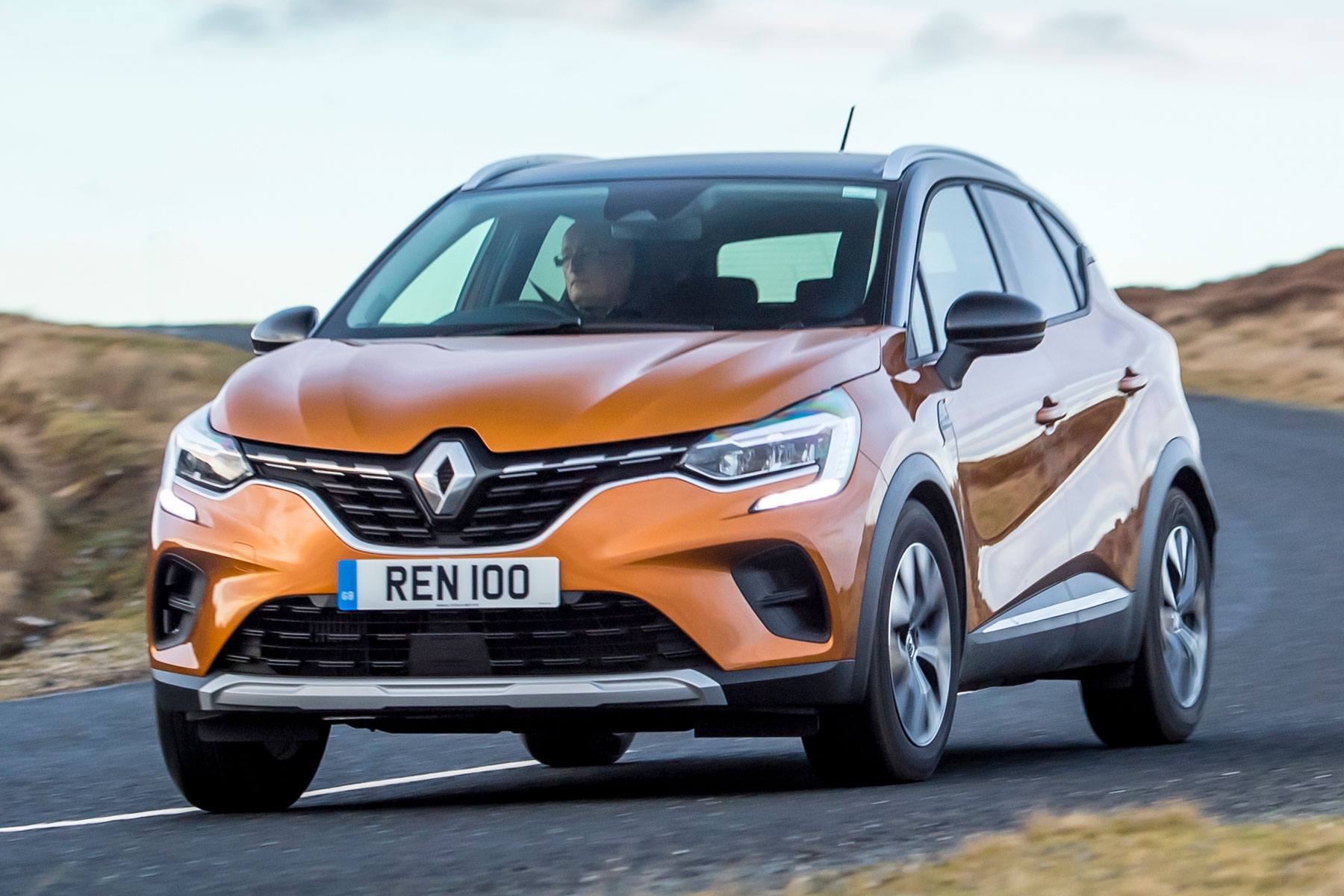 Renault Captur
The Captur is Renault's small SUV sister car to the Clio supermini. It is available with two versions of the E-Tech hybrid powertrain: the entry-level E-Tech Hybrid, and the more expensive E-Tech Plug-in Hybrid. We're concentrating on the former here, which is priced from around £25,700. As with the Clio, the clever F1-inspired tech works well in practice, with the engine cutting in and out seamlessly. The electric motor also provides a handy boost in pulling power when combined with the 1.6-litre engine, so it feels more responsive than other Captur models. Inside, it is usefully roomier than the Clio, and similarly smartly finished. The smooth exterior design of the Captur continues to appeal, too.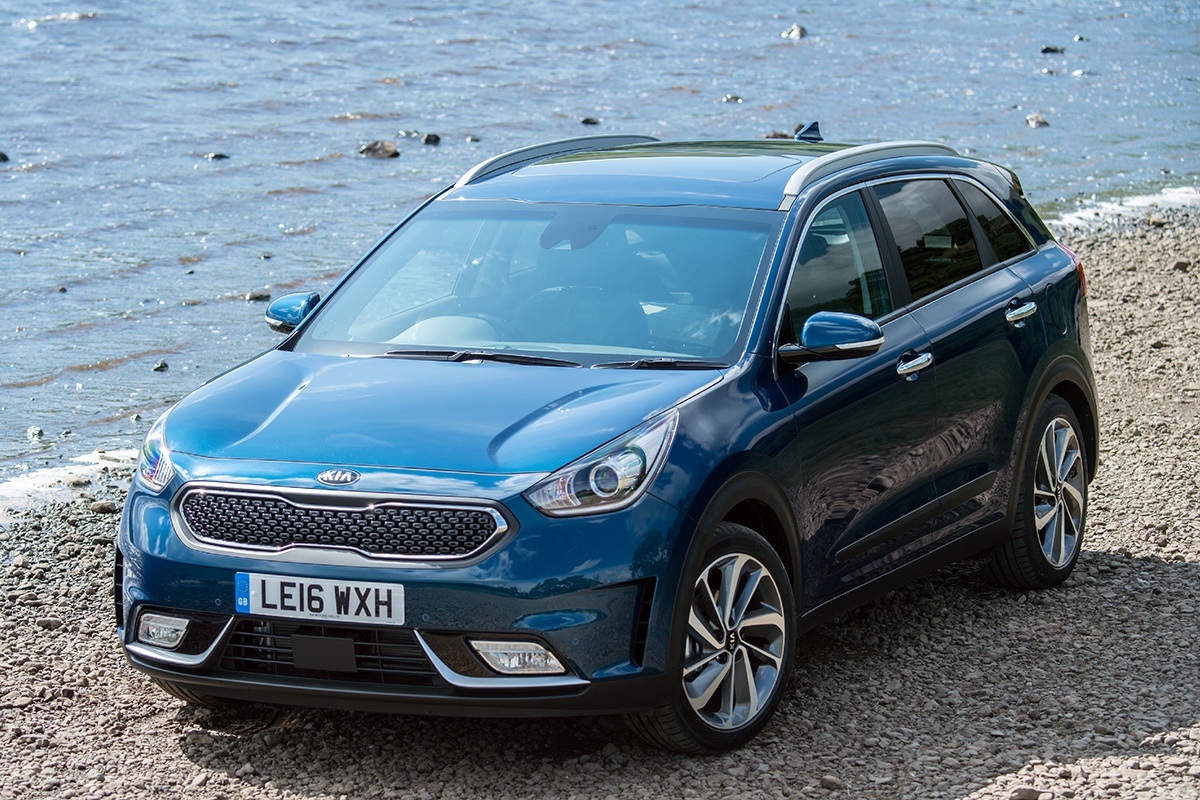 Kia Niro
Kia is preparing to launch an all-new Niro later this year, but the current version remains on sale – and now offers better value than ever. This family-sized crossover car is priced from less than £26,000, despite a very comprehensive standard specification that includes goodies such as radar-controlled adaptive cruise control and touchscreen infotainment with standard Android Auto and Apple CarPlay connectivity. The 1.6-litre petrol-electric hybrid drivetrain averages as much as 58.9mpg, while CO2 emissions start from 110g/km. It's seamless in operation and the six-speed DCT automatic gearbox gives it a more natural feel than some other hybrid systems with 'single-gear' CVT automatics.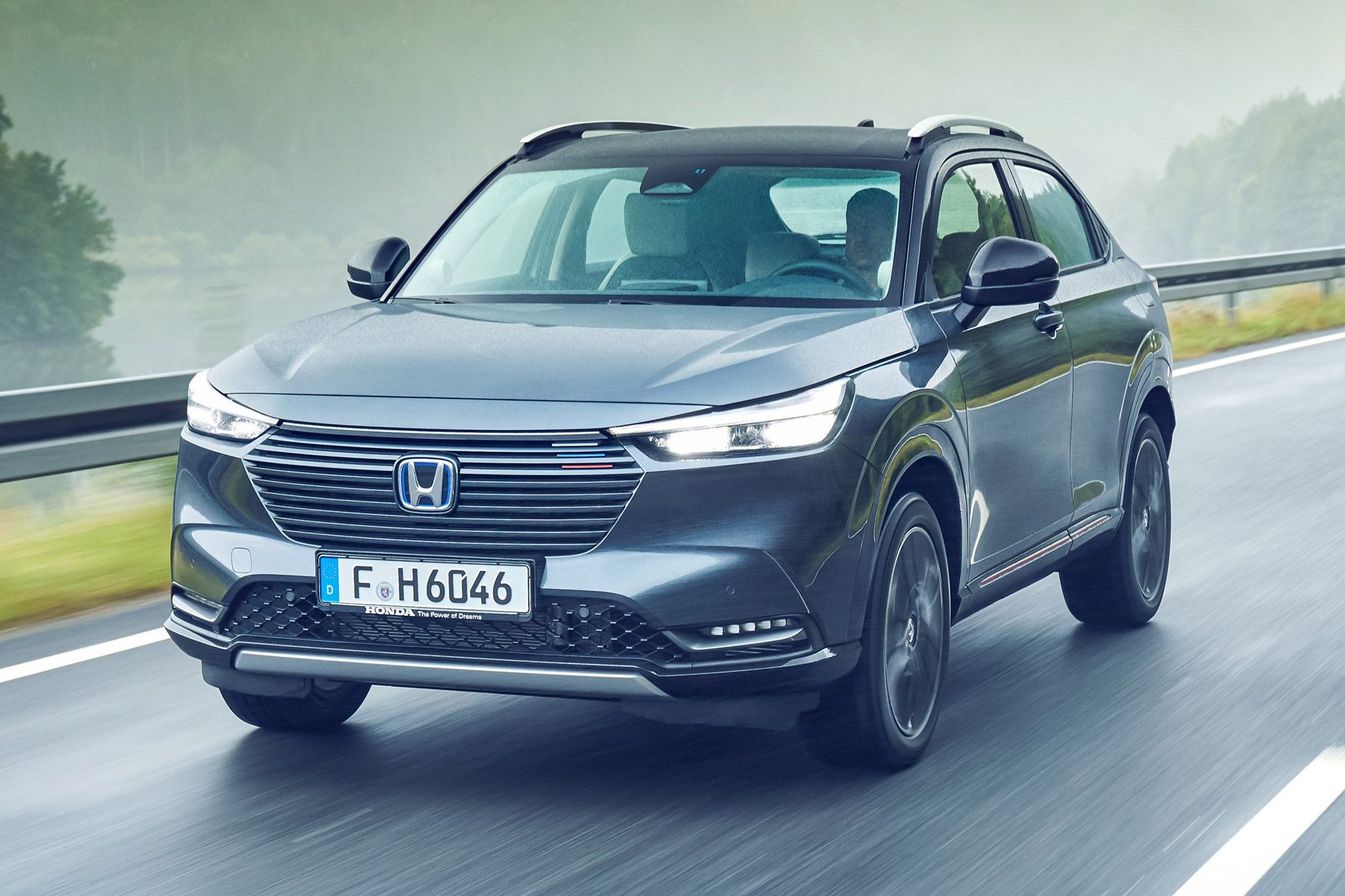 Honda HR-V
The Honda HR-V is a small SUV – and another car that has become a pure hybrid range in itself. It uses the same dual-motor system as the smaller Jazz supermini, serving up smooth electric driving wherever possible. It can even switch into EV mode at motorway speeds. Compared with its predecessor, the latest HR-V has a much more stylish design, with smooth curves and premium detailing. It looks futuristic, but this doesn't come at the expense of interior space, which is better than ever. The HR-V is a great choice for growing families, and it will reassure parents with a very good five-star Euro NCAP crash-test score. 
Which is the most affordable hybrid car?
The latest Honda Jazz is currently the cheapest hybrid car in the UK. Prices start from less than £20,000: a very affordable entry-point for a self-charging hybrid that can deliver impressive real-world electric driving. Its Japanese rival, the Toyota Yaris, is another affordable hybrid, albeit slightly more expensive – but both cars will continue to offer savings long after you've bought them. Excellent fuel economy and low CO2 emissions see to that.
Can you get a cheap plug-in hybrid?
Plug-in hybrid cars are invariably more expensive than regular 'self-charging' hybrids. They have much bigger lithium-ion batteries, which can cost several thousands of pounds more than the cells used in regular hybrids. This means even some of the cheapest plug-in hybrids, such as the Renault Captur E-Tech Hybrid, cost upwards of £32,000 in entry-level guise. Because of the added expense, car makers usually reserve plug-in hybrid technology for slightly larger and pricier cars such as small SUVs – rather than superminis or city cars.
Which is the most reliable hybrid car?
According to the highly regarded Honest John Satisfaction Index, the most reliable car on sale in Britain is the Hyundai Ioniq Hybrid, with a superb rating of 9.93 out of 10. This isn't just limited to hybrid cars, either; the Ioniq Hybrid is the most reliable car in Britain, full stop. Other reliable hybrids include the Lexus NX and Toyota Yaris. This proves how reliable hybrid technology has become. For added peace of mind, car manufacturers often include longer warranties for electric drive components, too.
More hybrid car guides
More expert car guides