Electric car with the longest range 2022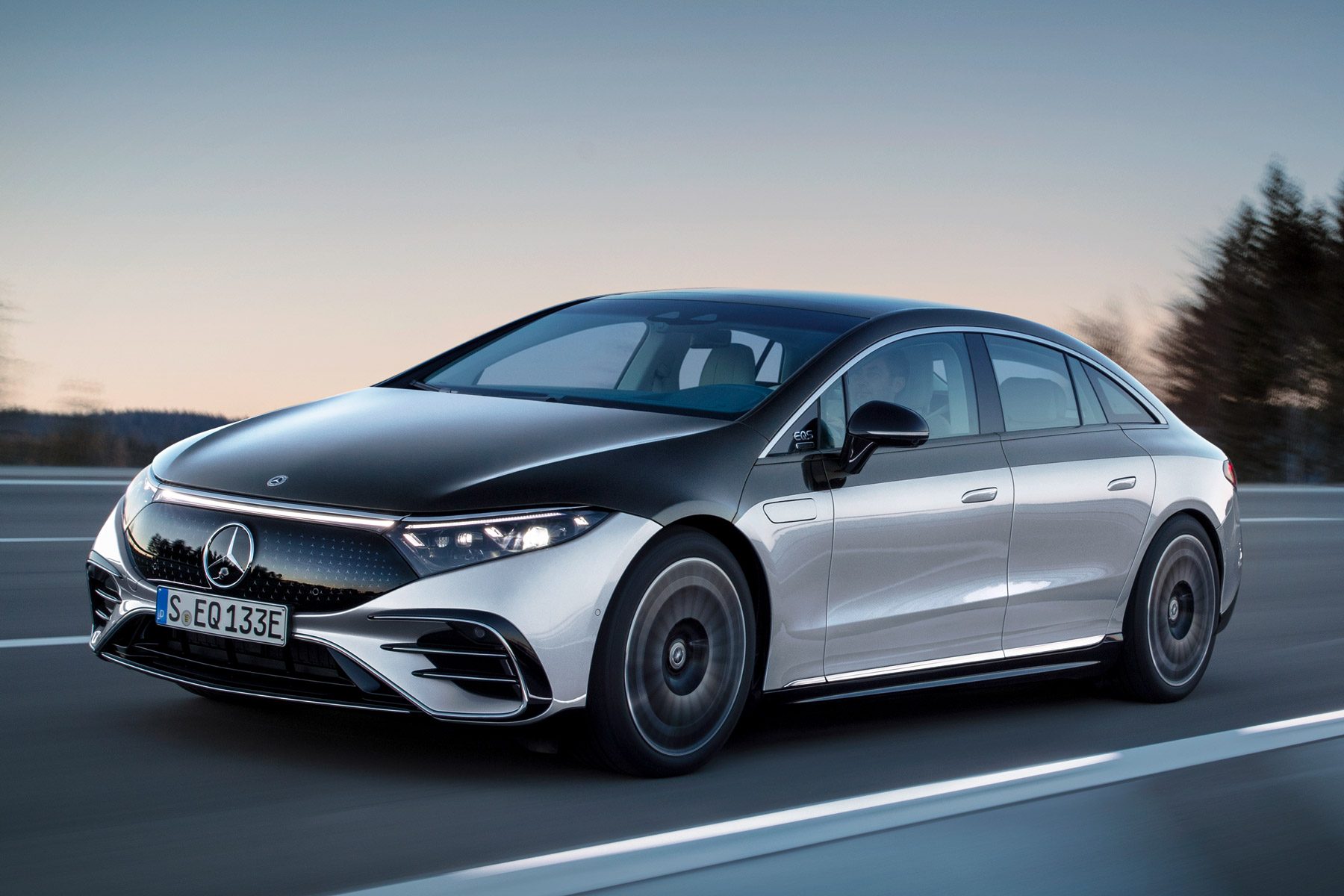 Range anxiety remains a real barrier to choosing an electric car for many. The idea of owning an electric car certainly appeals – but the prospect of having to keep stopping to charge, or worrying about where the next charge is coming from, certainly does not.
This is where choosing an electric car with the longest range appeals. Even if your daily mileage is low, you won't have to worry about trying to top up each day, while longer journeys will be a stress-free breeze.
The fast-paced development of electric cars means the longest range available gets longer all the time. It wasn't so long ago when a 300-mile range was an achievement. Now, you can get several cars that offer more than 400 miles between recharges.
Every vehicle in our guide to the electric cars with the longest range can cover more than 330 miles before having to stop and be plugged in. Worry about range anxiety no more…
Mercedes-Benz EQS
The dramatic-looking Mercedes-Benz EQS is the firm's new all-electric flagship, a sleek EV sister car to the famous S-Class. The EQS 450+ variant has a humongous 107.8kWh battery, which gives it an extraordinary electric driving range of up to 453 miles. This is well clear of even the next-best car, and shows what a march Mercedes-Benz has stolen on the rest. It has ultra-rapid charge capability too, so it can be topped up from 10 percent to 80 percent in a little over 30 minutes. The optional 'Hyperscreen' digital interior is quite the experience, and it naturally drives with utterly soothing, near-silent refinement.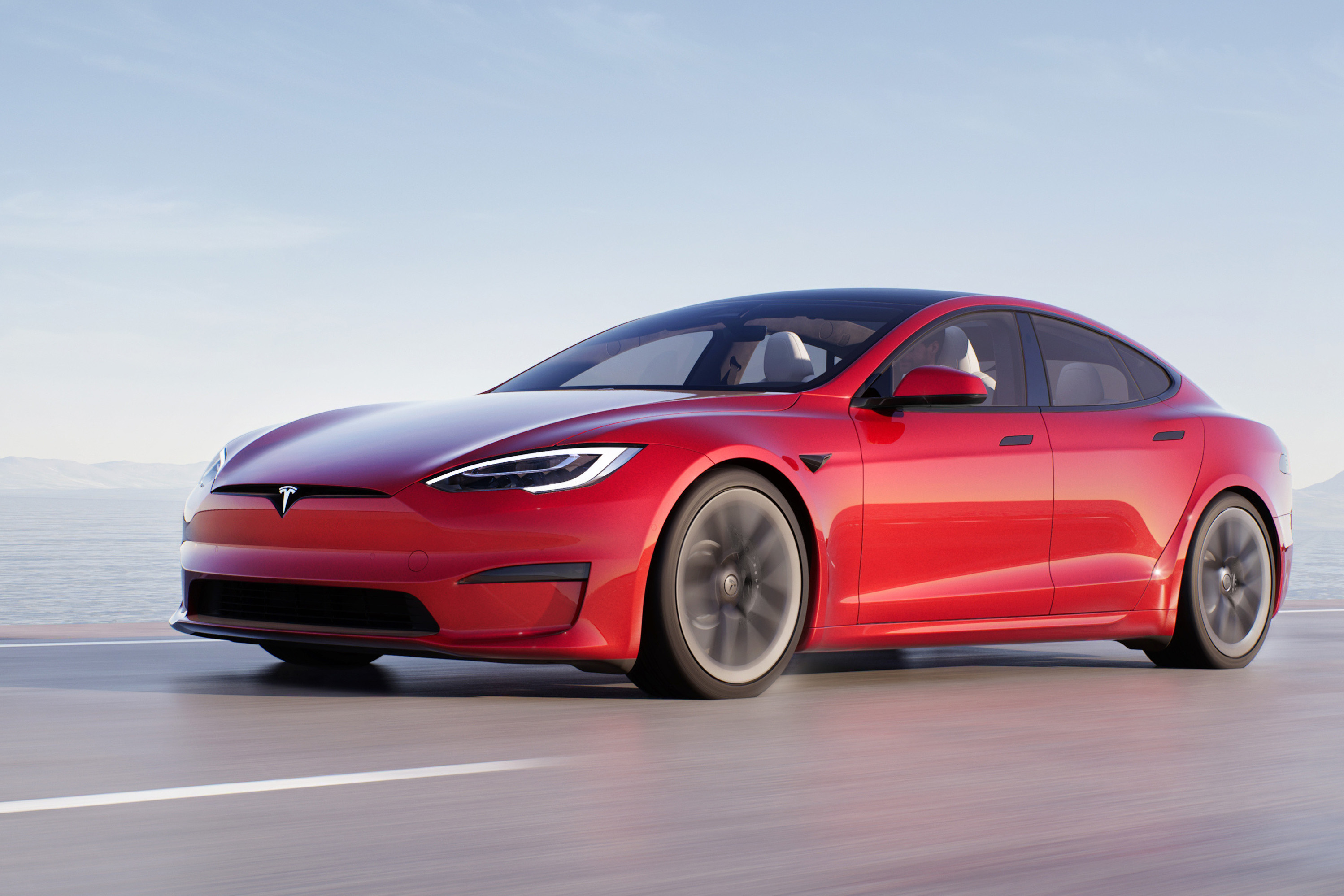 Tesla Model S
The Tesla Model S also has, in Long Range guise, a battery with a three-figure mileage capacity. The 100kWh setup gives a total driving range of 405 miles between charges. That's despite also boasting a 155mph top speed and 0-62mph in just 3.1 seconds. And if, somehow, that isn't fast enough for you, Tesla has another model that may be of interest: the remarkable Model S Plaid, complete with a 1,020hp output for 0-62mph in a barely believable 1.99 seconds. Tesla is even estimating range won't be too badly affected, with hopes of it being able to cover up to 396 miles in between charges.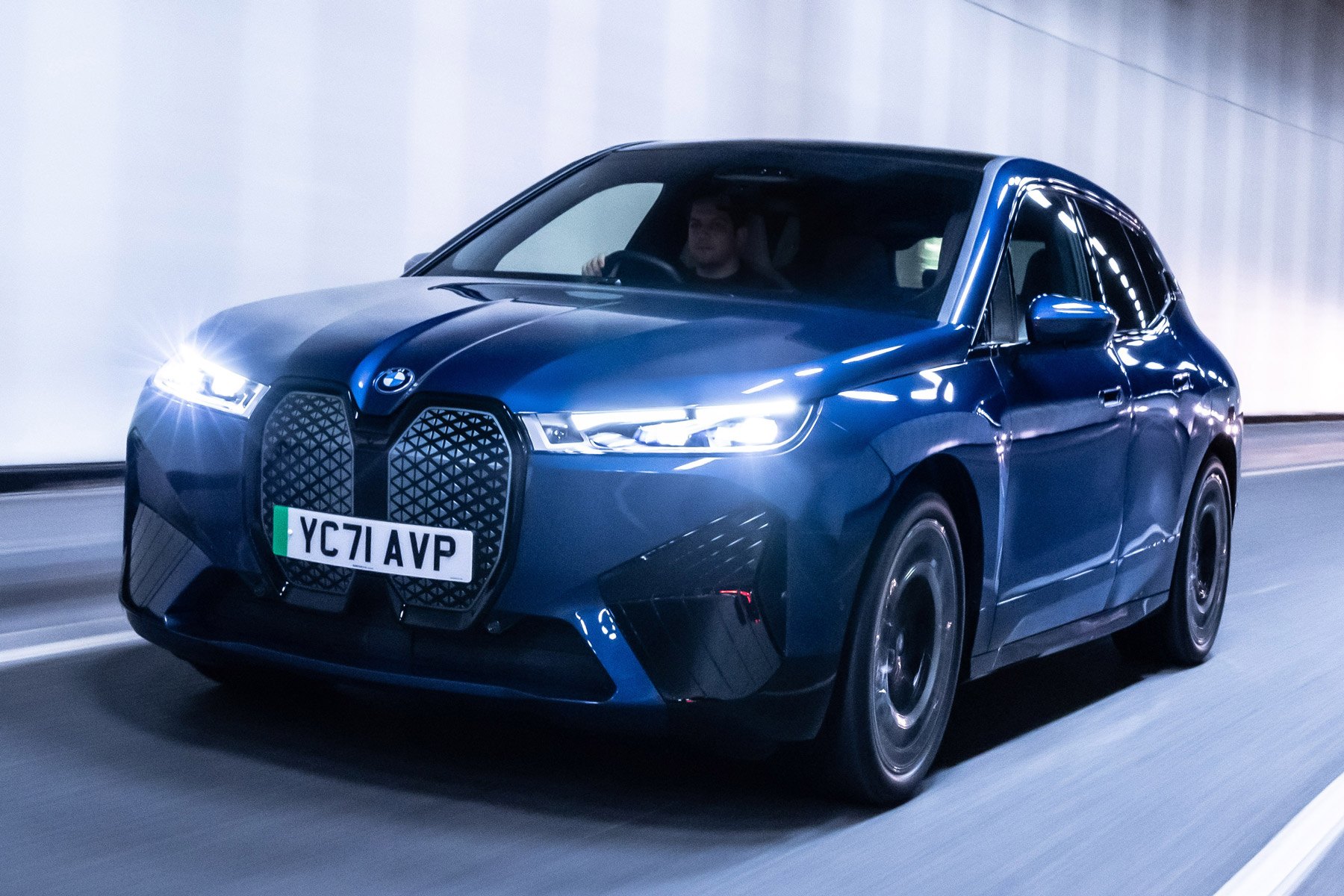 BMW iX
The BMW iX luxury SUV is certainly distinctive. It has a bold look, with huge kidney grilles at the front and a design that pays tribute to the original BMW i3, but on a much larger scale. It also has a quite beautiful interior, with a super-luxurious feel and sophisticated controls. It will take some getting used to, but is very engaging once you're up to speed. The swift xDrive50 variant is fun to drive, too – and courtesy of an 111.5kWh battery, has a total driving range of 380 miles between charges. For such a large and heavy premium SUV, with the added benefit of grippy all-wheel drive, that is very impressive.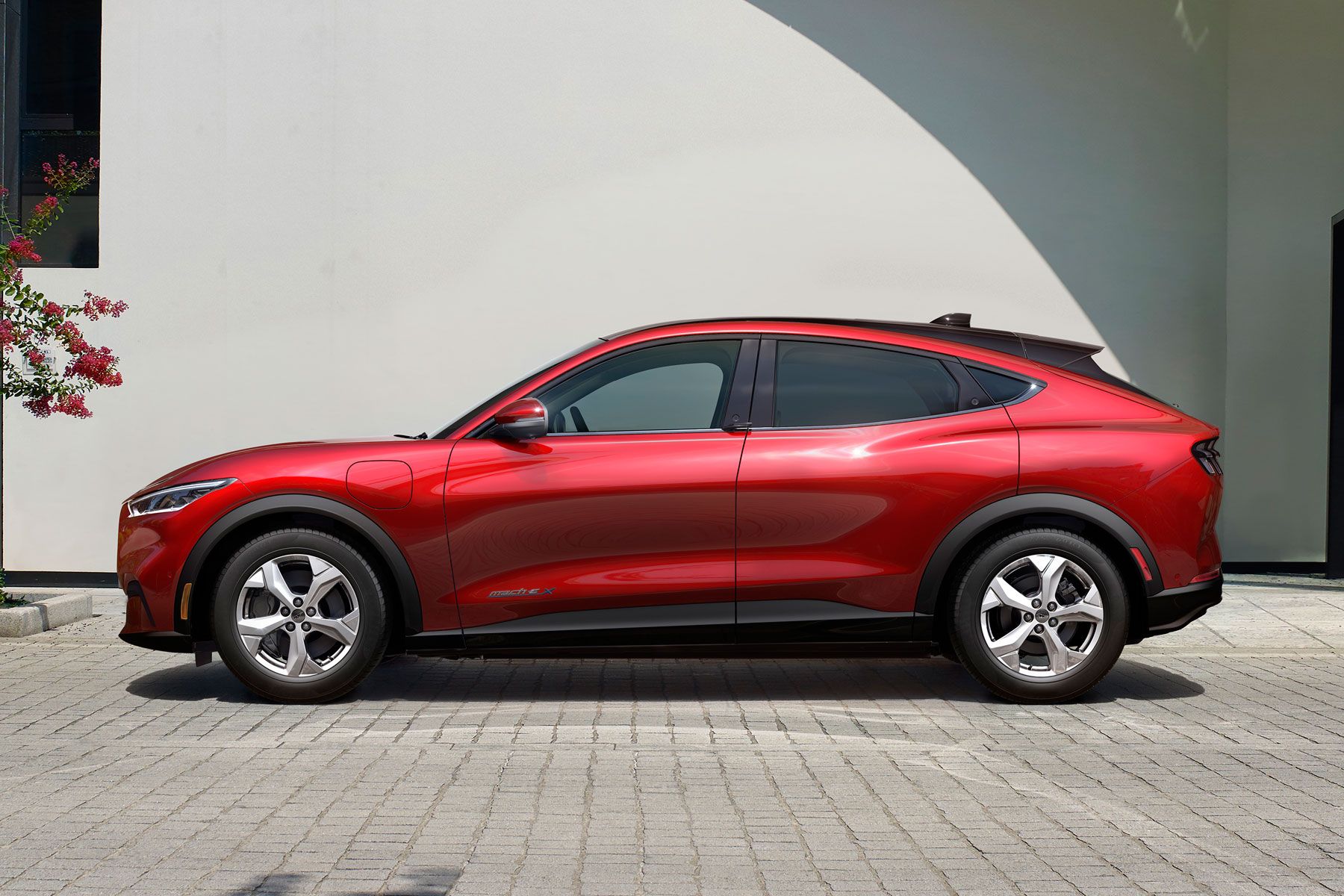 Ford Mustang Mach-e
Ford offers two different batteries for its family-focused electric GT car, the Mustang Mach e. The most affordable is the 70kWh, but the 91kWh Extended Range battery serves up the longest range. While you can choose a Mustang Mach-e with all-wheel drive, the best range comes from the more efficient rear-wheel-drive version, which travels for 379 miles between charges. It will take five people in comfort and they'll be thoroughly entertained by the impressive ultra-large portrait-format touchscreen. The electric Ford looks evocative and is fun to drive, yet it rides comfortably and prices are competitive.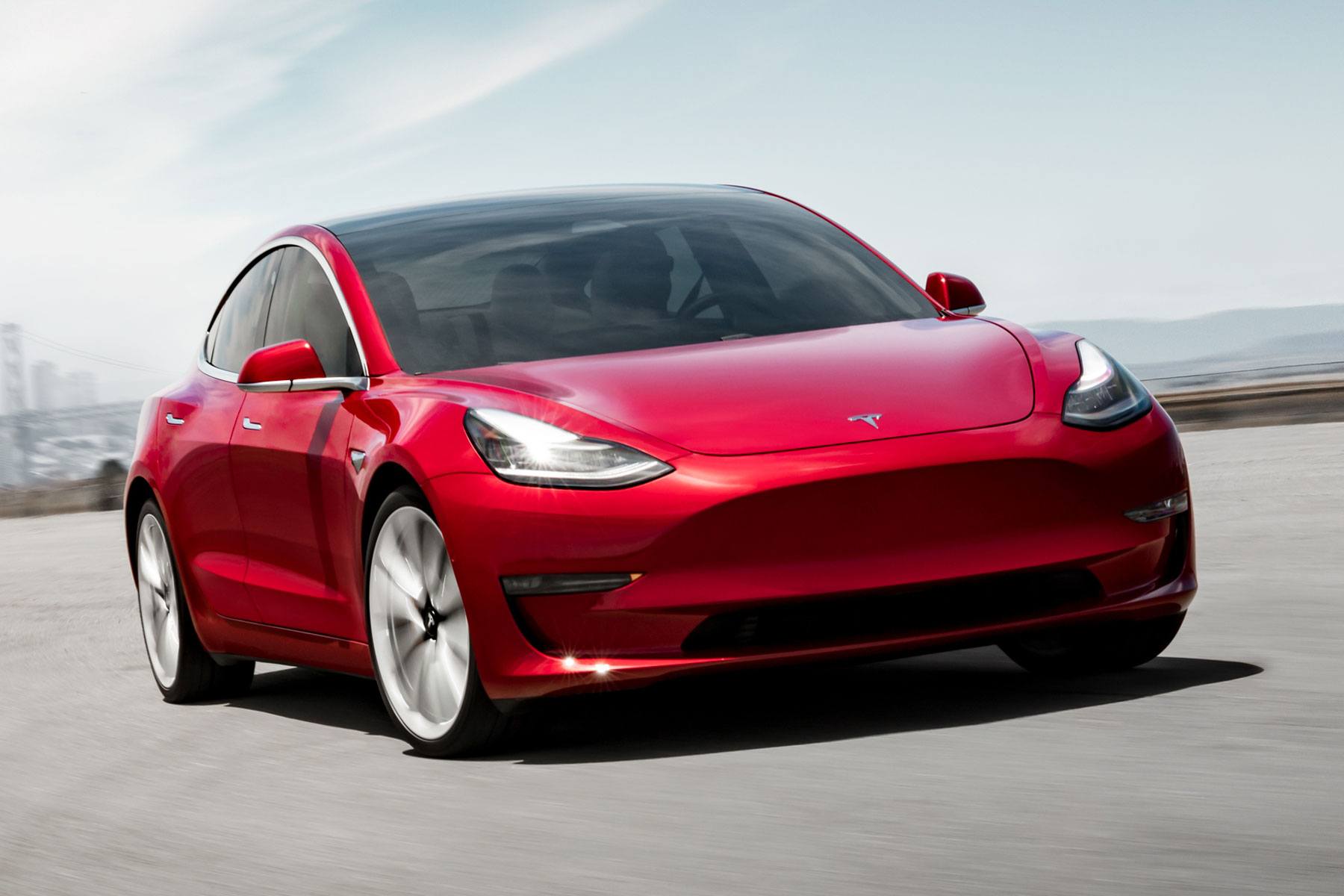 Tesla Model 3
The Tesla Model 3 is a well-liked electric car in the UK. In 2021, it was the second best-selling car of all – and that's including petrol and diesel vehicles, as well as EVs. Its healthy driving range is undoubtedly helping here: choose the mid-spec Long Range model and it will run for 374 miles between charges. And if you need to charge up on the go, using the Tesla Supercharger network is one of the best EV experiences around. You don't need to worry about downloading apps or swiping your credit card, simply plug in and let it charge at a speedy rate. You can just sit in the car and watch YouTube on the giant central screen.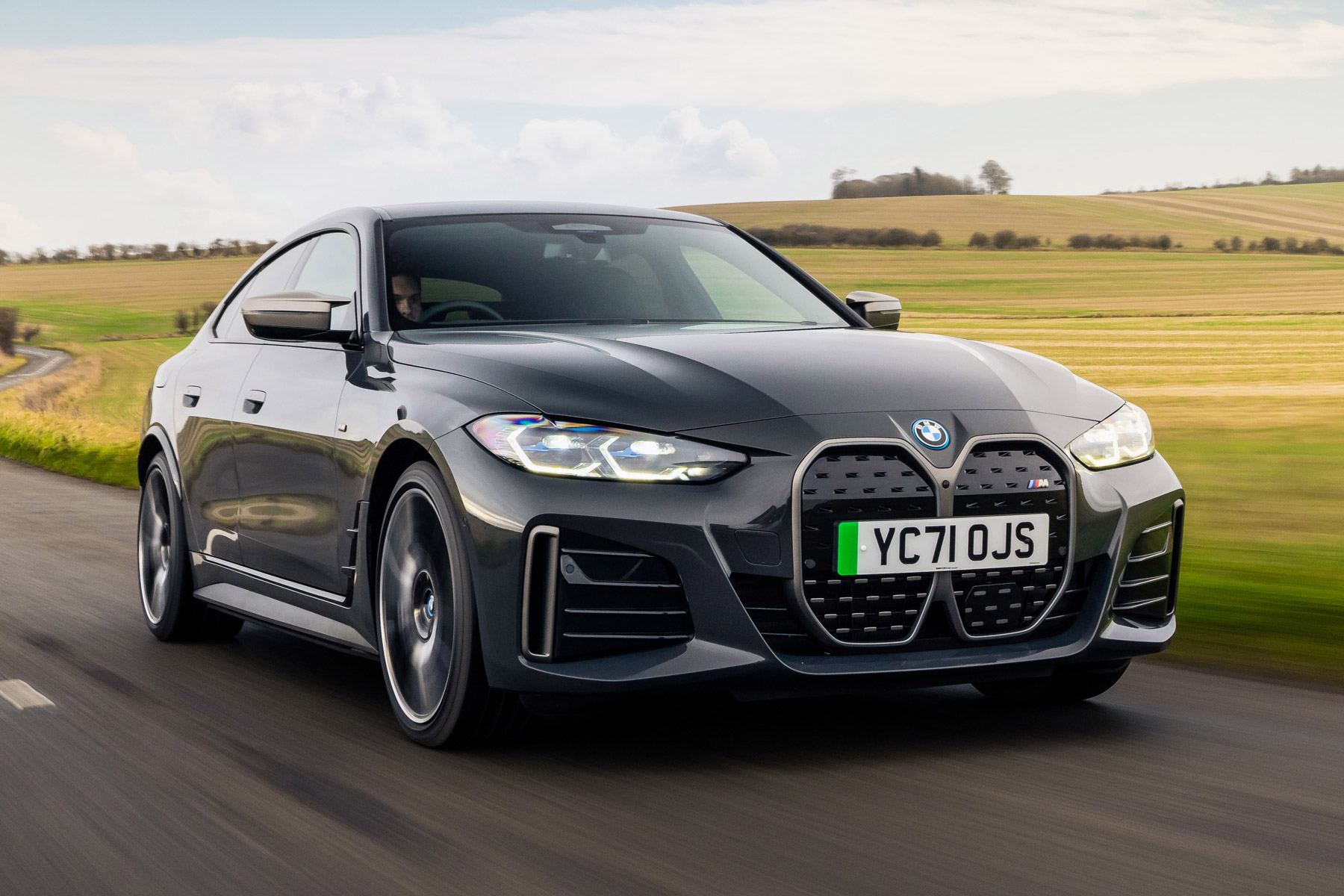 BMW i4
The sleek i4 is BMW's second all-new electric car to arrive in recent months. It is a pure electric sister car to the 4 Series Gran Coupe, sharing the same sleek five-door hatchback bodystyle, albeit with eco blue detailing and a snazzy set of door handles. You can get a range-topping i4 M50, which is a thrill to drive, but for the longest range, it's best to stick with the entry-level i4 eDrive40. Thanks to an 84kWh battery, this will drive for up to 365 miles in between fill-ups. Although it's quite a large battery, standard rapid-charge functionality means it can be boosted from 10 percent to 80 percent in just 30 minutes.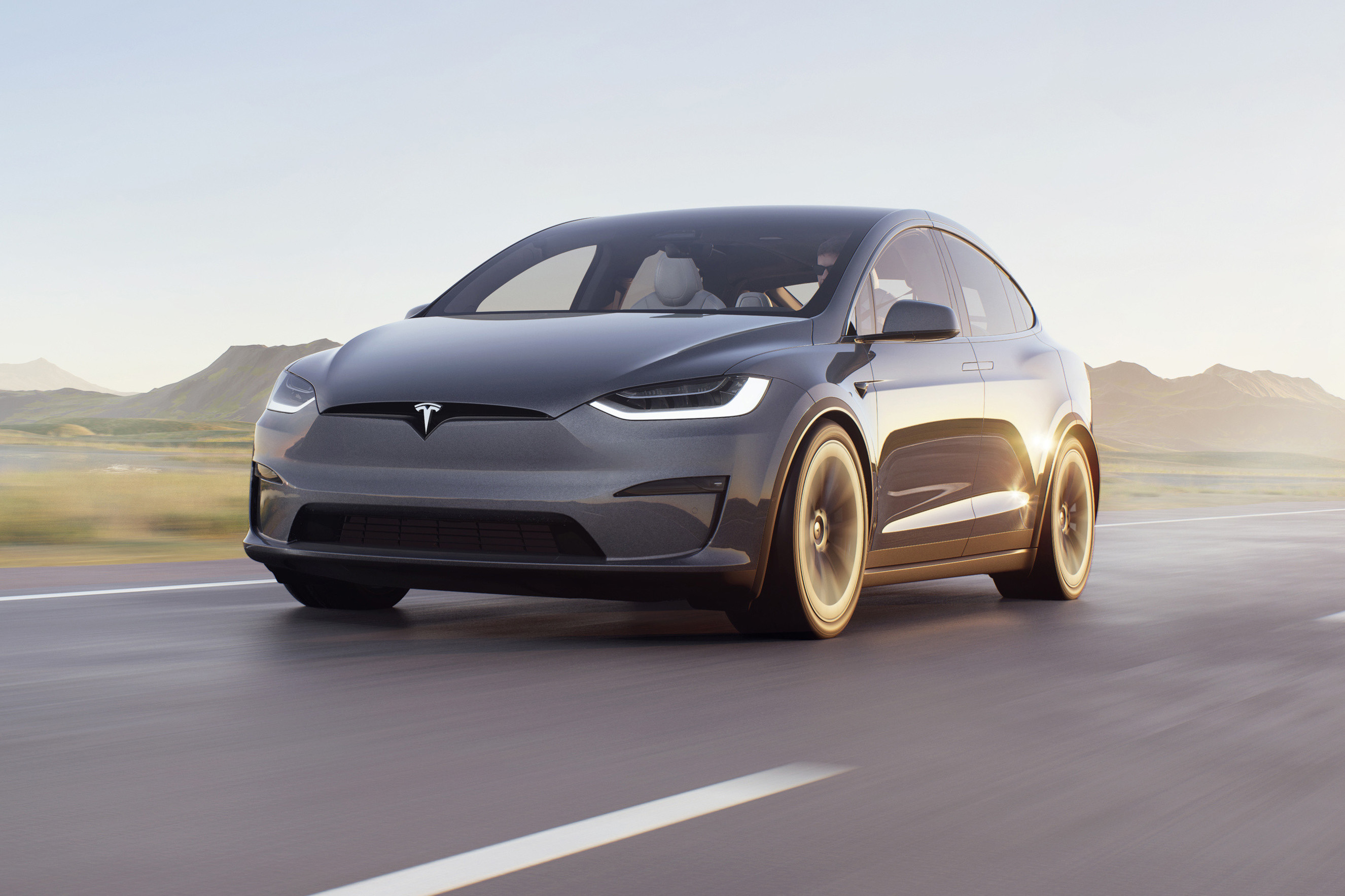 Tesla Model X
There's no missing the huge seven-seat Tesla Model X SUV – not least when its rear 'Falcon Wing' doors are opened. They are pure car park theatre, but with a range of 348 miles, the Model X won't have to stop and open them all that frequently. The range-topping Tesla is currently offered in 1,020hp Plaid guise, which is able to hit 60mph in a bonkers 2.5 seconds, and do a standing quarter-mile in 9.9 seconds. You won't be traveling anywhere near 348 miles between charges if you try to experience this performance, however.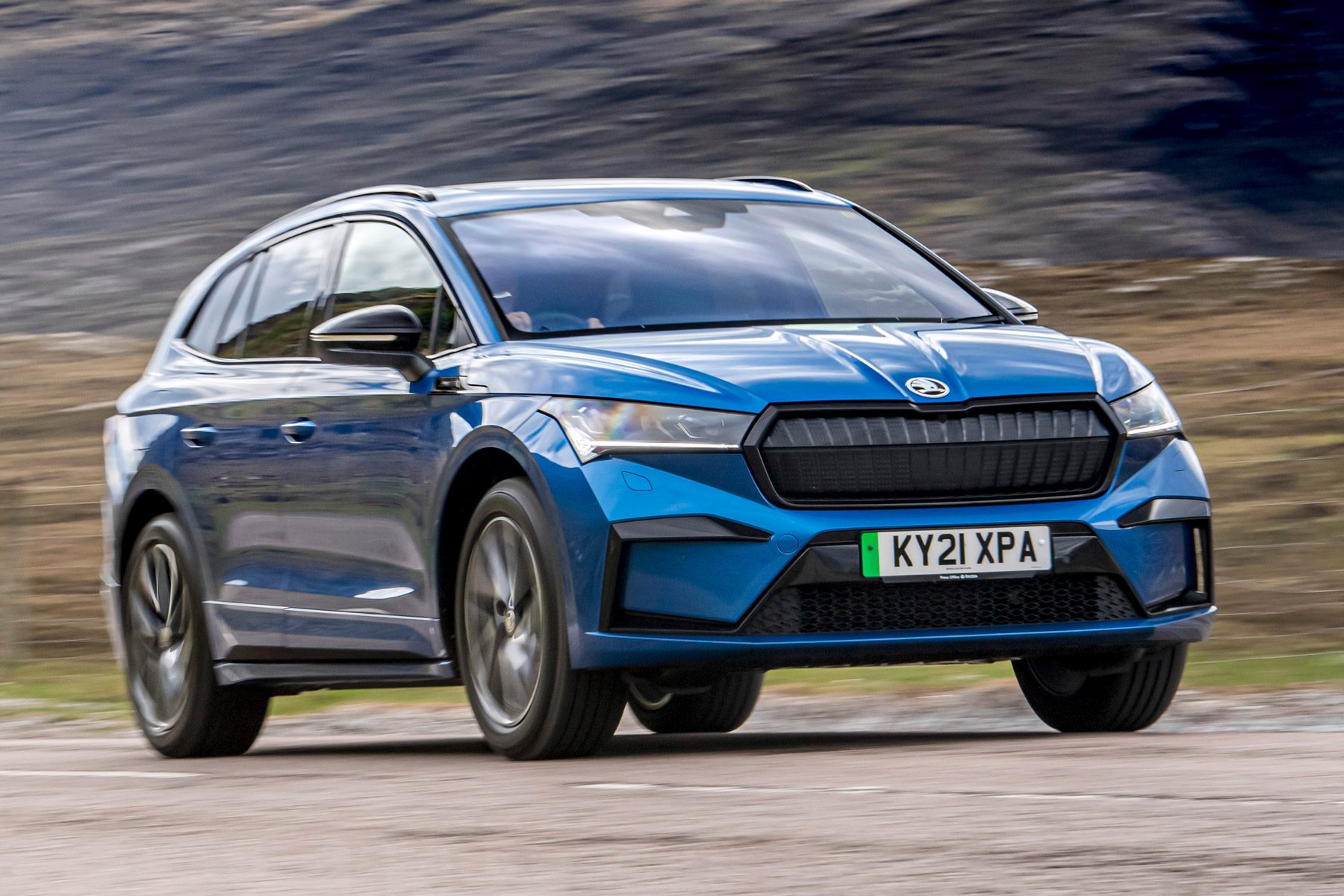 Skoda Enyaq iV
The Skoda Enyaq iV is an affordable and smart family-sized electric SUV, which is offered in both rear- and all-wheel-drive guises. It also comes with two battery options: a cheaper Enyaq iV 60 and the longer range Enyaq iV 80. A wind-cheating exterior design and carefully-honed electric drivetrain see the latter model capable of 336 miles between charges – good going for a vehicle as roomy and practical as this. The Enyaq is also packed with plenty of thoughtful Skoda 'Simply Clever' design touches to make life easier.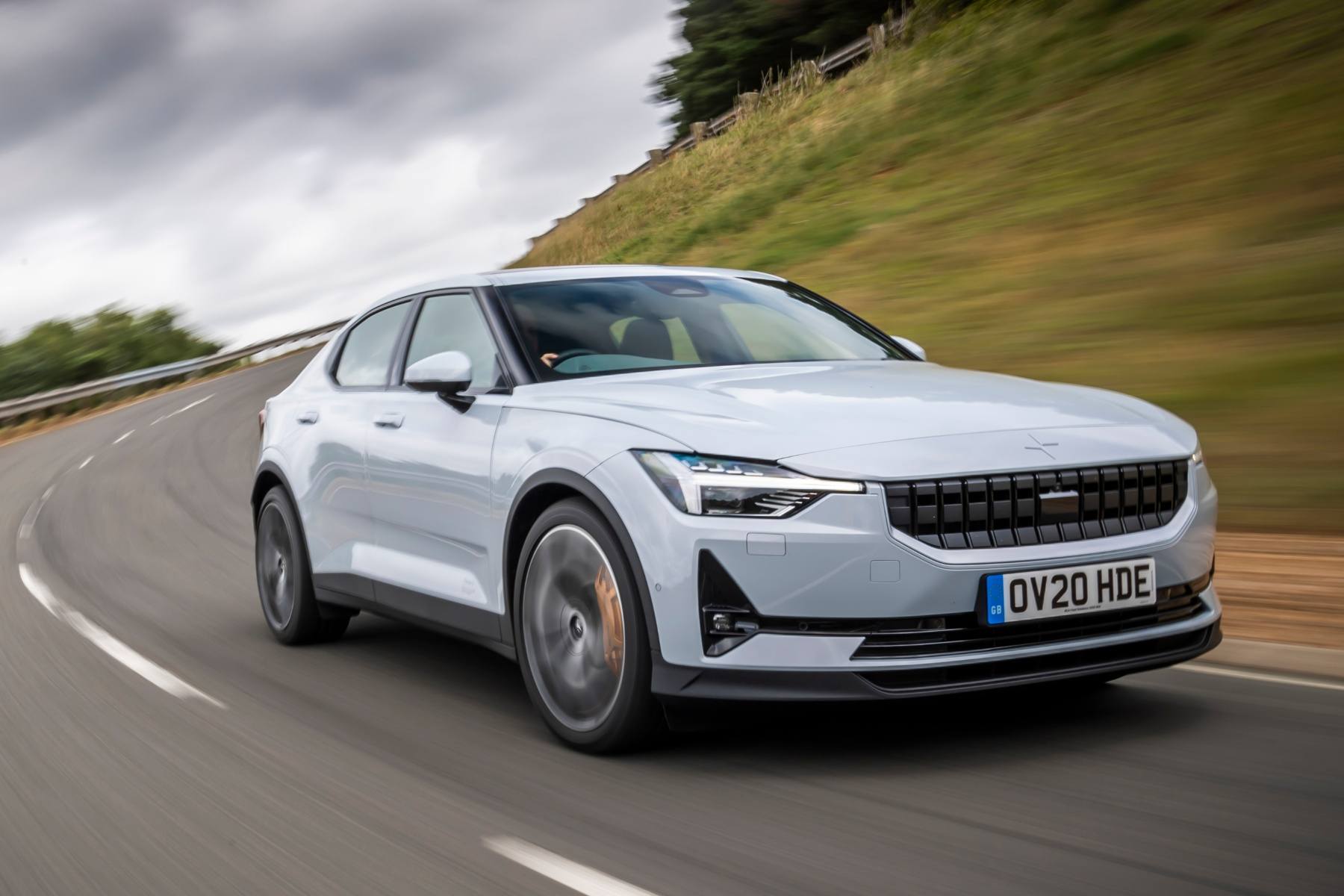 Polestar is a sophisticated new premium brand from Sweden, and the Polestar 2 is derived from the extremely able Volvo XC40 Recharge. This is less of a pure SUV and more of a crossover machine, with a squat five-door appearance that's marked out at night by a distinctive rear light bar. You can get a dual-motor Polestar 2 for plenty of performance, but it's the single-motor version that offers the longest range between charges. Drive carefully and it's capable of traveling for 335 miles before the 78kWh battery needs topping up. We also like the Google-based media system.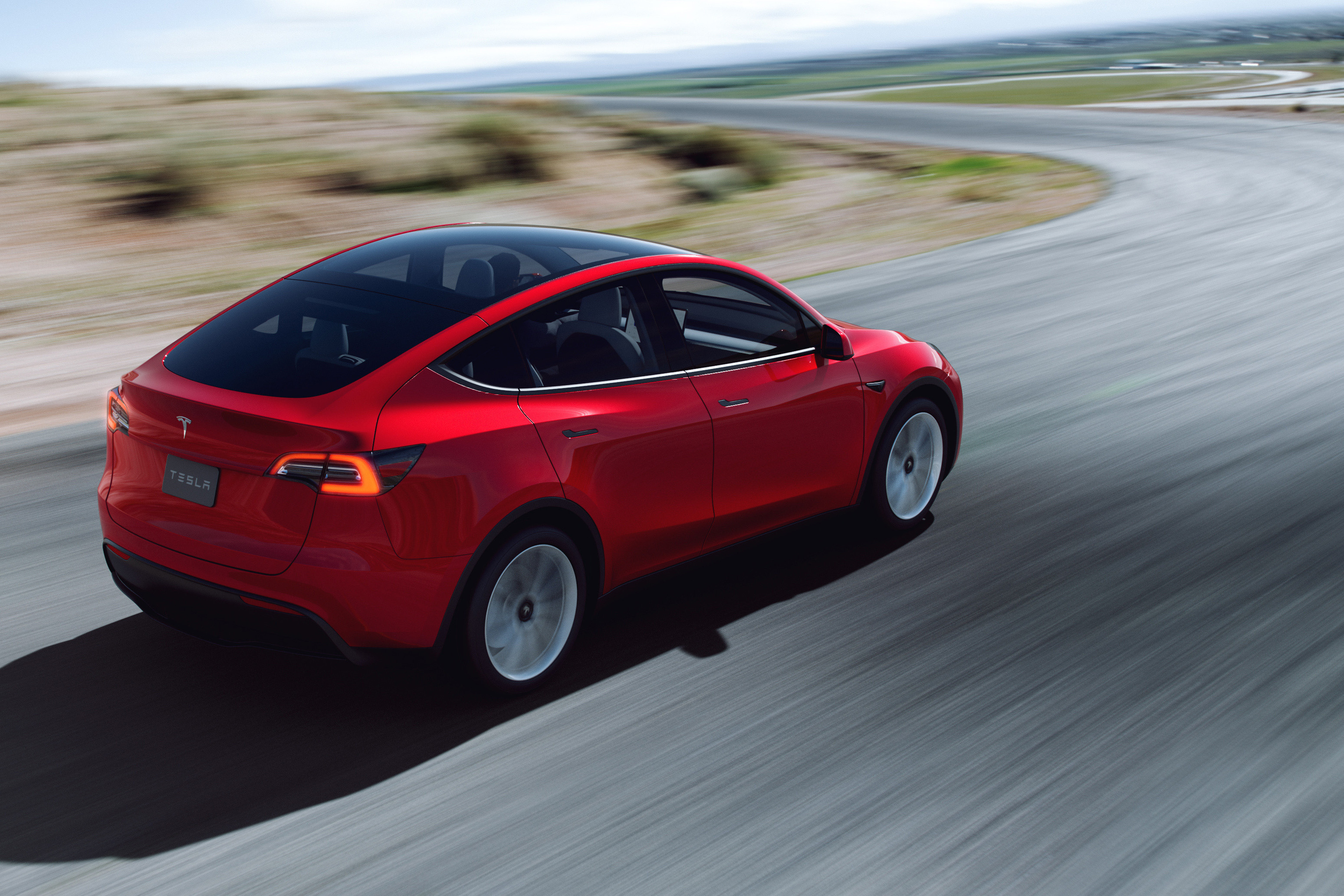 Tesla Model Y
The Tesla Model Y completes the American firm's takeover of our guide to electric cars with the longest range. It ensures every car it sells is represented here, with a maximum 331-mile range in between charges. That's less than some of the bigger Teslas, but the Model Y doesn't have their enormous 100kWh batteries, so it won't take as long to fill using a Tesla Supercharger. The roomy new SUV is more family-friendly than the related Model 3, and it shares the same minimalist interior with a feature-packed touchscreen. Yes, you can watch YouTube while you charge in this one, too.
What factors affect the range of an electric car?
All sorts of factors affect the range of an electric car. Key ones include how aerodynamic it is: sleeker, more slippery cars will travel further than taller, more bluff SUVs. Two-wheel-drive models are typically more efficient than all-wheel-drive vehicles, so will offer a boost to the range. And, of course, the lighter the car, the further it will go. Don't underestimate the impact driving style has on electric range, either – the driver is just as pivotal as the car itself.
Do smaller EVs have a longer range than bigger ones?
You would think smaller electric cars should have a longer range than bigger ones, but it's not quite that simple. For starters, bigger cars have more space for larger batteries, which often more than offsets their extra weight. And aerodynamics are a big factor, too – just because a car is small, that doesn't necessarily mean it will be slipperier through the air. It's a complex science, as car designers are now finding out.
Can I get an electric car with a range of more than 400 miles?
The promise of an electric car offering an official range of more than 400 miles was, until recently, just that: a promise. But both Mercedes-Benz and Tesla have made it a reality, and you can now buy an electric car capable of travelling for more than 450 miles between charges. While these firms are leading the way, there are numerous other models in the pipeline with electric ranges of more than 400 miles. How long before we get to 500 miles?
More electric car guides
More expert car guides