Best hybrid SUV 2022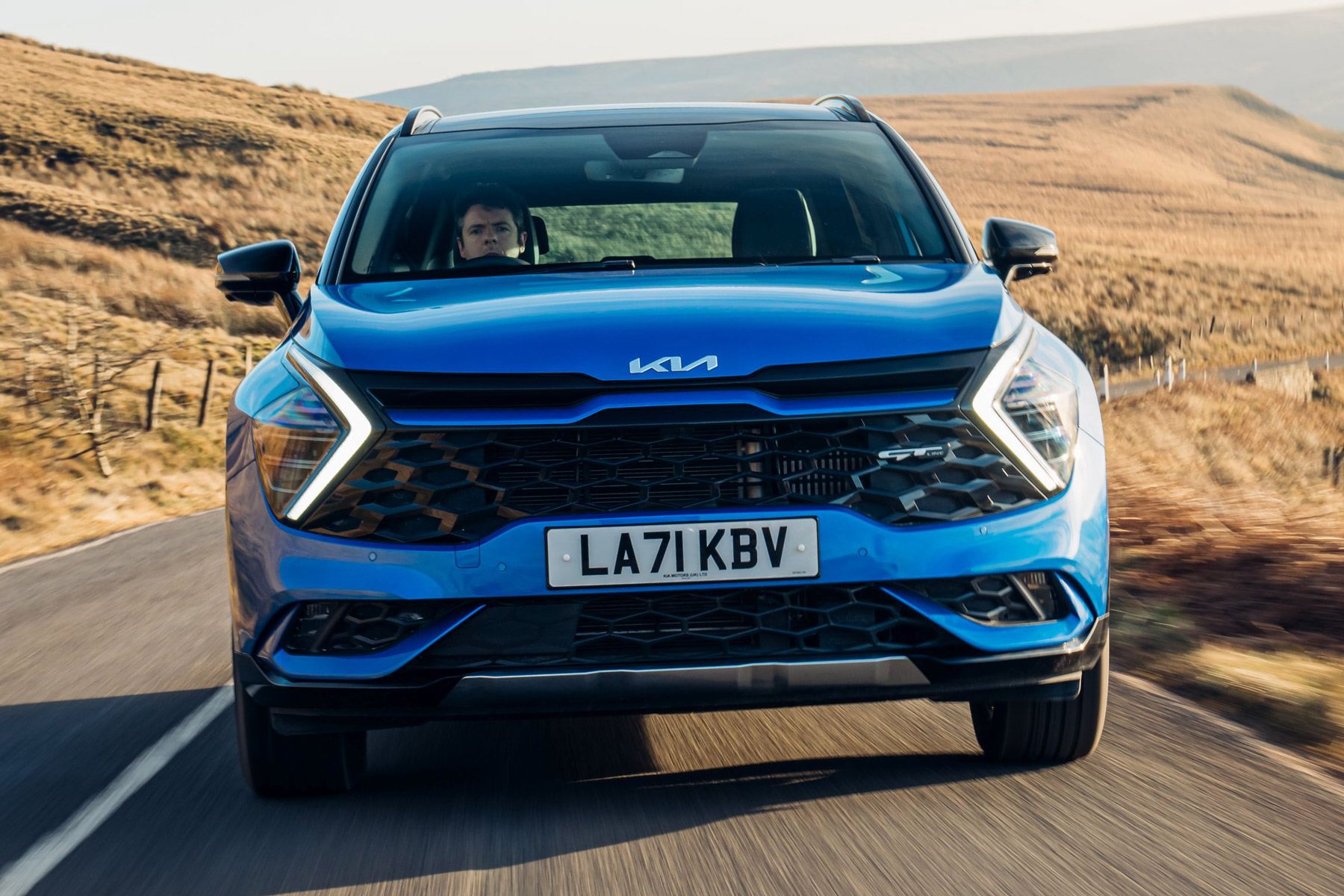 From 2030, every new car sold must be electrified. Regular petrol and diesel engines will be banned – if you still want to drive a combustion-engined car, it will have to make use of hybrid tech.
You don't need to wait until 2030, though. There are hybrid cars on sale today and, even better, there is an ever-growing line-up of hybrid SUVs. These reflect the style of car that is most popular amongst British buyers right now.
Hybrid SUVs make a lot of sense. The electric tech can easily be packaged into their larger, high-riding bodies, and the added fuel efficiency helps keep the running costs of a heavier, less aerodynamic SUV in check.
The best systems will even allow a degree of zero-emissions, pure electric running, helping drivers to enjoy feel-good eco vibes from behind the wheel. Here's our guide to 10 of the best hybrid SUVs on sale today.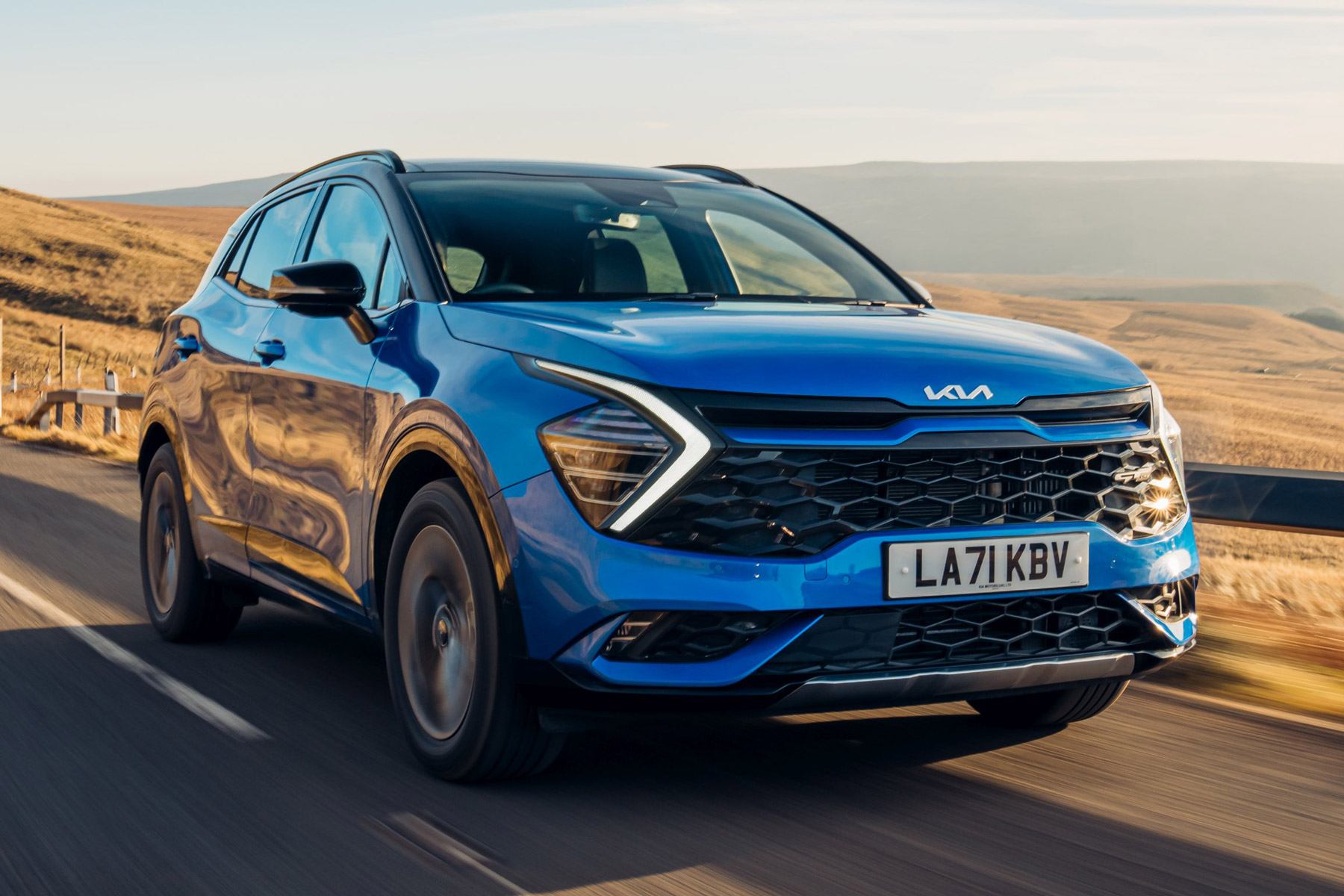 Kia Sportage
The latest Kia Sportage is all-new for 2022 and has a very striking design. Its sculpted front end has distinctive LED running lights, while Kia has also introduced some eye-catching new colours. Inside, it's more exciting than its predecessor, with a digital-first dashboard based around two widescreen displays. Kia has electrified the engine range, too: there's a high-spec plug-in hybrid, plus a more affordable hybrid that still promises a decent amount of engine-off EV running. This model has a surprisingly punchy 226hp 1.6-litre turbo engine for when you're less worried about saving fuel, plus a standard automatic gearbox. Kia's seven-year warranty is another selling point.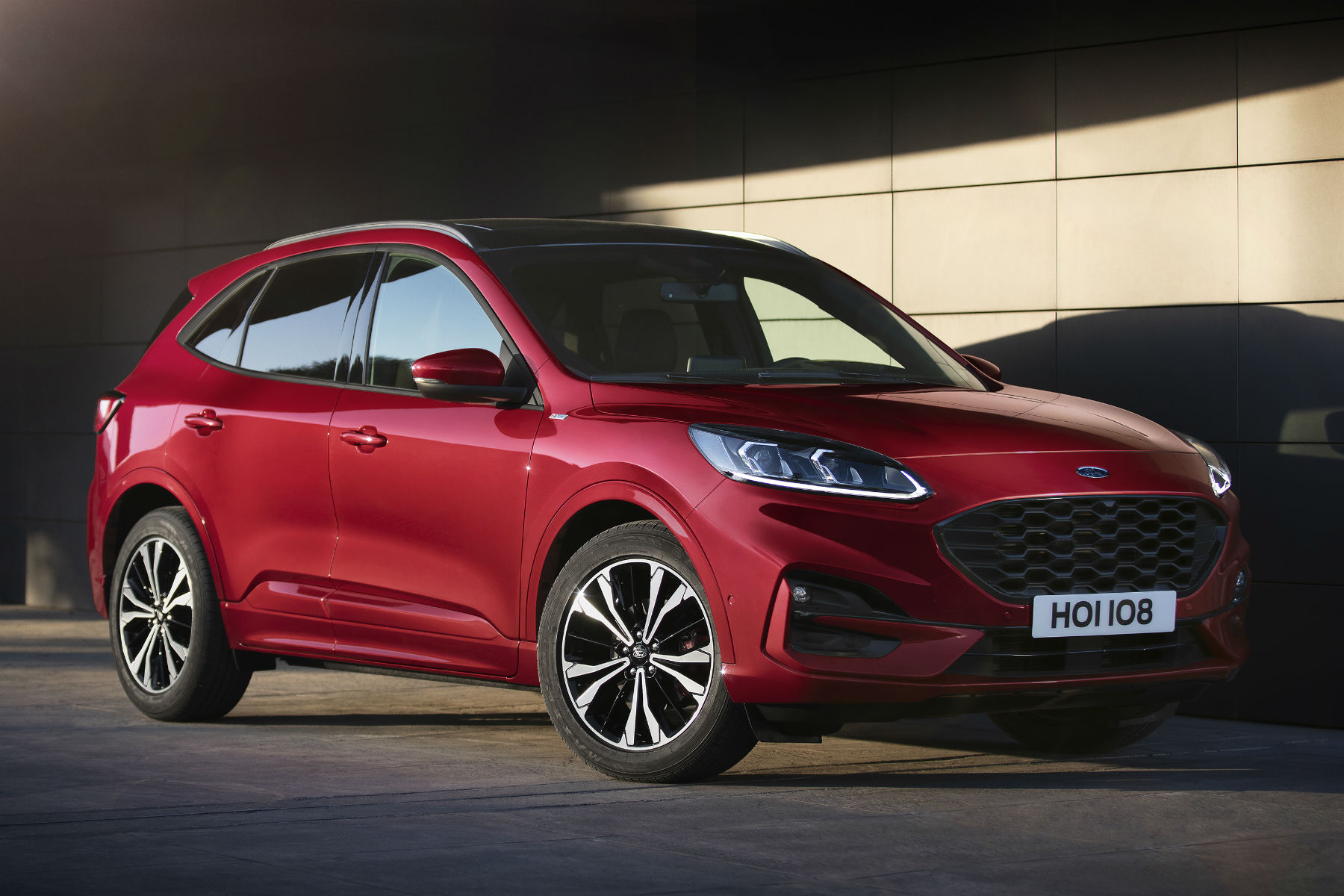 Ford Kuga
Like Kia, Ford offers its Kuga in regular, hybrid and plug-in hybrid guises. The hybrid (known as 'FHEV' or 'full hybrid electric vehicle' in Ford-speak) aims to be the best of all worlds. It features a 2.5-litre four-cylinder petrol engine, an electric motor and a smooth CVT automatic gearbox. Ford claims fuel economy of over 51mpg and CO2 emissions from 130g/km. Apart from tiny hybrid badges, it's indistinguishable from a regular petrol or diesel model. The solidly-built interior is roomy and comfortable, and we also like the styling of the latest Kuga. To our eyes, it bears a definite resemblance to the exotic Aston Martin DBX.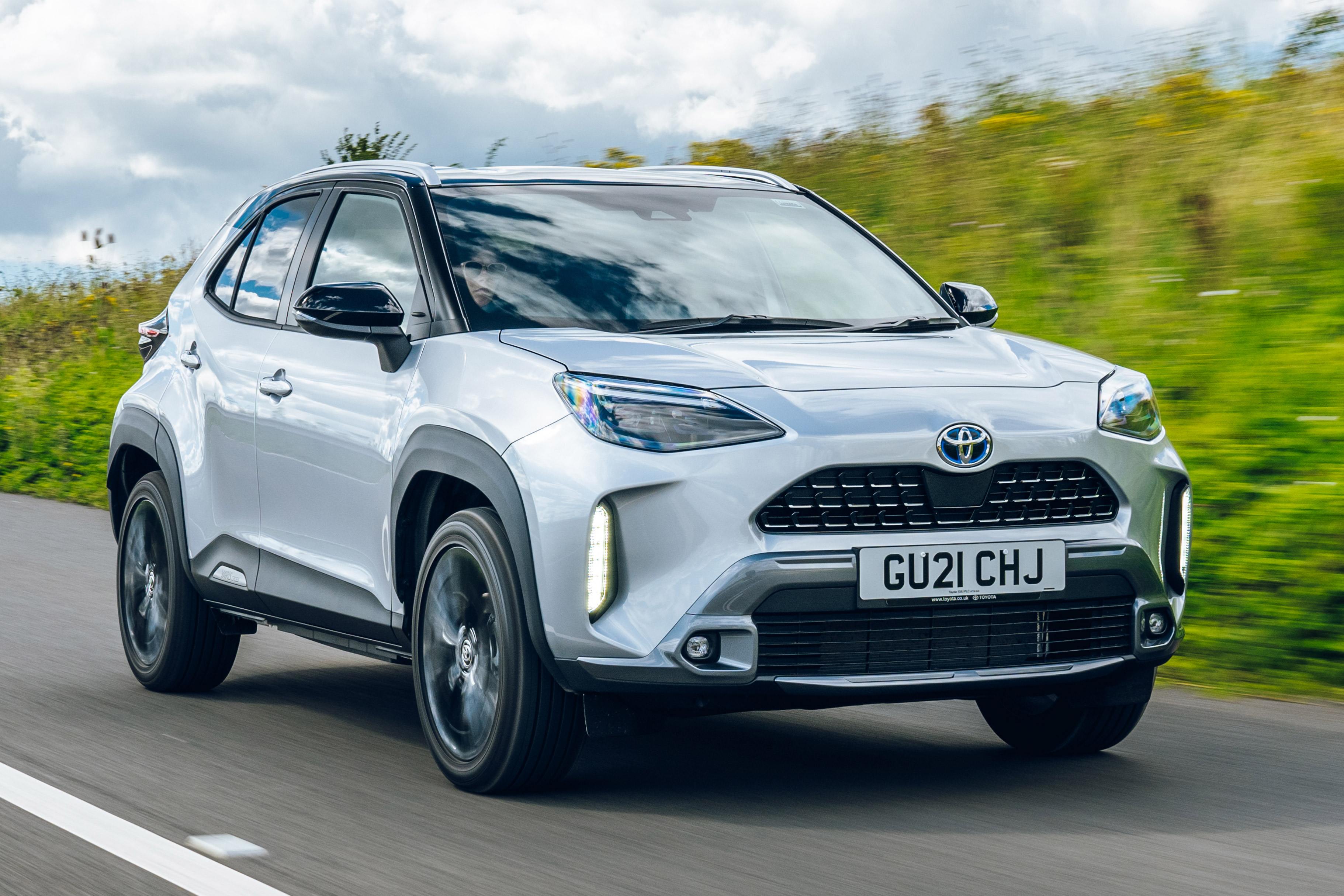 Toyota Yaris Cross
Toyota's smallest hybrid SUV, the Yaris Cross is, as its name suggests, derived from the latest Yaris supermini. It shares that car's 1.5-litre engine, CVT gearbox and electric motor, packaging it into a higher-riding body that has rugged cues taken from the well-regarded RAV4. There's appreciably more space inside the Yaris Cross than the hatchback, particularly in terms of headroom, and the boot is larger. The hybrid drivetrain offers a good balance of useful performance and fuel economy, and it can run in pure electric mode for far longer than you might expect.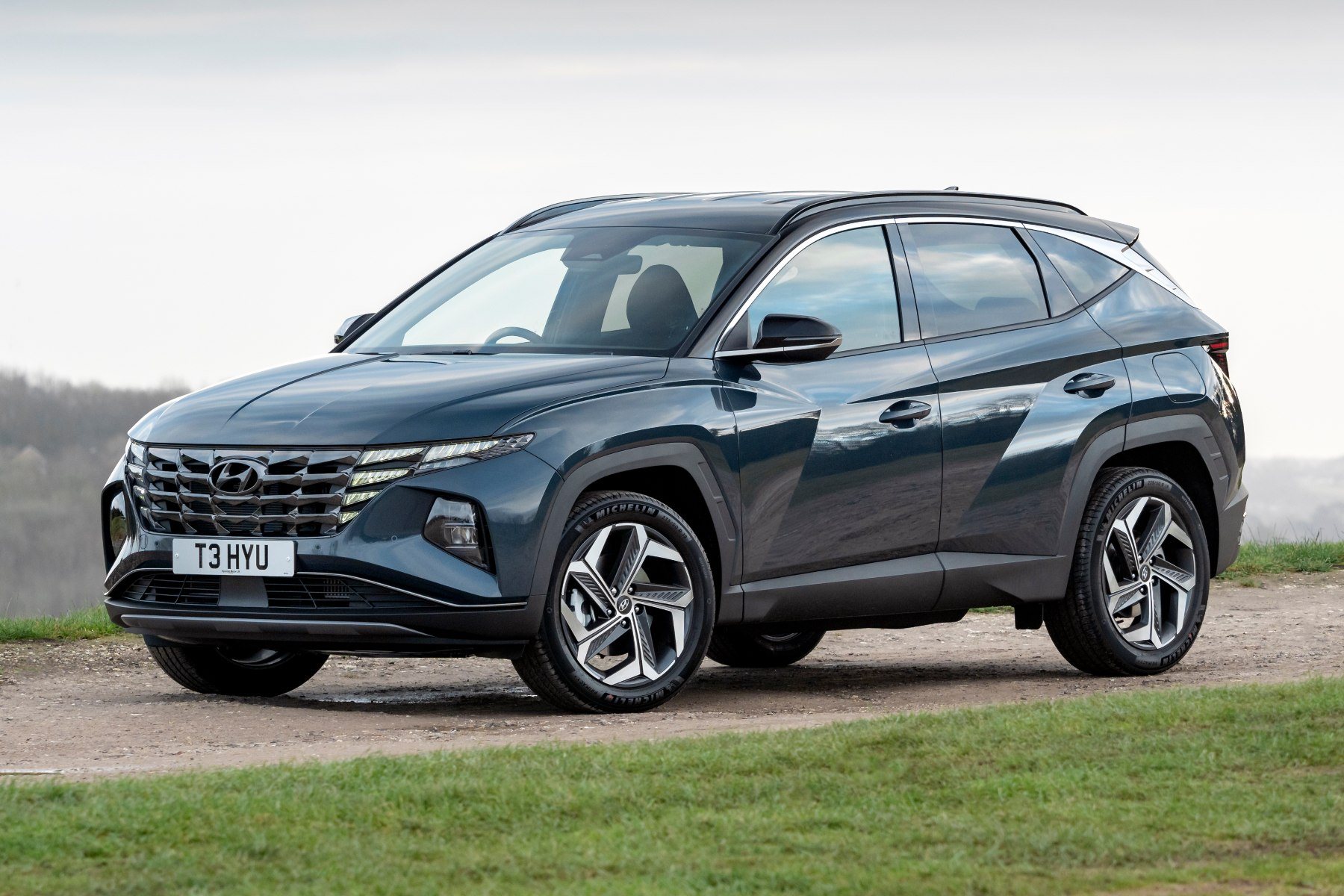 Hyundai Tucson
The latest Hyundai Tucson is one of the most striking family-sized five-seat SUVs on the road. It has a radical LED light array out front, which extends into the broad grille. On the move, nothing else looks quite like it, and Hyundai continues this distinctive theme throughout the rest of the sharply-styled Tucson. It's more calming inside, though, with an open-plan, decluttered interior based around two high-resolution touchscreens. As with its Kia Sportage sister car, regular petrol and diesels are available alongside a range-topping plug-in hybrid, plus a regular hybrid that looks to be the sweet-spot of the range for many.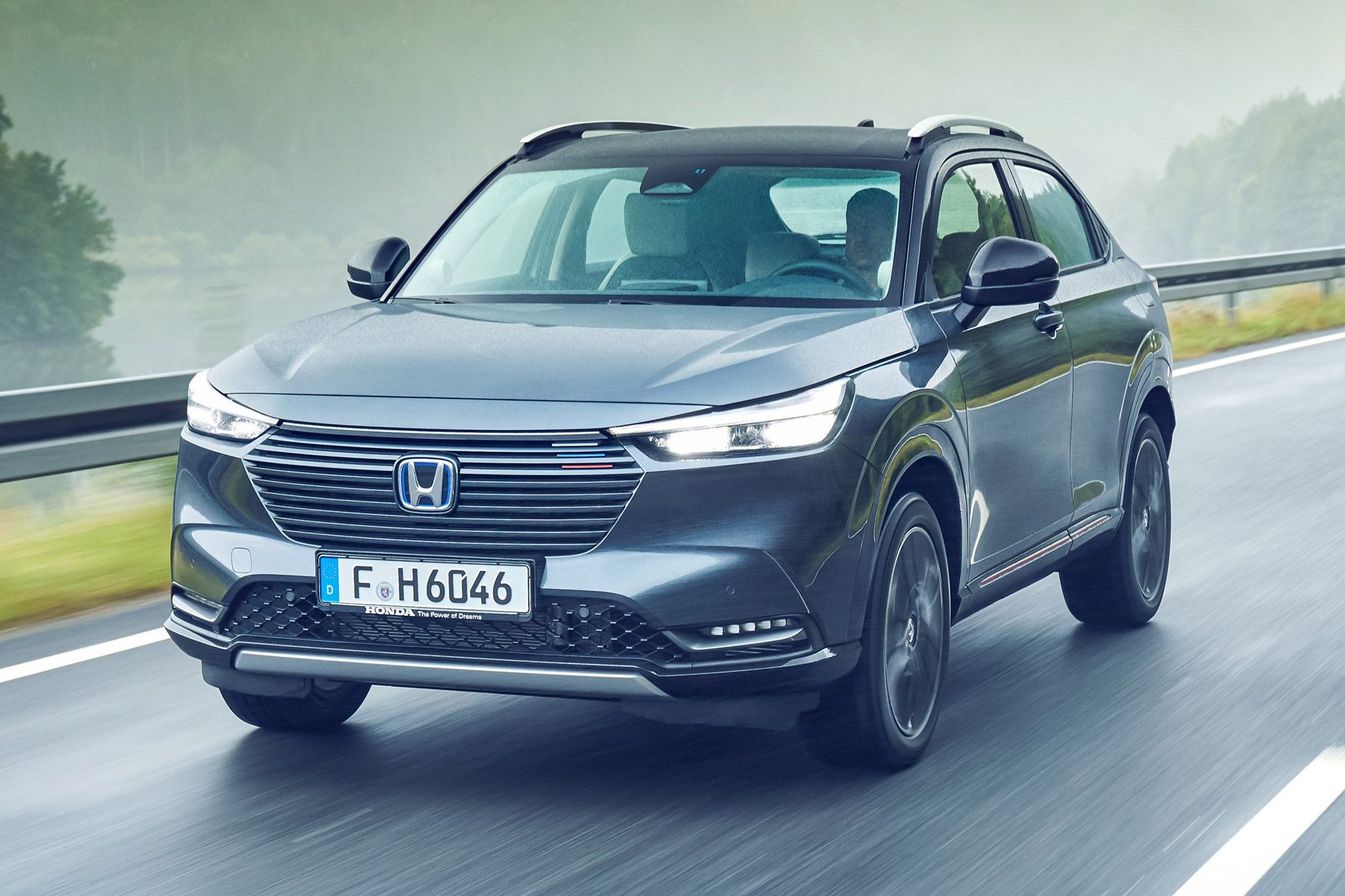 Honda HR-V
Honda has taken the ingenious e:HEV dual-motor hybrid setup from the Jazz supermini to make its new HR-V range entirely hybrid-powered. The system is very effective in everyday use, and regularly shuts down the engine to improve fuel economy and cut emissions. It also helps refinement, with the HR-V boasting low noise levels with the engine off. A very forward-looking and design-led machine, the HR-V has a striking elegance that is carried through to the well-built interior. It's spacious inside, with lots of space for rear-seat passengers. The boot is only average, though – and actually gets smaller on higher-grade cars due to their premium audio systems.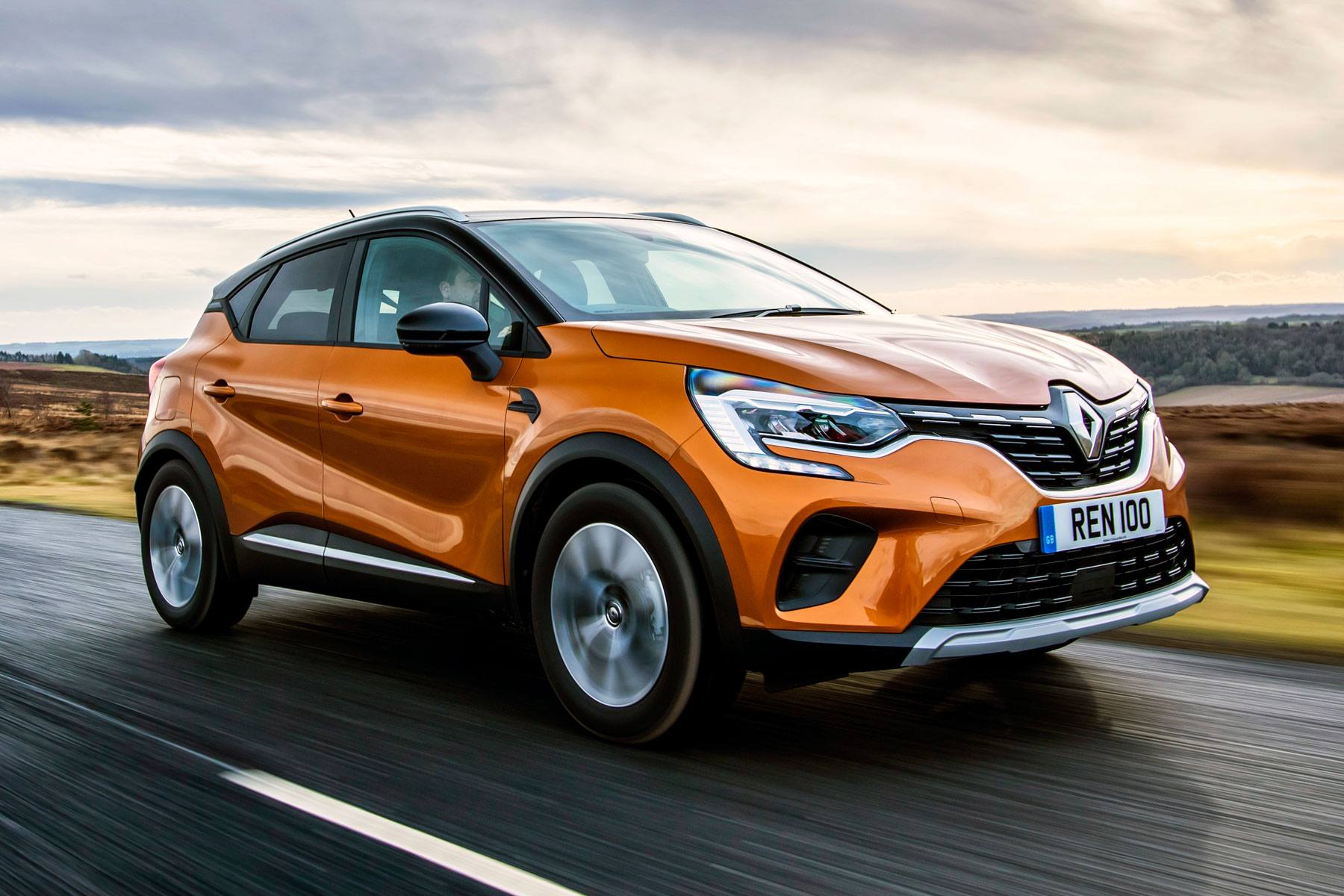 Renault Captur
Renault turned to its Formula 1 team to help design its latest hybrid system, called E-Tech. The Captur offers this technology in two guises: a plug-in hybrid and the more affordable 'self-charging' hybrid system we're looking at here. A clever automatic gearbox enables the 1.6-litre engine to be shut down even at higher speeds, and informative driver displays encourage drivers to take it steady and maximise their pure EV running. The E-Tech is a smart addition to the Captur line-up, with elegant styling and a chic interior already making it a popular choice for buyers of small SUVs.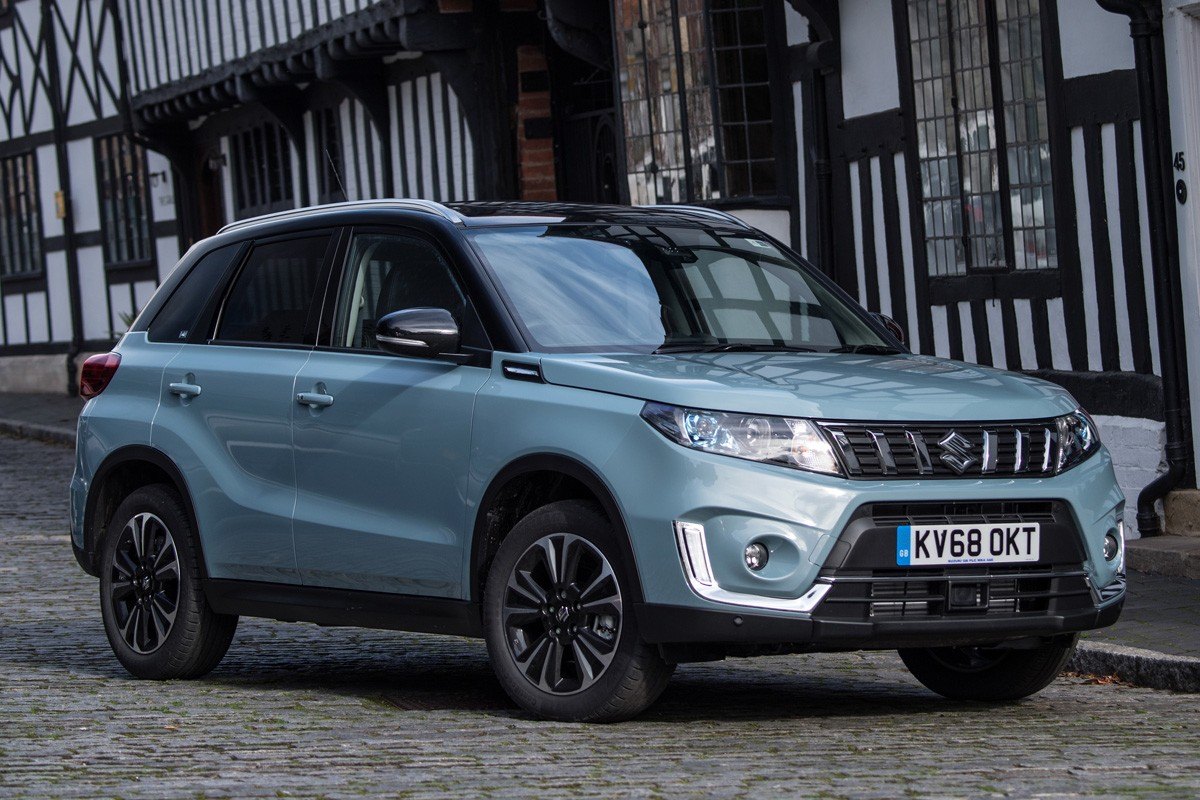 Suzuki Vitara
The Vitara has long been offered with mild hybrid technology, but Suzuki has now broadened the range with a full hybrid model. Coming as standard with an automatic gearbox, it emits 121g/km of CO2 and is able to average 53.0mpg. While these figures aren't too far removed from the mild hybrid models, the full hybrid has the added ability to drive in pure electric mode, which means real-world fuel economy should be better. The convenience of that auto gearbox is a stress-saver too, while equipment levels are generous. Every Vitara comes with adaptive cruise control, 17-inch alloy wheels and touchscreen infotainment, the latter with Android Auto and Apple CarPlay connectivity.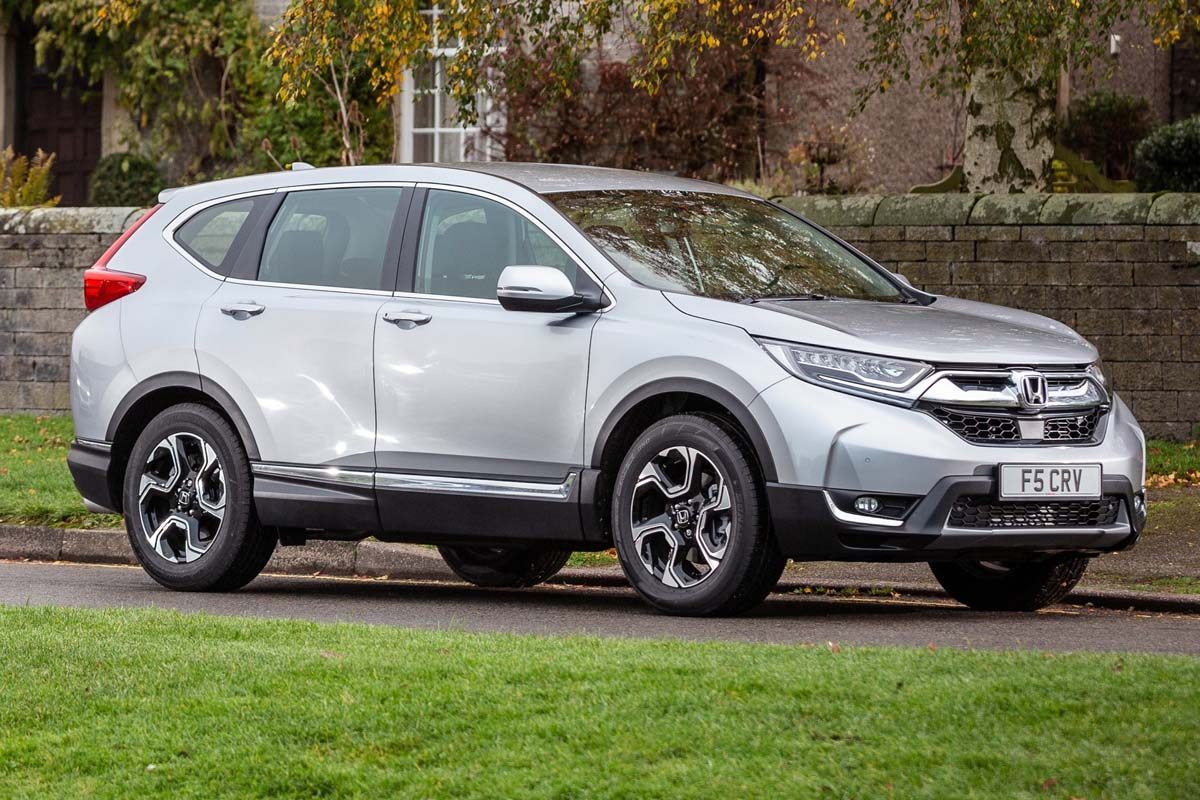 Honda CR-V
The Honda CR-V is offered solely in 'self-charging' hybrid form. The e:HEV dual-motor hybrid system allows the engine to be run independently of the wheels, which is both more efficient and also allows a good amount of engine-off driving. It means a country-crossing range of more than 530 miles on a full tank of fuel. The latest CR-V is as brilliantly built and reliable as all Hondas are. The interior has a luxurious feel and refinement is very impressive. It makes the most of its large SUV body with good all-round space as well. Overall, the CR-V is one of the most sensible and practical vehicles in its sector.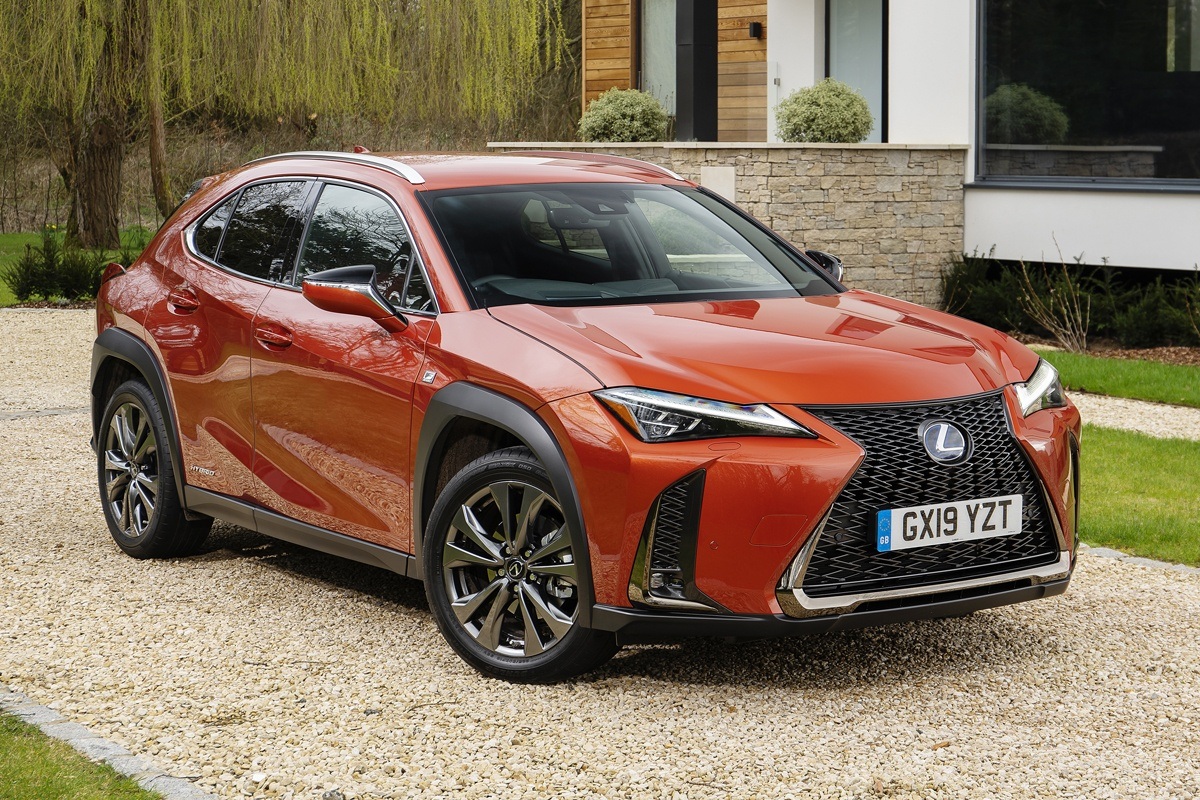 Lexus UX
The UX is the smallest, most youthful SUV from Lexus. The UX 250h variant comes as standard with a petrol-electric hybrid engine, which produces 184hp for 0-62mph in 8.4 seconds. It emits CO2 from 120g/km and is able to average more than 53mpg – plus offer a good amount of lower-speed pure electric running. The UX is a sportily-styled crossover SUV, with a very Lexus-like interior that boasts impeccable build quality and some very premium details. We just wish the infotainment system, controlled by a fiddly trackpad, was easier to use. If you want to go a step further than hybrid, you can also now choose a pure electric version: the Lexus UX 300e.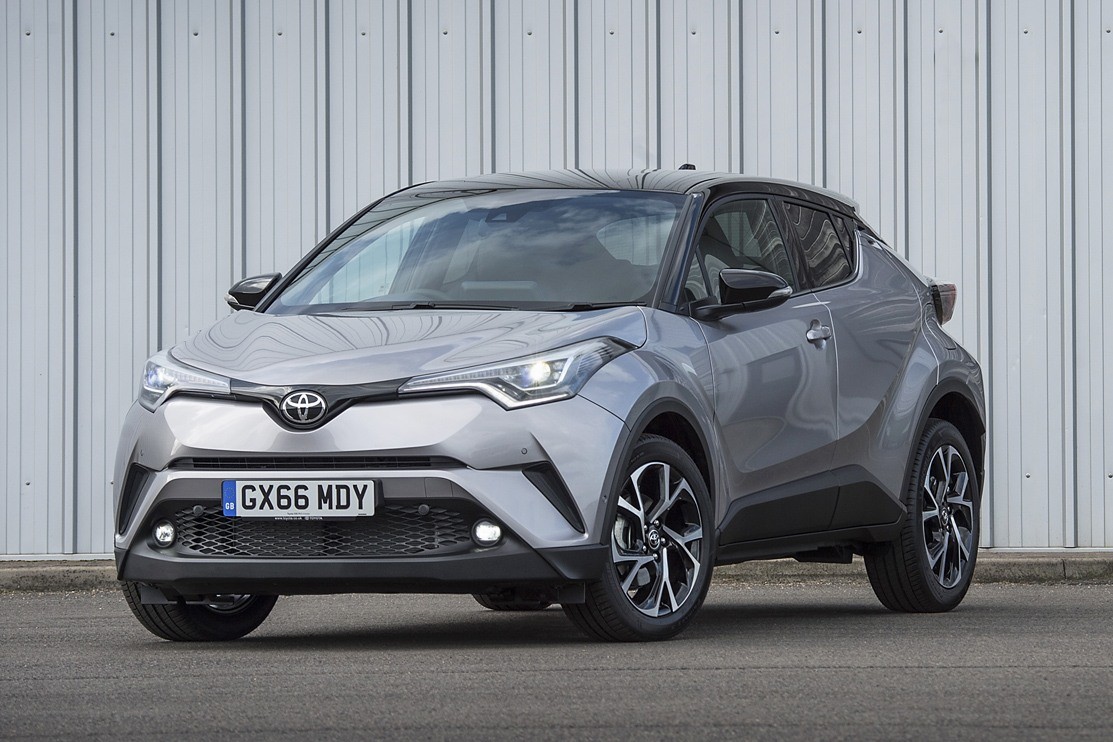 Toyota C-HR
The Toyota C-HR is an interesting SUV-coupe from the Japanese hybrid experts. Size-wise, it's positioned above the Yaris Cross, but isn't as large as a RAV4. It's certainly bold-looking, with extreme body creases and a radical window line. The interior has some verve as well, but it's still a traditional Toyota in its ease of use and solidity. Sharing the same 'self-charging' drivetrain as the pioneering Toyota Prius, the C-HR can average 53mpg and emits as little as 112g/km of CO2. There's also now a GR Sport version, which has a racy bodykit, smoked headlamps and a set of 19-inch black alloy wheels.
Can hybrid SUVs be driven in EV mode?
If you are a smooth and steady driver, you'll be surprised at how far you can drive a hybrid SUV in EV mode. You don't need to press anything, as the systems will choose electric mode automatically when conditions allow. Some cars do have a dedicated EV button, though, so you can default to electric until the batteries run low. It usually allows around a mile of electric driving before needing to be 'self-recharged'.
Are hybrid SUVs roomy enough for families?
SUVs are more spacious cars than regular hatchbacks. They have taller bodies, giving more headroom inside, plus more practical load bays. Car makers use this extra space to ensure there is still a good amount of room for families and their luggage, despite the extra batteries and electric motor associated with hybrid technology. While older hybrids used to come with compromises in practicality, that's no longer the case today.
Do you have to plug in a hybrid SUV?
With hybrids, mild hybrids and plug-in hybrids all fighting for our attention, the world of hybrid tech can be confusing. This is why some car manufacturers label regular hybrids as 'self-charging' – because they don't have to be plugged in to get the best from them. The idea is to differentiate them from plug-in hybrids, which only deliver optimum efficiency if they are plugged in regularly.
More hybrid car guides
More expert car guides