The Civic is Honda's longest-running model line and has been the backbone of the company since the early 1970s. In the intervening years, the Civic has grown in size and ability, and also in stature as it represents everything that makes Honda such a revered name for quality and reliability.
With later generations of Civic, the cabins have become more room and full of technology. This gives these newer models better connectivity, and they are also very able all-round family cars thanks to good space and comfort. However, not every generation of Civic has been offered with a useful estate version.
The Honda Civic Type R is rightfully one of the most desired hot hatches thanks to its searing performance and excellent handling. These fast models are noted for their high-revving engines, which make them even more exciting to drive.
Honda Civic review: Verdict
Honda has refined and finessed the Civic over 10 generations to date and made it one of the finest small family cars of any particular era. Early cars are now rightfully viewed as classics, while the Type R models offer hot hatch thrills with little to worry about when it comes to reliability, which is the same with all Civics.
Honda Civic review: Problems
There are no common issues to worry about with the Honda Civic whatever age it is. The ride can be a little on the firm side in many of the models, but it's not a deal breaker. The earlier diesel engines could be a little noisy, but later generations sorted that with superb turbodiesel motors
Honda Civic review: Prices
Next to its main rivals like the Ford Focus and Volkswagen Golf, the Honda Civic is very keen on price for used buyers. It lasts well, so the Honda often looks fresher despite being the same age and mileage. The Type R holds its value very well thanks to a keen following for its exciting performance.
---
Honda Civic Mk10 (2017 - current)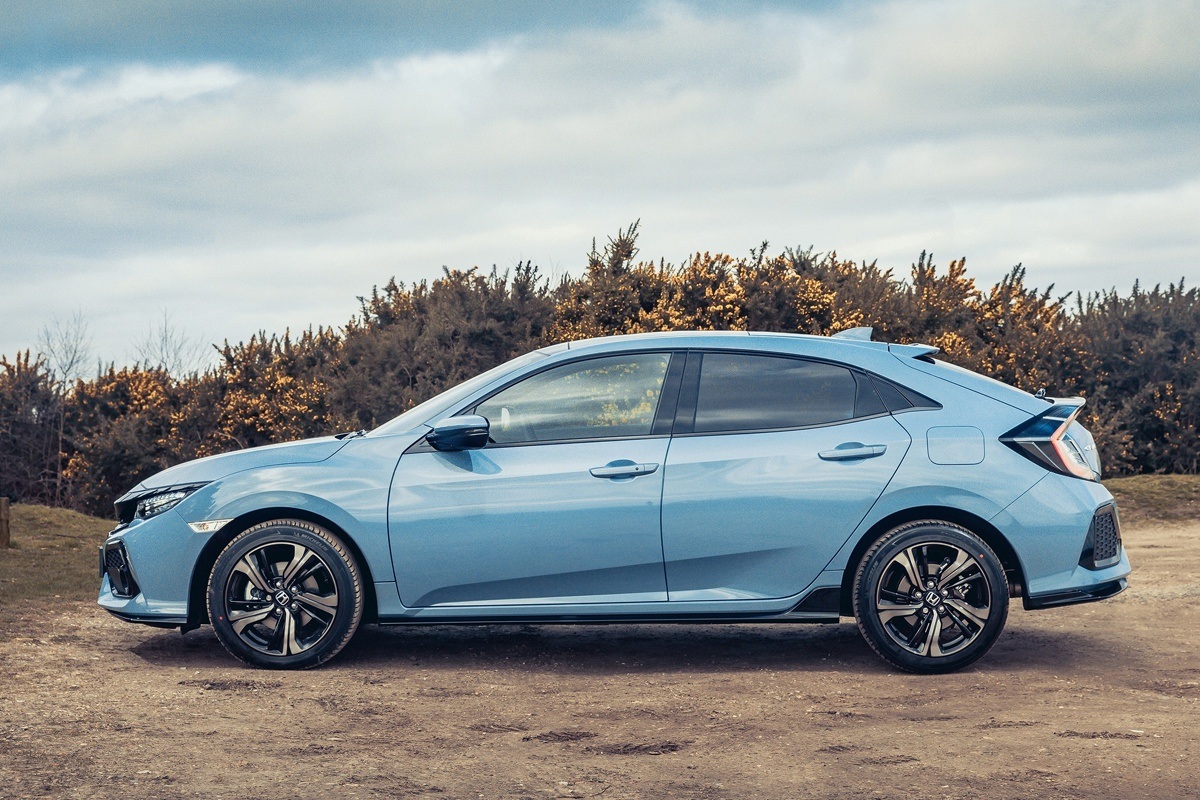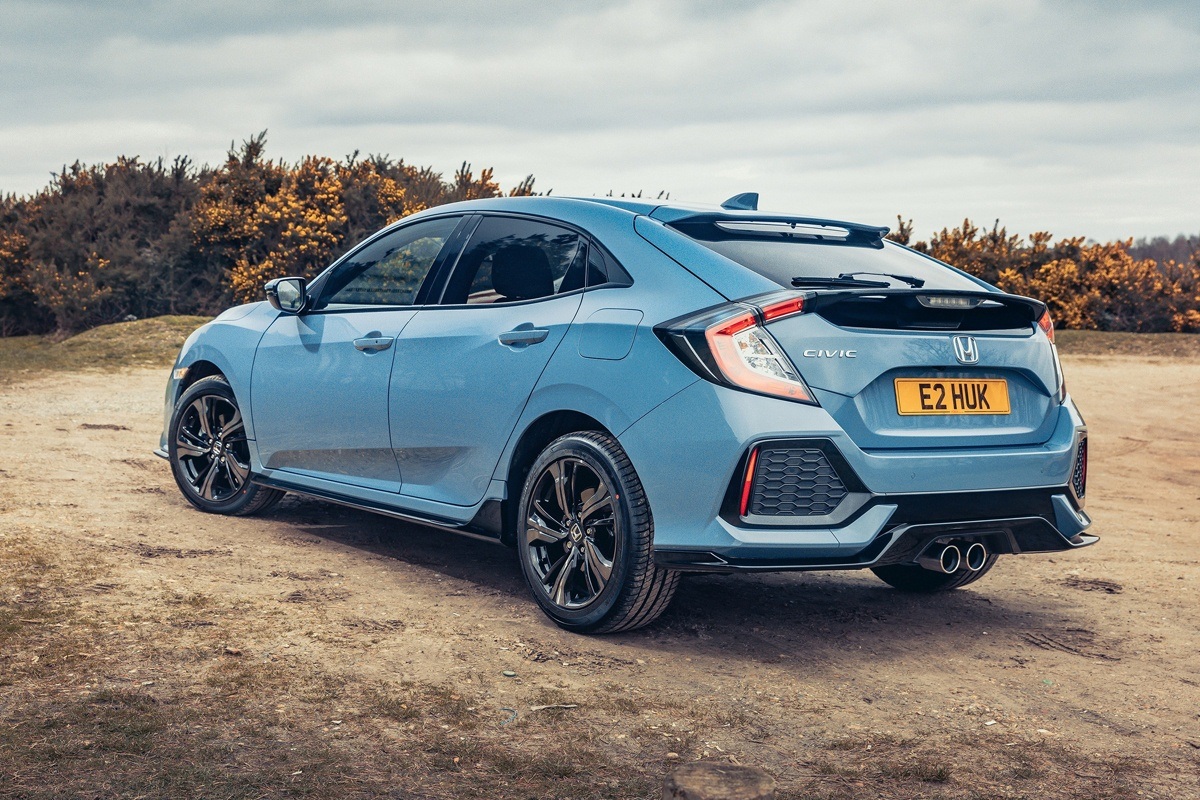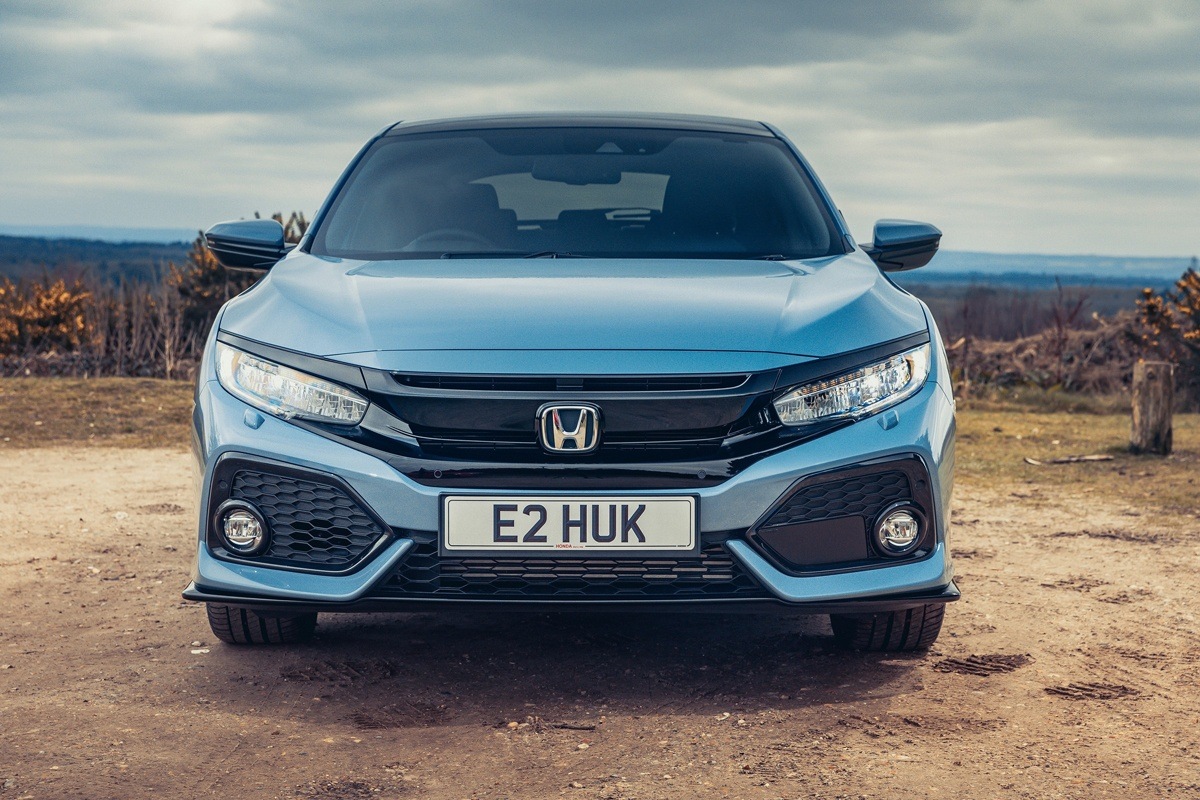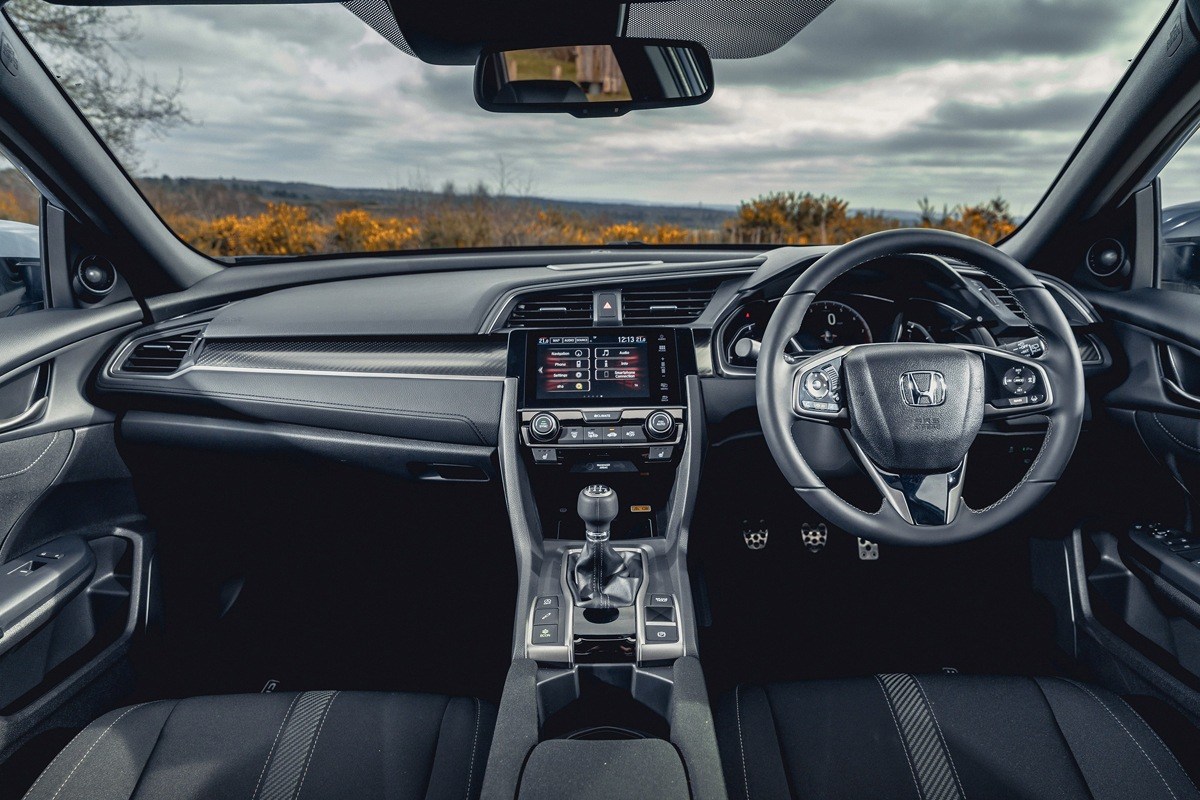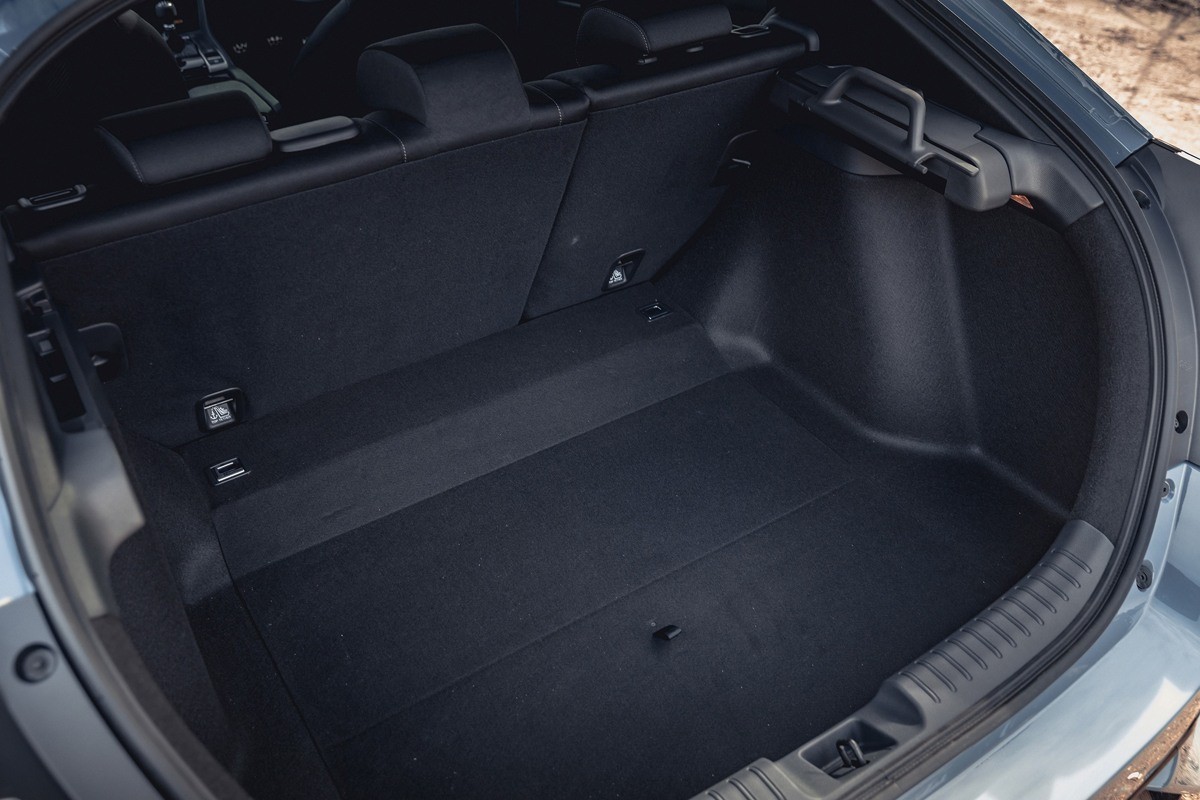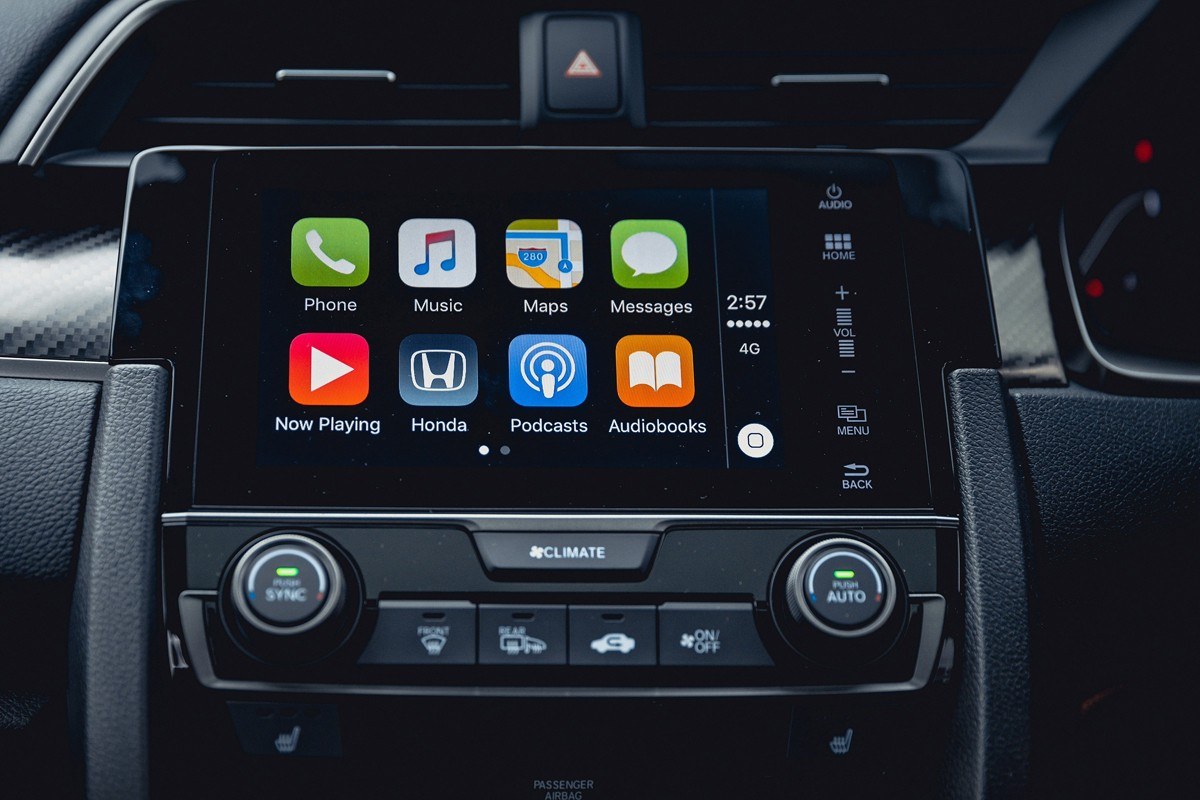 As is the way with Honda, it didn't do anything by half measures when it came to making the tenth-generation of its Civic. Edgy new looks developed the theme of its predecessor, while a whole new platform underpinned the way the car drives. There's also the incredibly quick Type R with a top speed of more than 160mph.
How much is a Honda Civic Mk10?
Entry point to the tenth-generation Honda Civic is £12,500 for car with the 1.0-litre turbo petrol engine and a reasonable mileage for a five-year old car. If you want the performance rush of the Type R model, reckon on finding a budget of £25,000 for this four-door family supercar.
What's the best Honda Civic Mk10 to buy?
The lure of a Type R version of the Honda Civic is always strong, but it's not a cheap car to run, so better to look at the 1.0-litre turbo petrol engine for everyday use. It's smooth and refined, and in SR trim it comes with all the kit you could want to make life comfortable and pleasurable.
Is a Honda Civic Mk10 reliable?
Honda has issued a small number of recalls during the life of the tenth-generation Civic, so make sure all of these have been addressed with any car you are considering. With that ticked off the list, there's not much to worry about other than making sure the front brakes don't squeal when pressed hard.
---
Honda Civic Mk9 (2011 - 2017)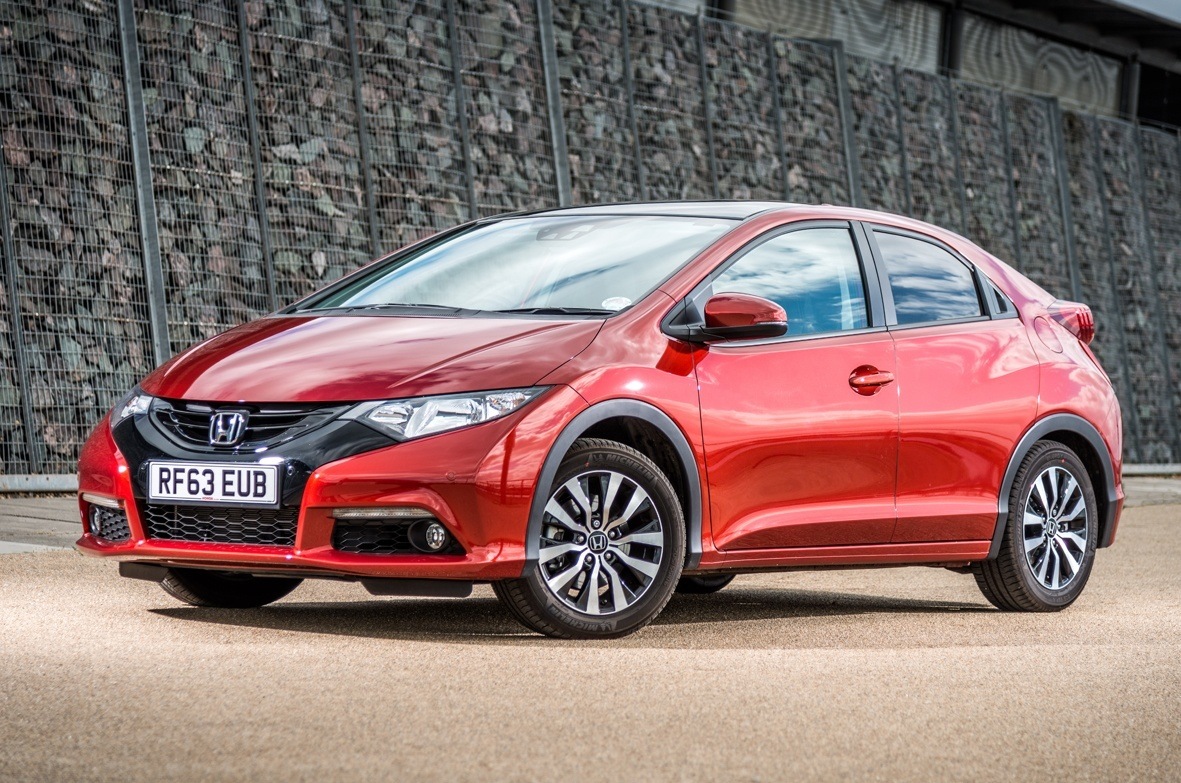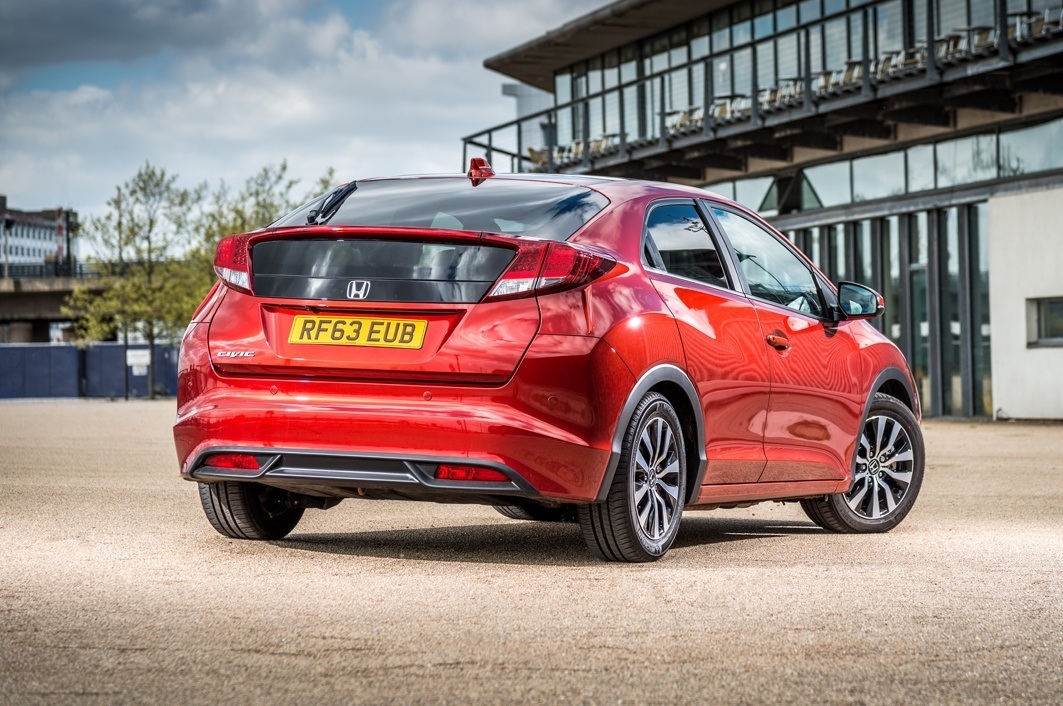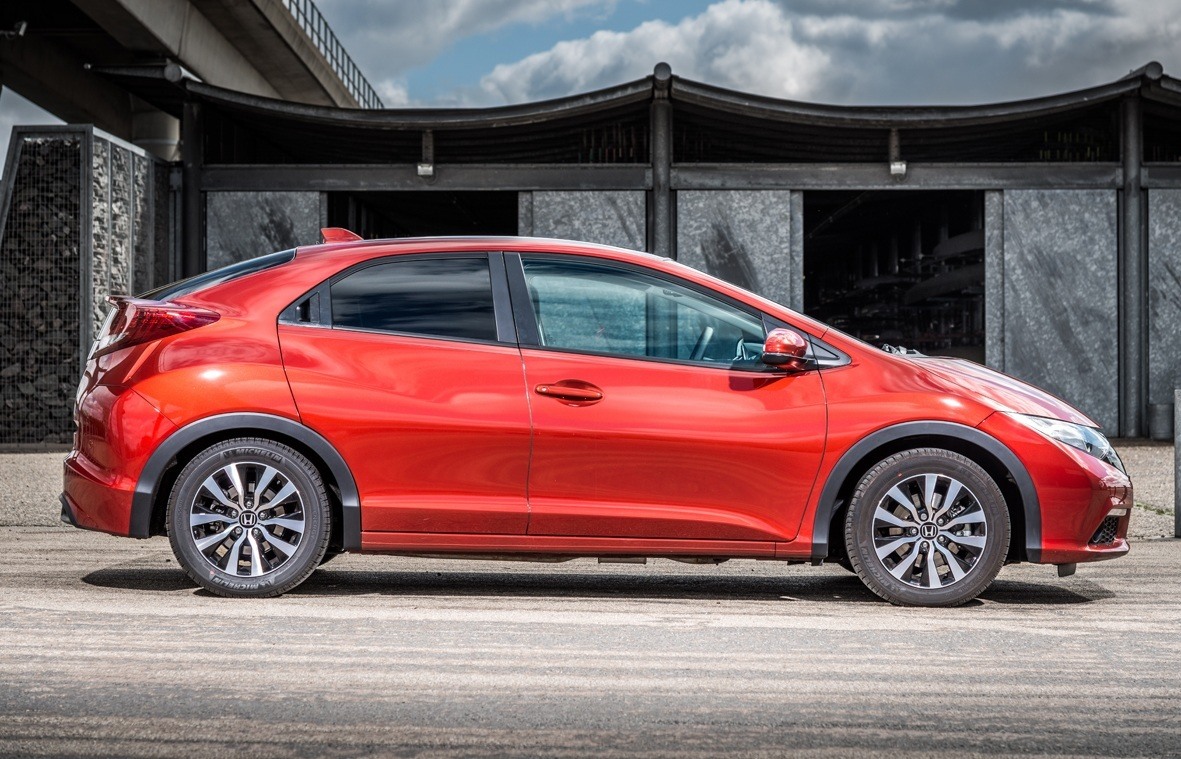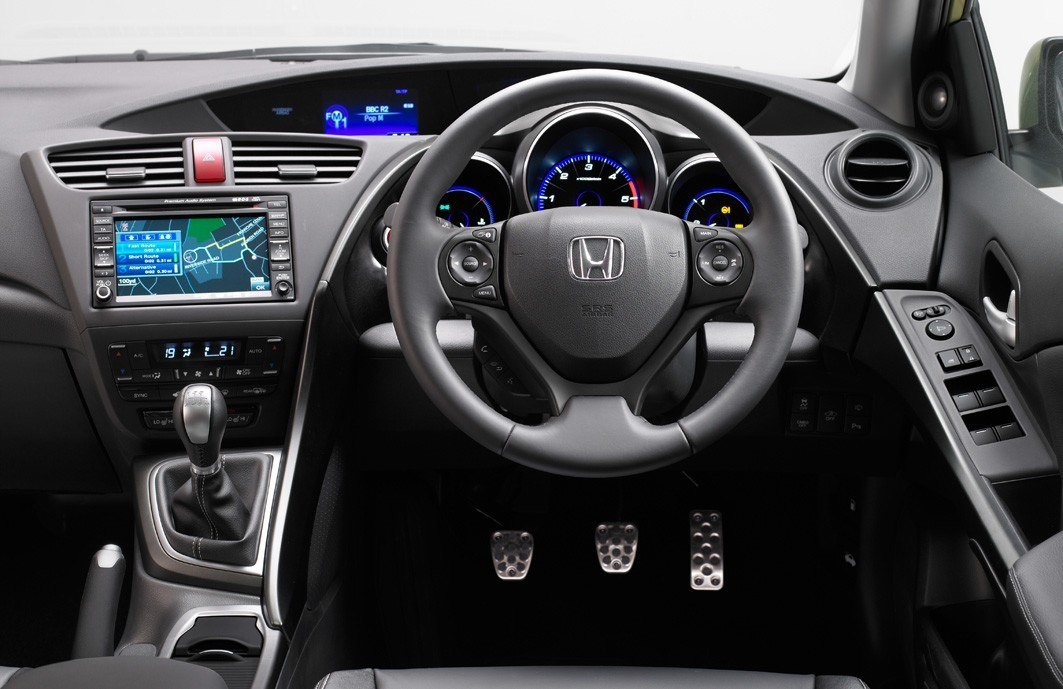 The ninth-generation Honda Civic can be hard to spot from its immediate predecessors as the looks are very similar. However, a closer inspection shows up many differences, and it also saw the return of the Civic Estate model that was designed and developed in the UK, and is very generous with luggage room.
How much is a Honda Civic Mk9?
As modest a sum as £4000 will get you into a Mk9 Honda Civic, which will see you driving a hatch or estate model with petrol or diesel engine but with a higher than average mileage. Not a concern with the Civic, but for those who prefer a lower mileage, reckon on spending from £5500.
What's the best Honda Civic Mk9 to buy?
There's the usual broad spread of trim levels to choose from with this Honda Civic, but it's the ES model that makes most sense. It comes with climate control, reversing camera, cruise control, and connectivity on a par with brand new cars. The 1.6-litre turbodiesel engine is the wisest choice.
Is a Honda Civic Mk9 reliable?
There have a been a small number of recalls for the Mk9 Honda Civic, but nothing serious, so just make sure this work has been carried out by a dealer. After that, it's the usual used car history and service record checks to put your mind at ease.
---
Honda Civic Mk8 (2005 - 2011)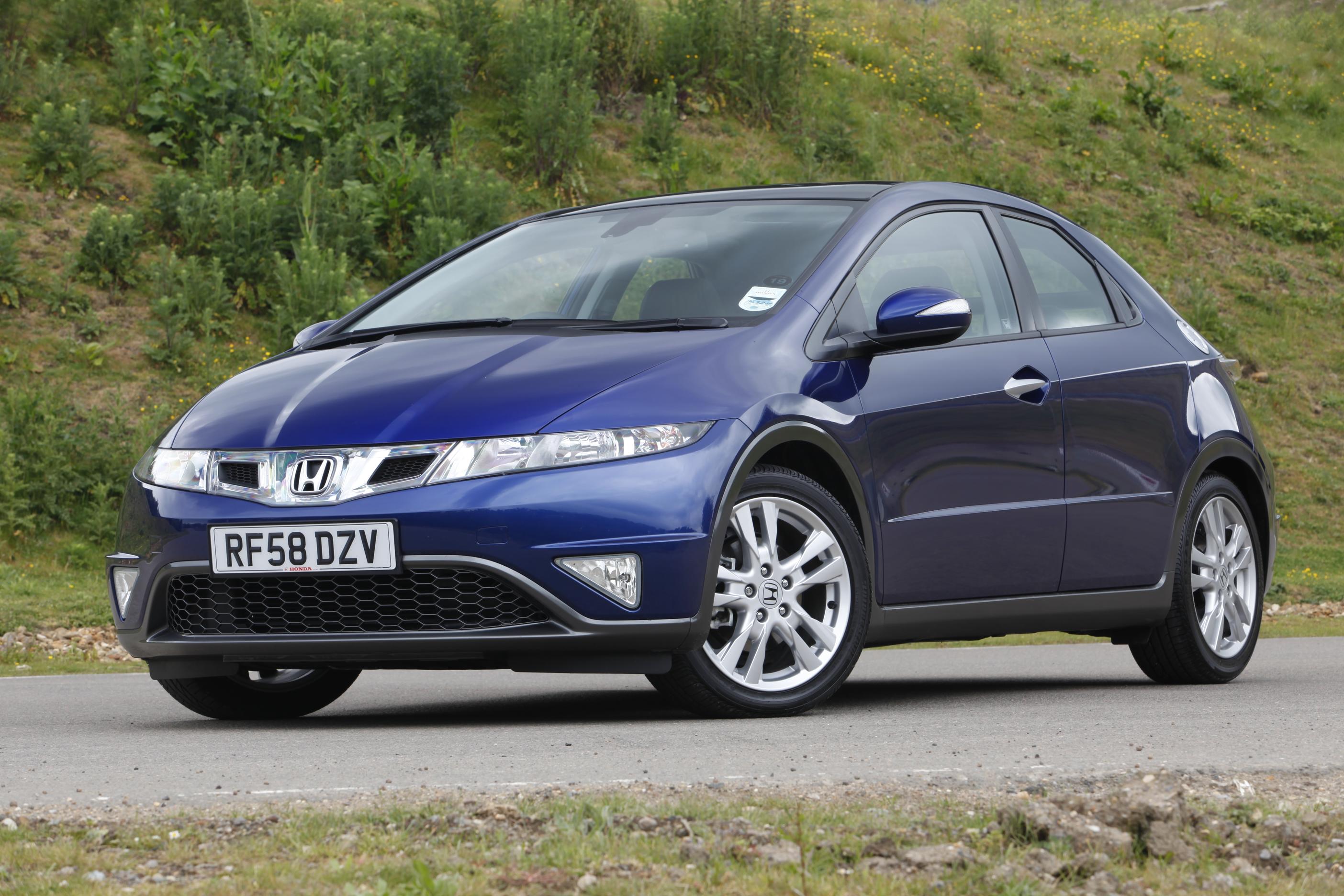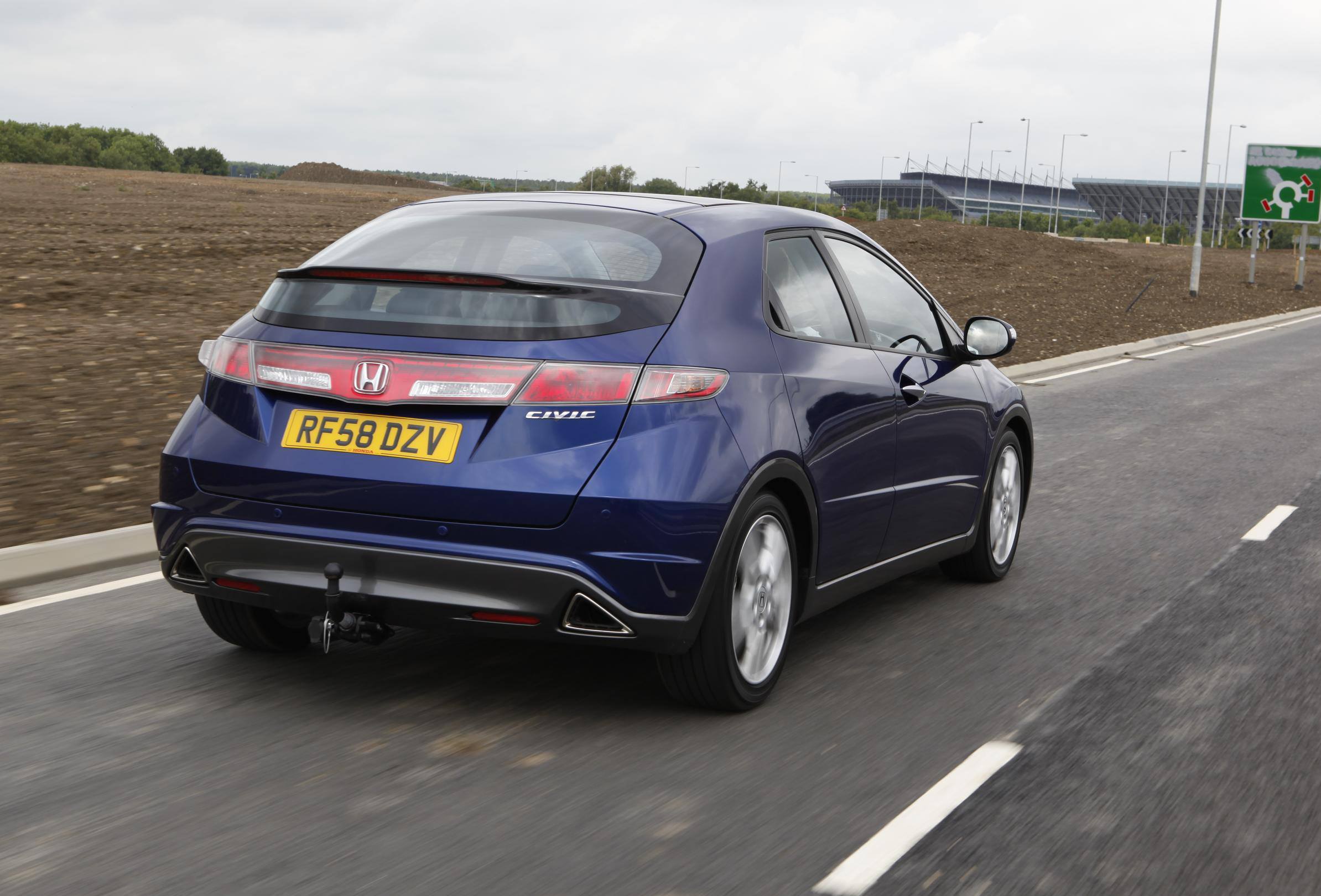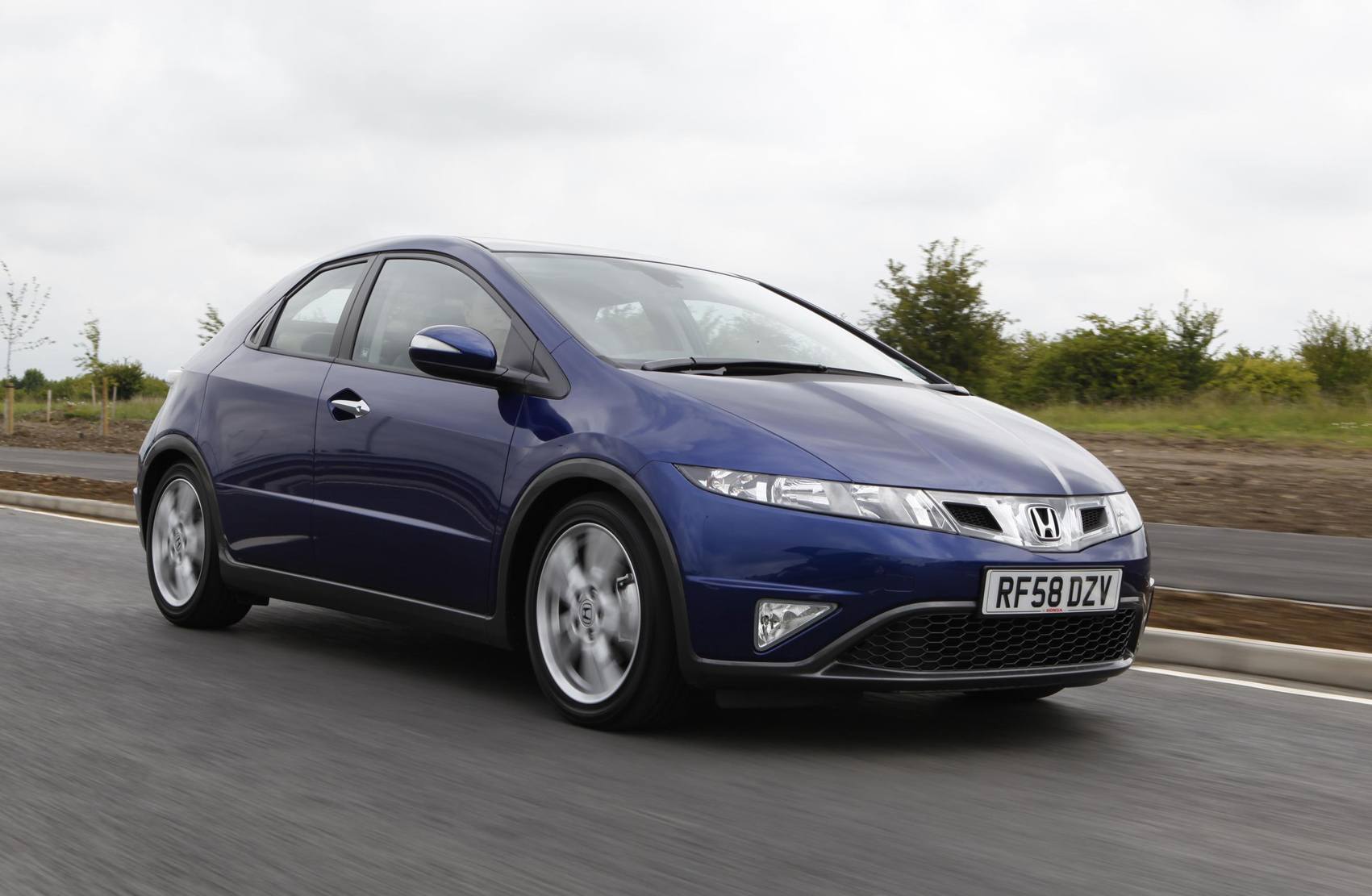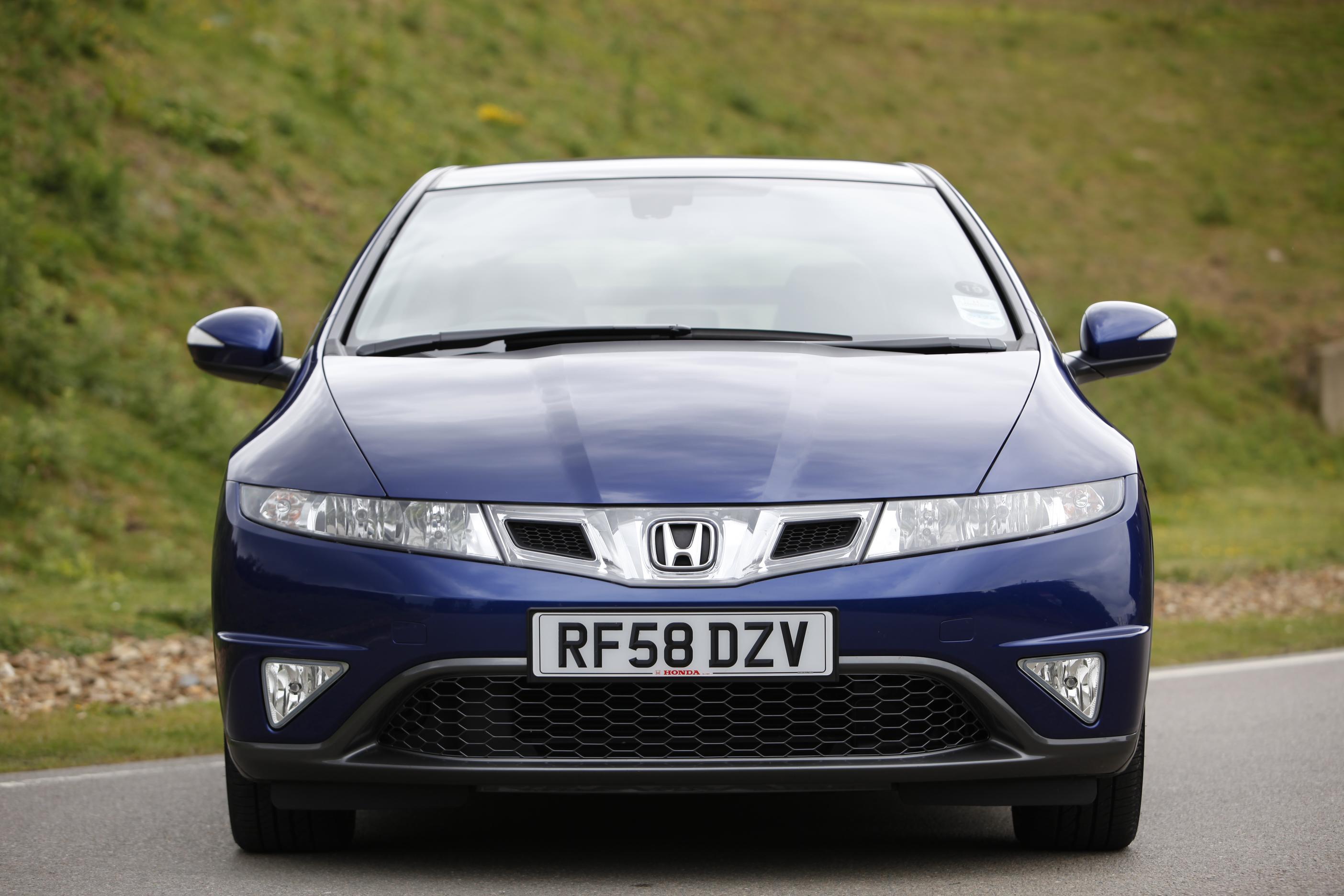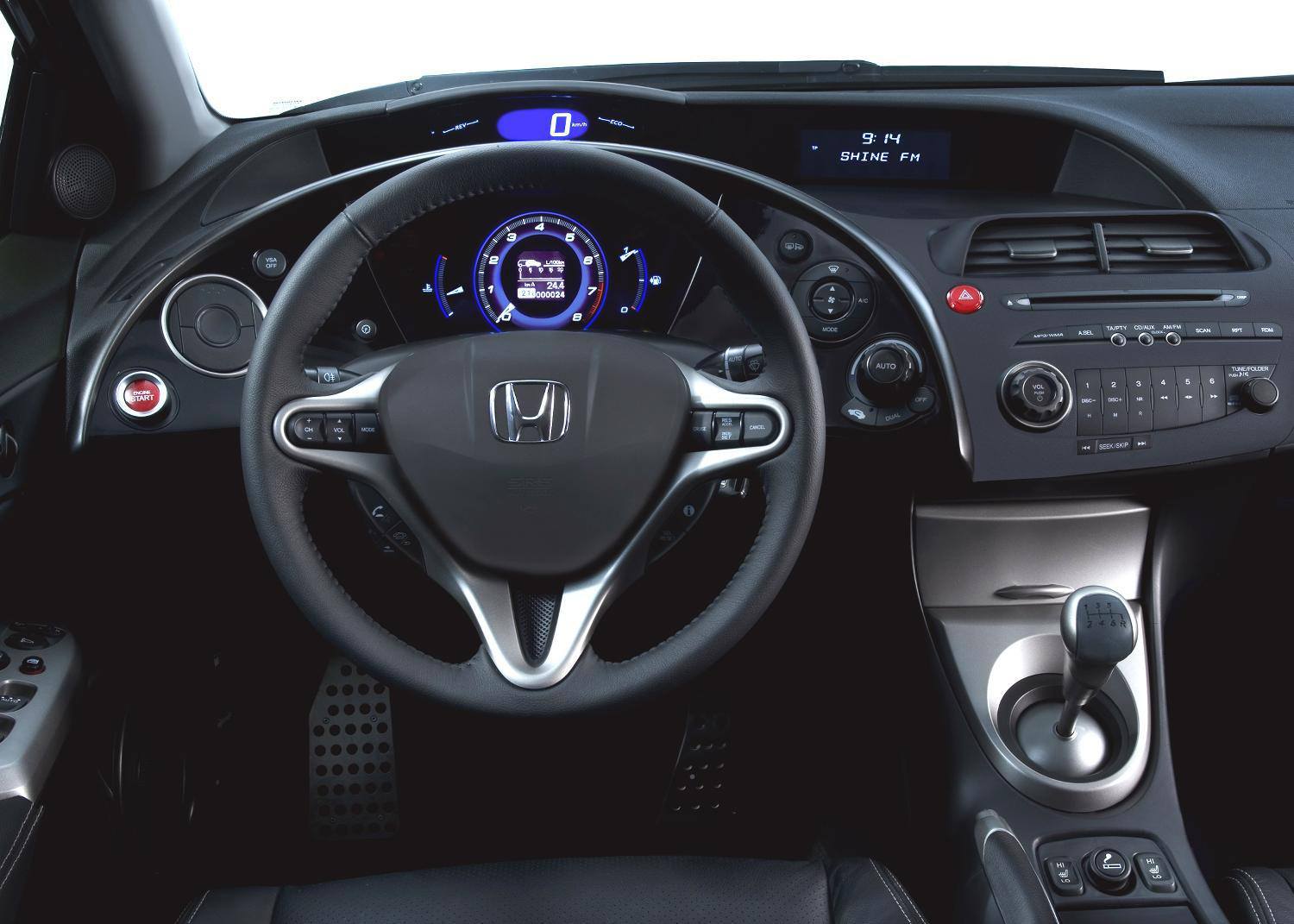 This is where Honda went all Space Age with the Civic, and not just with the exterior looks. Inside, the three- and five-door hatch range gained an intriguing and distinctive digital dash set-up. Unusual, maybe, but there was no doubting the quality of this Civic or the amount of space the cabin provided.
How much is a Honda Civic Mk8?
Both petrol and diesel versions of the Mk8 Honda Civic can be yours from £1500 in very good condition. They will have higher mileages at this price, so expect to pay from £2500 for cars with average miles for their year. A good Type R hot hatch will cost from £4000.
What's the best Honda Civic Mk8 to buy?
The five-door Civic is a more practical car than its three-door sibling, while the 1.8-litre petrol engine the finest all-rounder in the range. It's quick enough and still frugal. Avoid S spec models and seek out an ES that has standard climate control, cruise control and panoramic sunroof.
Is a Honda Civic Mk8 reliable?
Make sure any of the relevant recalls have been carried out that were issued for the Mk8 Civic. Beyond that, make sure the light lenses at each corner are free from misting as their rubber seals wear and leak with age, allowing water into the lights, which can be an MoT failure point.
---
Honda Civic Mk7 (2000 - 2005)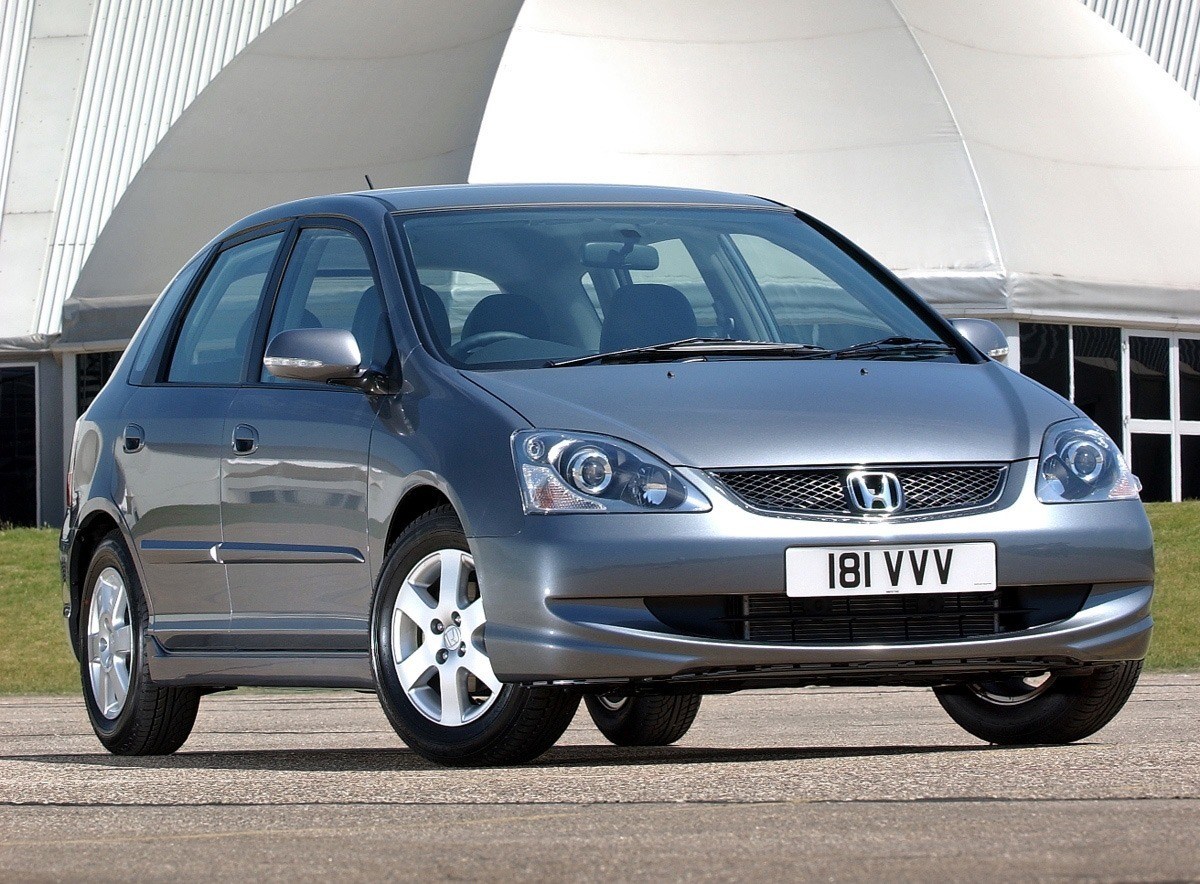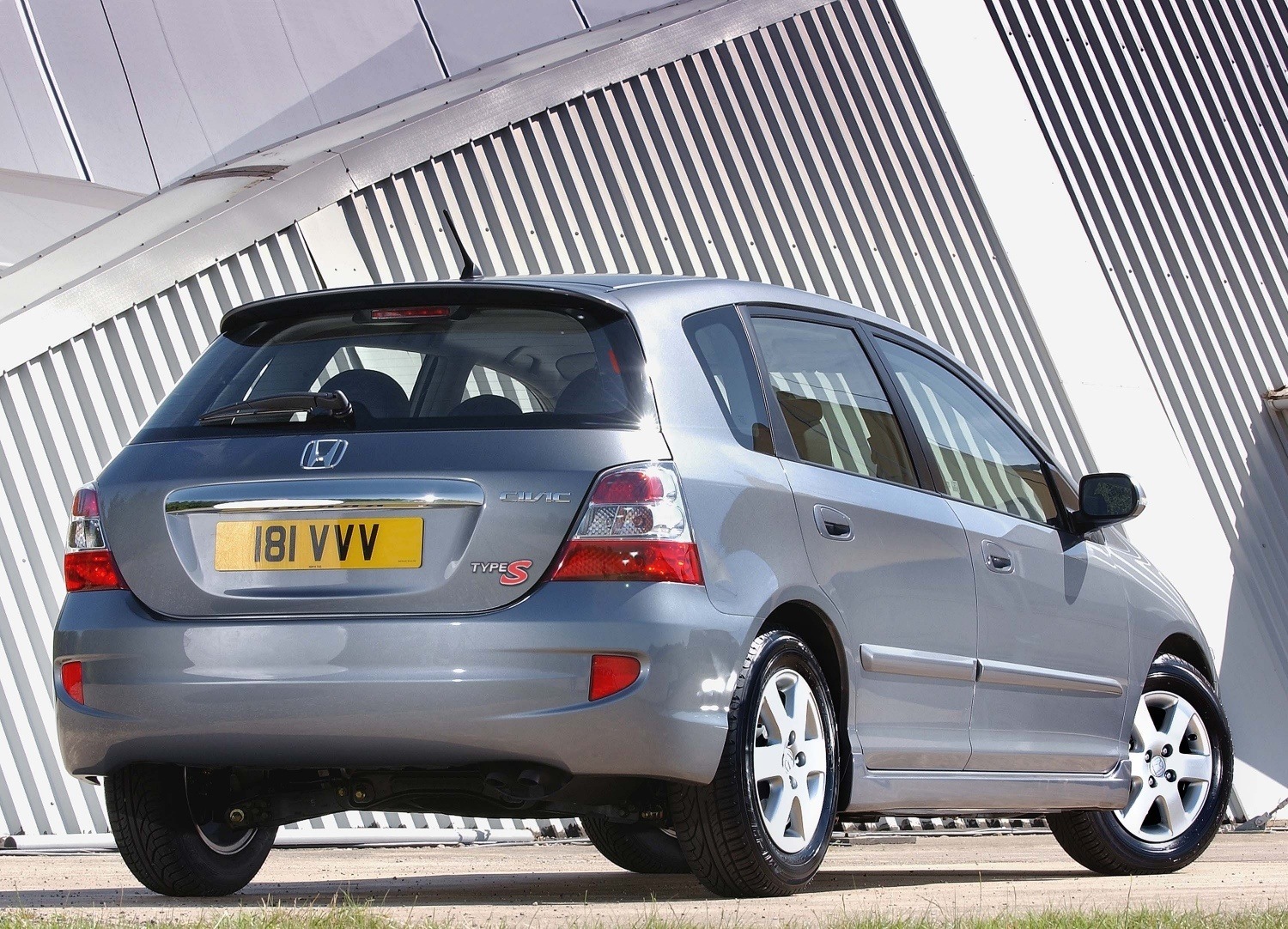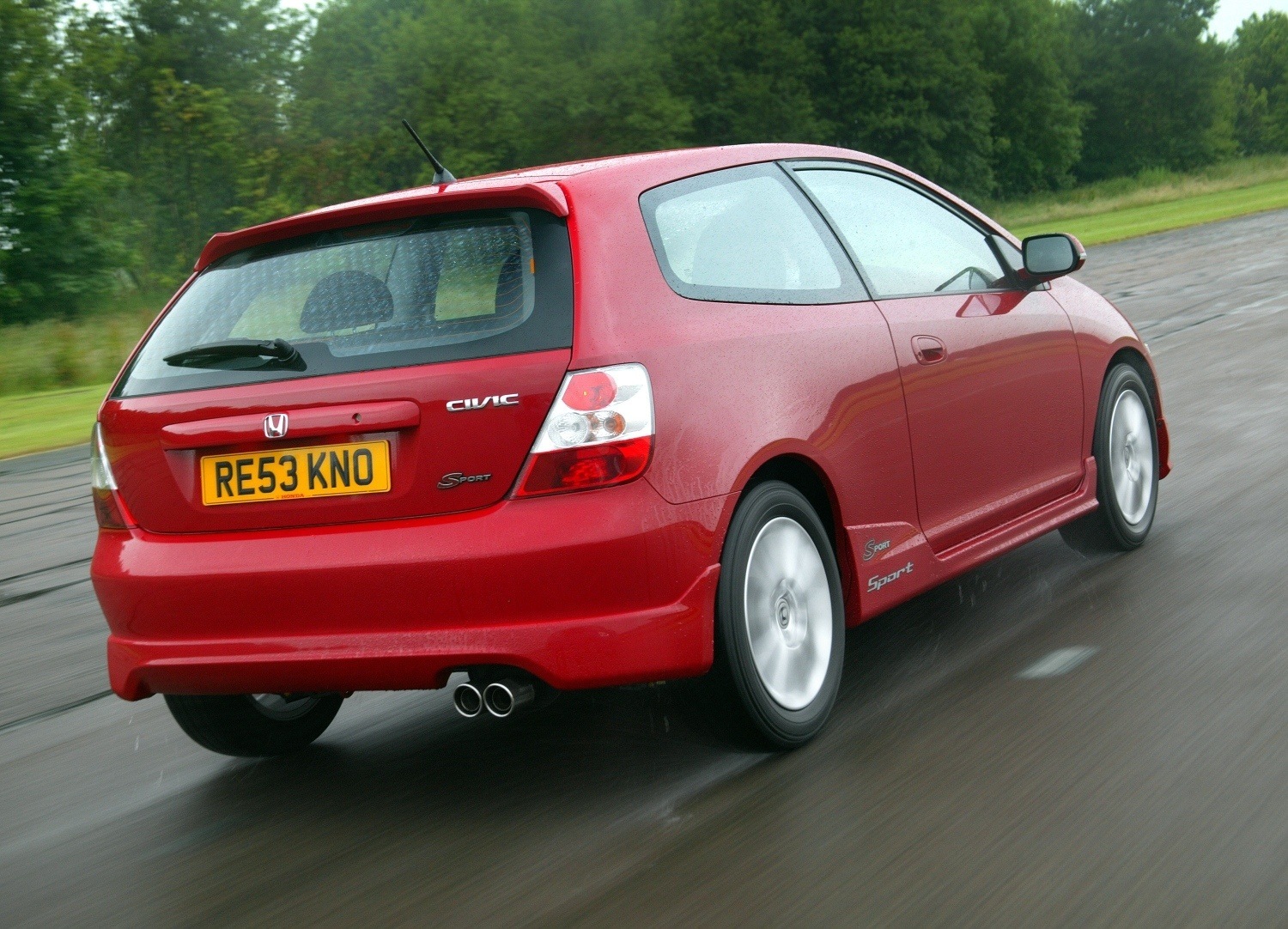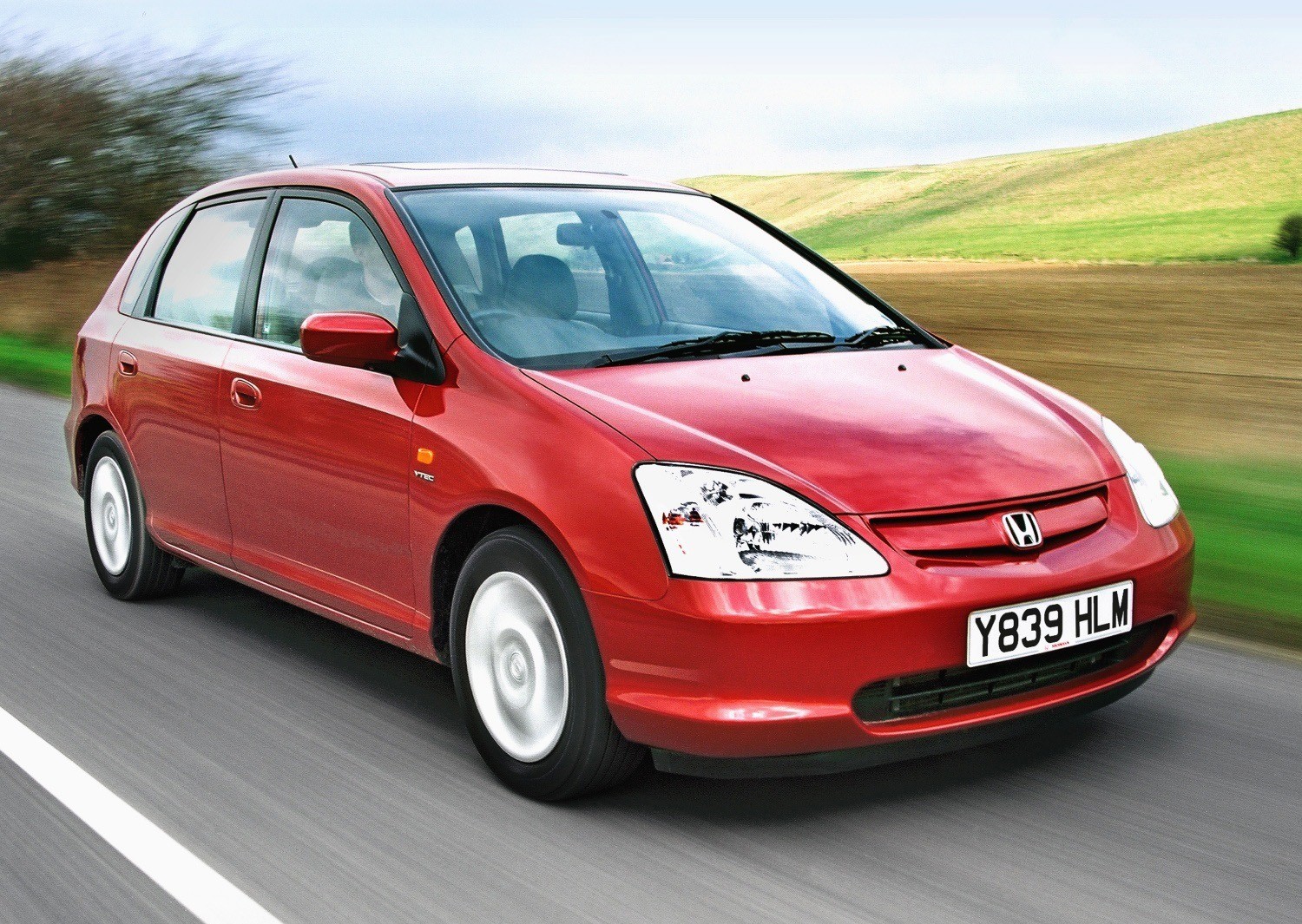 Another Civic generation and another shift in thinking from Honda as it incorporated many of the ideas from the MPV sector into its small hatch range. This resulted in enormous room for passengers, especially in the rear seats where there was more legroom than in a BMW 5 Series. The Type R hot hatch remains one of the greats of its genre.
How much is a Honda Civic Mk7?
All that's needed to see you driving around in a perfectly goof Mk7 Honda Civic is £1000. That will get you a car with average mileage that's free from rust and ready to carry on as a family hatch for years to come. Choose the rapid Type R hot hatch and prices have risen to £4000 for a good example.
What's the best Honda Civic Mk7 to buy?
The 1.4-litre petrol engine is fine in town, but the 1.6-litre is the better all-rounder, while the 1.7 diesel is a bit too noisy. SE trim is the one to have as you get electric front windows, air conditioning and decent amount of safety kit all included with the car. The five-door hatch is better and more spacious than the three-door version.
Is a Honda Civic Mk7 reliable?
Have a browse through the car's service history to make sure it's been regularly maintained and, if it has, you'll have very little to worry about with this generation of Civic. With the Type R, look for evidence of crash damage, worn driver's seat, and mismatched or cheap brand tyres that ruin the handling.
---
Honda Civic Mk6 (1995 - 2000)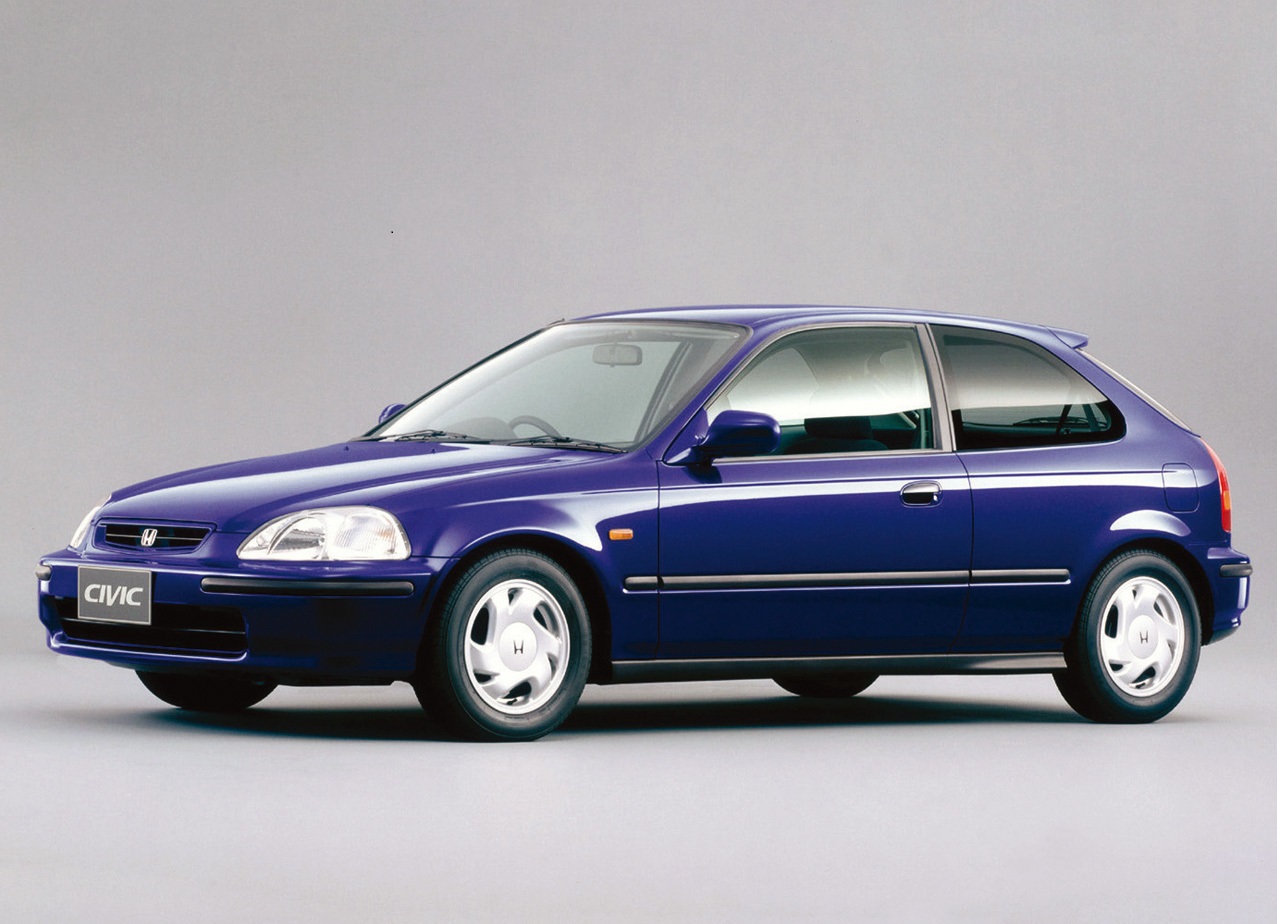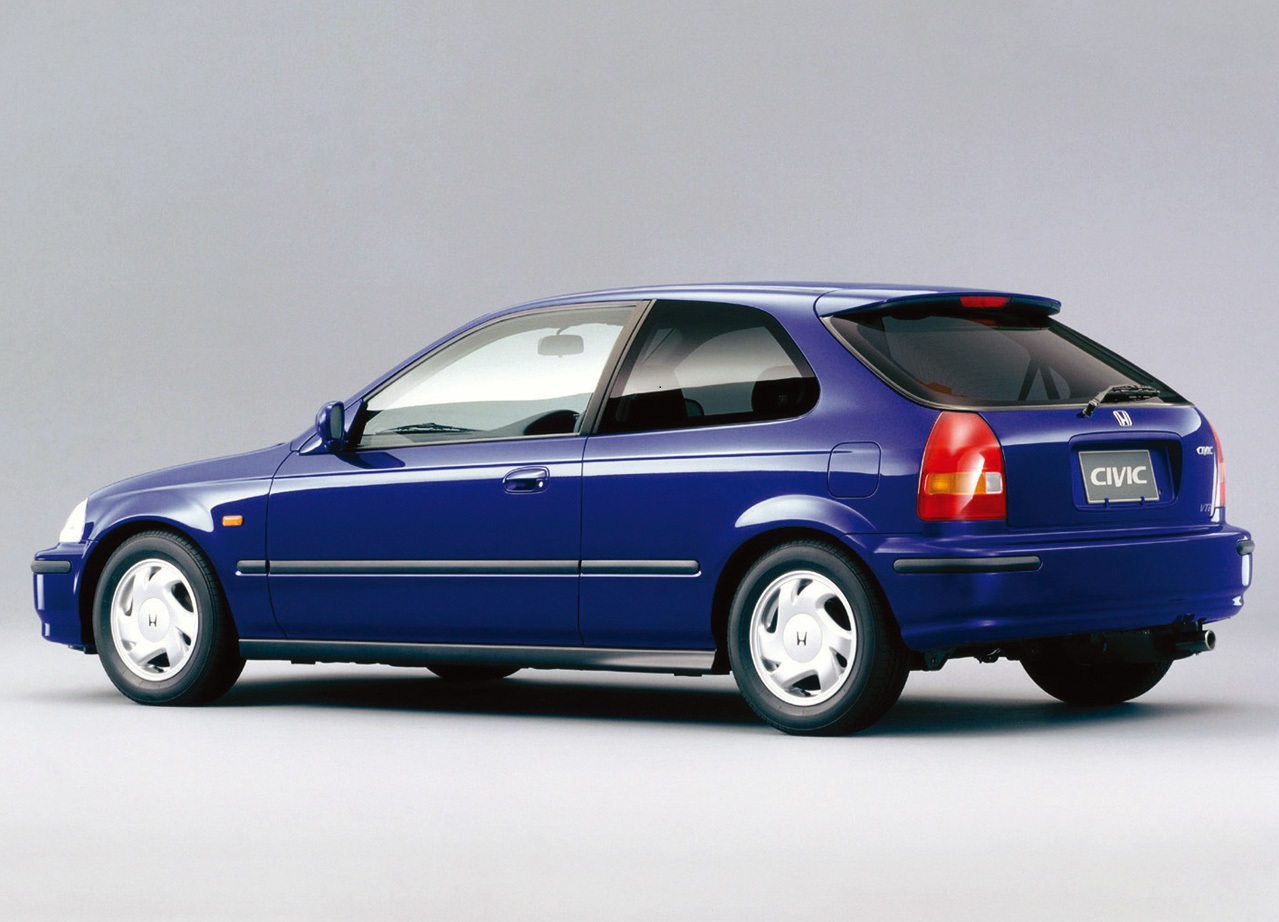 Honda decided to give the Civic a more mainstream approach with the sixth-generation model to take on rivals like the Vauxhall Astra and Volkswagen Golf. As a result, the styling was a little more bland, but there were still saloon, hatch and estate models, plus the Si coupe version and a Type R model for the UK at last.
How much is a Honda Civic Mk6?
With a budget of £1250, you could be driving around in a Mk6 Honda Civic that is in decent working order. It will have one of the less powerful petrol engines or the diesel motor. For something in tip-top order, £3000 is what's required for this generation Civic, but a Type R will need £800 and up for good examples.
What's the best Honda Civic Mk6 to buy?
The VTi trim was popular when the Mk6 Civic was new and it remains the best choice today among the very long list of versions Honda offered. Combine this with the 1.6-litre petrol engine manual gearbox, and you have a fun, cheap to run car that is at its best as a three- or five-door hatch.
Is a Honda Civic Mk6 reliable?
Honda had almost every other car company licked when it came to reliability by this stage of the Civic's life. The engines are legendarily tough and able to run for huge mileages with nothing more than standard servicing. Look for rusty wheelarches and worn interiors.
---
Honda Civic Mk5 (1991 - 1994)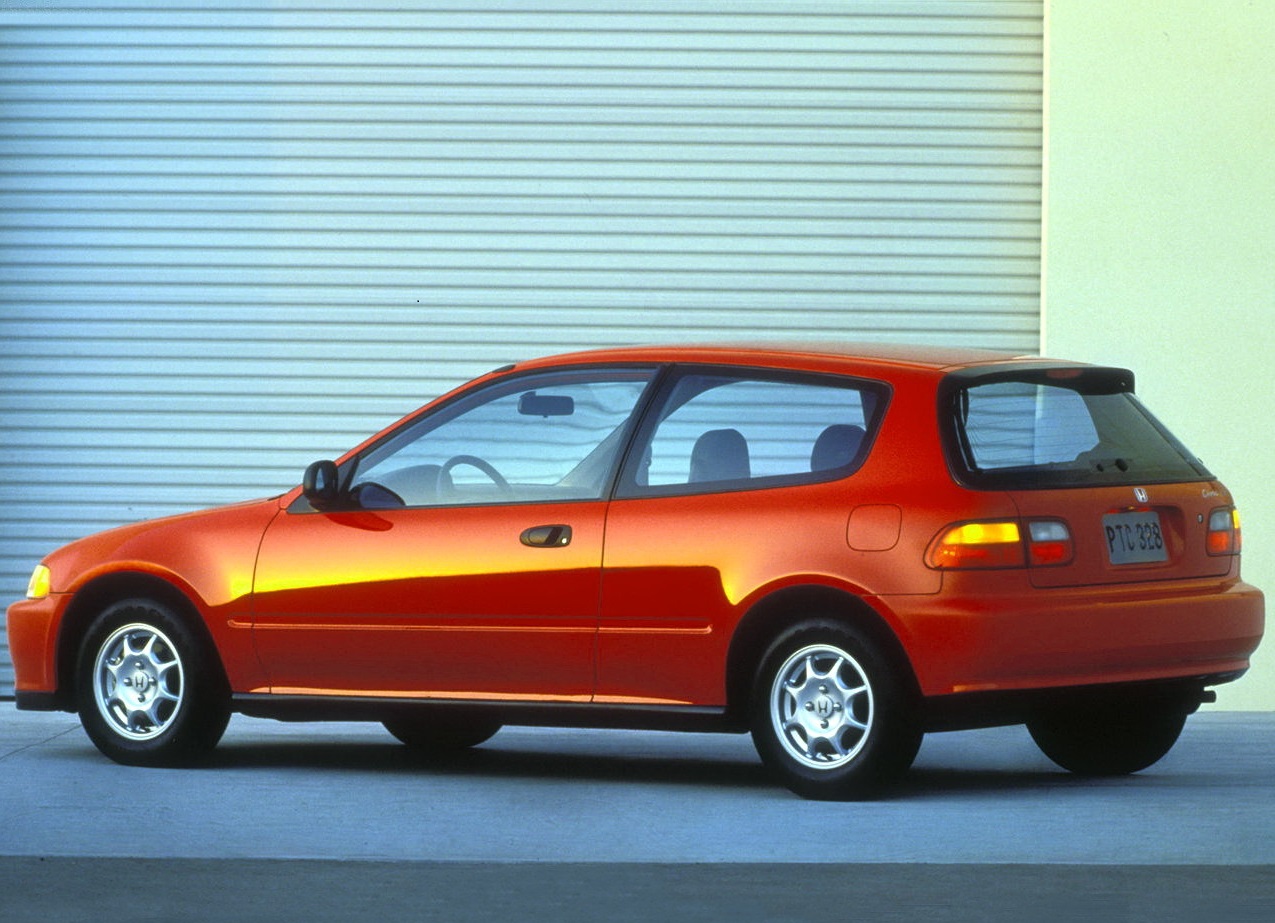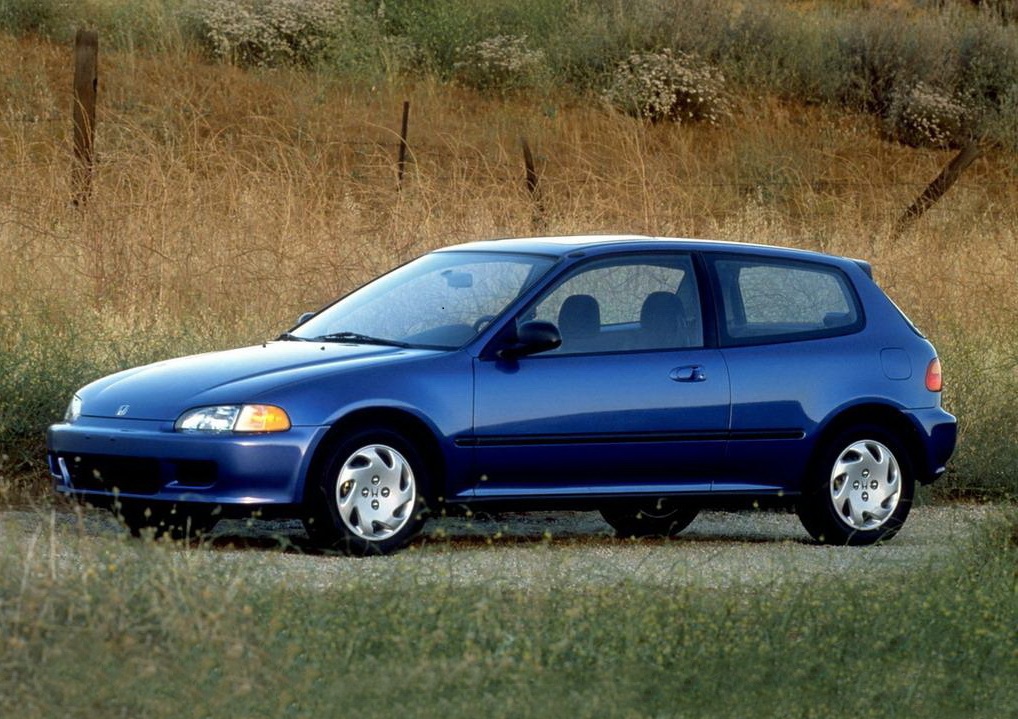 Just four years after it introduced the previous Civic, Honda ushered in the fifth-generation model. The looks were very similar, but the company stated that 80% of the car was all-new. It certainly showed in the way the saloon, hatch and estate models drove as they were streets ahead of the Ford Escort or Vauxhall Astra, even with the Civic's engines that needed to be revved hard.
How much is a Honda Civic Mk5?
£1000 will find you a reasonable Mk5 Honda Civic that has an MoT and loads more miles to travel. There are more of the hatchback models than the estate or saloon versions, but don't pay any more for either of these latter models. Even the very best examples of this generation will not cost more than £2500.
What's the best Honda Civic Mk5 to buy?
There's a choice between saloon, estate and three- or five-door hatchbacks with the Mk5 Civic. The three-door hatch is the best-looking of the lot and works well with the 1.6-litre petrol engine. This deliver excellent performance and was the nippiest model as no Type R was sold in the UK at this stage.
Is a Honda Civic Mk5 reliable?
Honda was well on the way to dealing with corrosion issues with its cars by the time the Mk5 Civic was on sale. This means it's much less of a worry, but still worth checking for to make sure there's badly repaired crash damage. The rest of the car is hard-wearing and very durable.
---
Honda Civic Mk4 (1987 - 1991)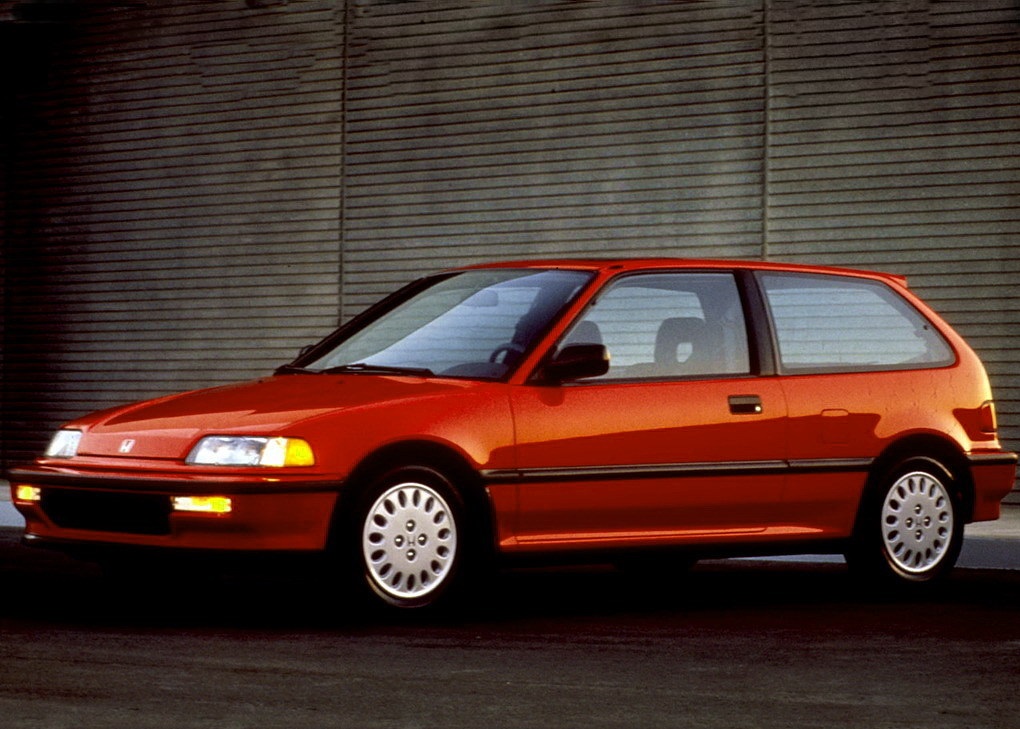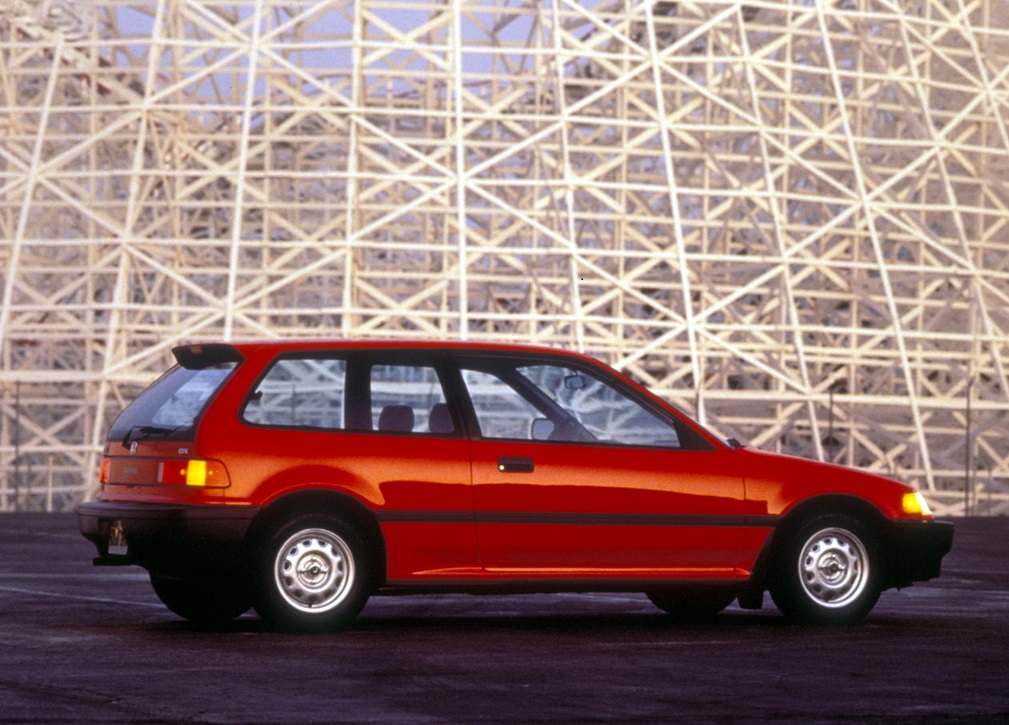 While the looks of the fourth-generation Honda Civic were very reminiscent of its predecessor, the car was all-new. This allowed for more cabin space, especially in the rear seats and boots, and the car was now offered a four-door saloon as well as the Shuttle estate. There was also the superb CRX 150bhp hot hatch version.
How much is a Honda Civic Mk4?
£2000 will park a Mk4 Civic on your drive that is in decent condition and ready to enjoy, though you'll need to double that budget to own the best of the standard models. Good CRX models can make £5000 easily and the nicest versions are now nudging twice that price.
What's the best Honda Civic Mk4 to buy?
It's hard not to be tempted towards the CRX hot hatch with its rev-hungry 150bhp 1.6-litre engine. This is a superb hot hatch and still feel quick. For more daily driving needs, the 90bhp 1.4-litre petrol engine is the one to have with its five-speed manual gearbox.
Is a Honda Civic Mk4 reliable?
Pick a clean, cared-for Mk4 Honda Civic and you can expect a life of hassle-free motoring. The engines are jewels and rarely need anything more than regular service work. It's the same for the rest of the car, but check every inch of the bodywork for rust before buying.
---
Honda Civic Mk3 (1983 - 1987)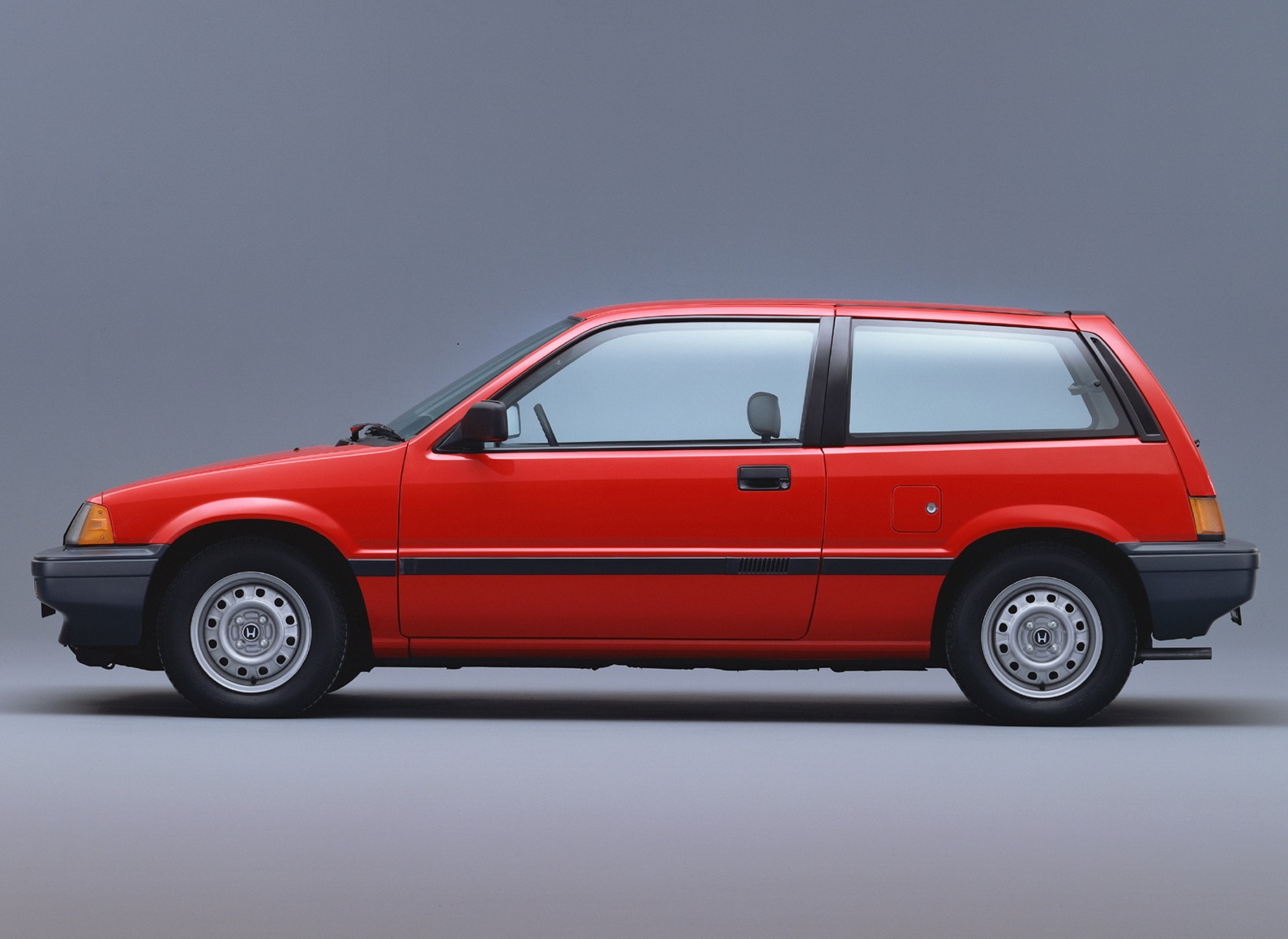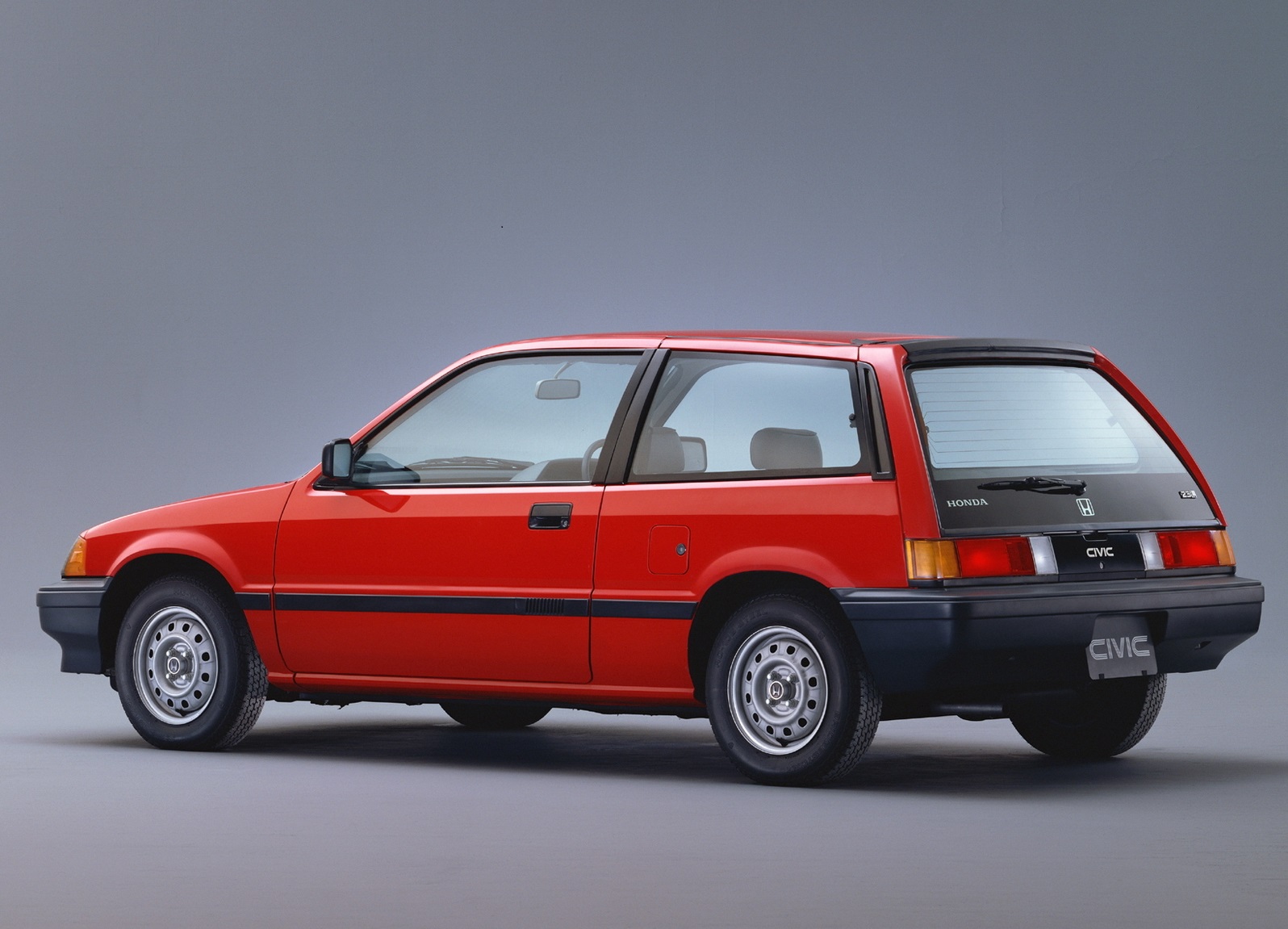 Honda made a very deliberate change of tack with the styling of the third-generation Civic, giving it a typically 1980s sharp-edged appearance. For the UK, it was only ever sold as a three-door hatch, with looks more akin to a small estate and similar in concept to the contemporary Volkswagen Polo.
How much is a Honda Civic Mk3?
This generation of Civic is in demand thanks to its very 1980s looks and reputation for fine handling. Solid examples can make £3000, but the excellent Sport model with its peppy 1.5-litre engine can double that. Find a good Civic CRX with its 100bhp motor and you can pay up to £10,000.
What's the best Honda Civic Mk3 to buy?
The Civic CRX is coveted by hot hatch fans and priced accordingly, so the Sport is a good alternative as it not much slower but half the price. For all other needs, the 1.3-litre Civic is ideal as a fun, surprisingly roomy daily runabout alternative to a modern supermini.
Is a Honda Civic Mk3 reliable?
This was the era of Hondas that cemented the firm's reputation for reliability and near-flawless build quality. Rust was still a concern as the cars become older, but any still around now should be solid and able to be driven and enjoyed without any worries.
---
Honda Civic Mk2 (1979 - 1983)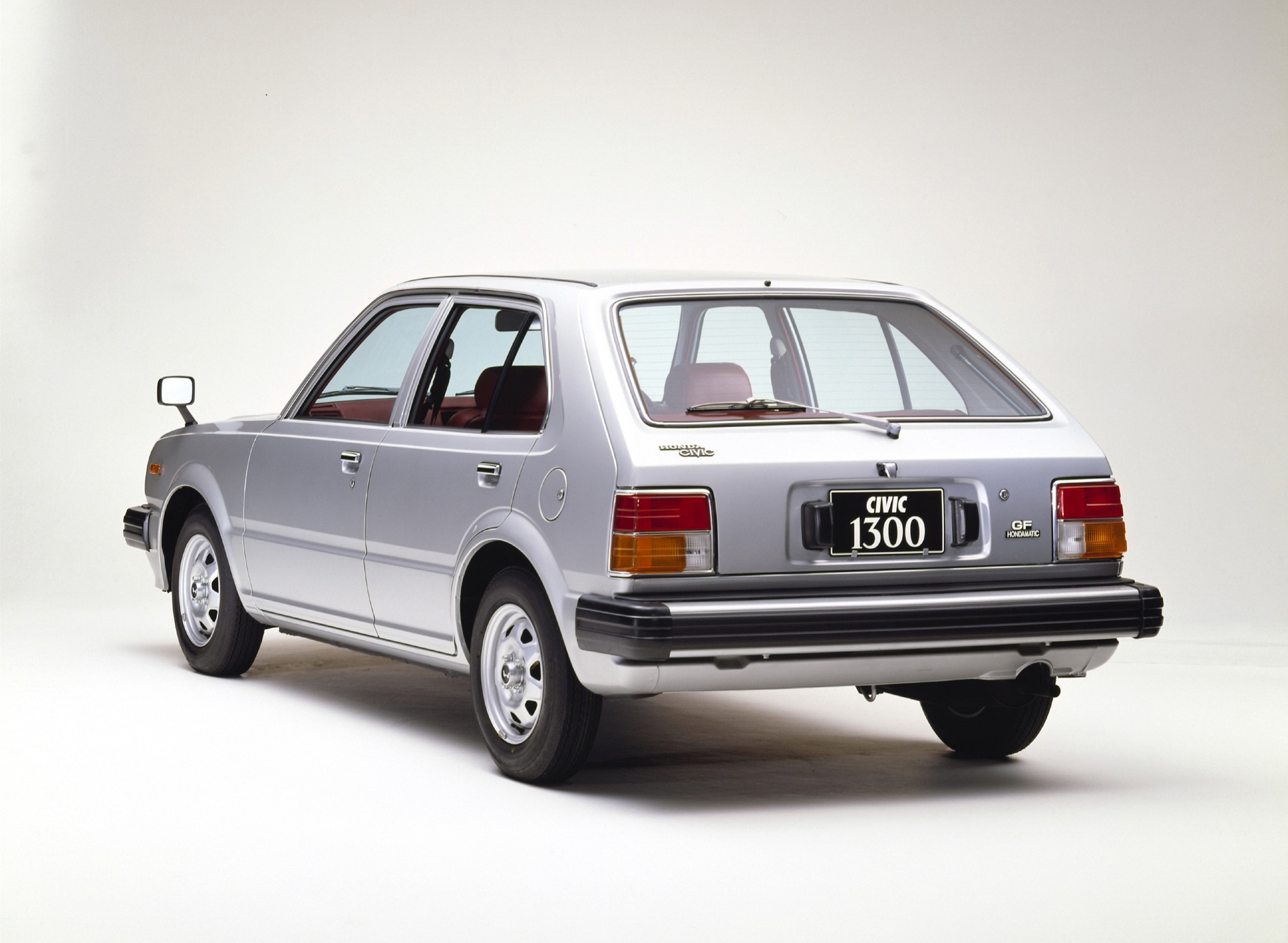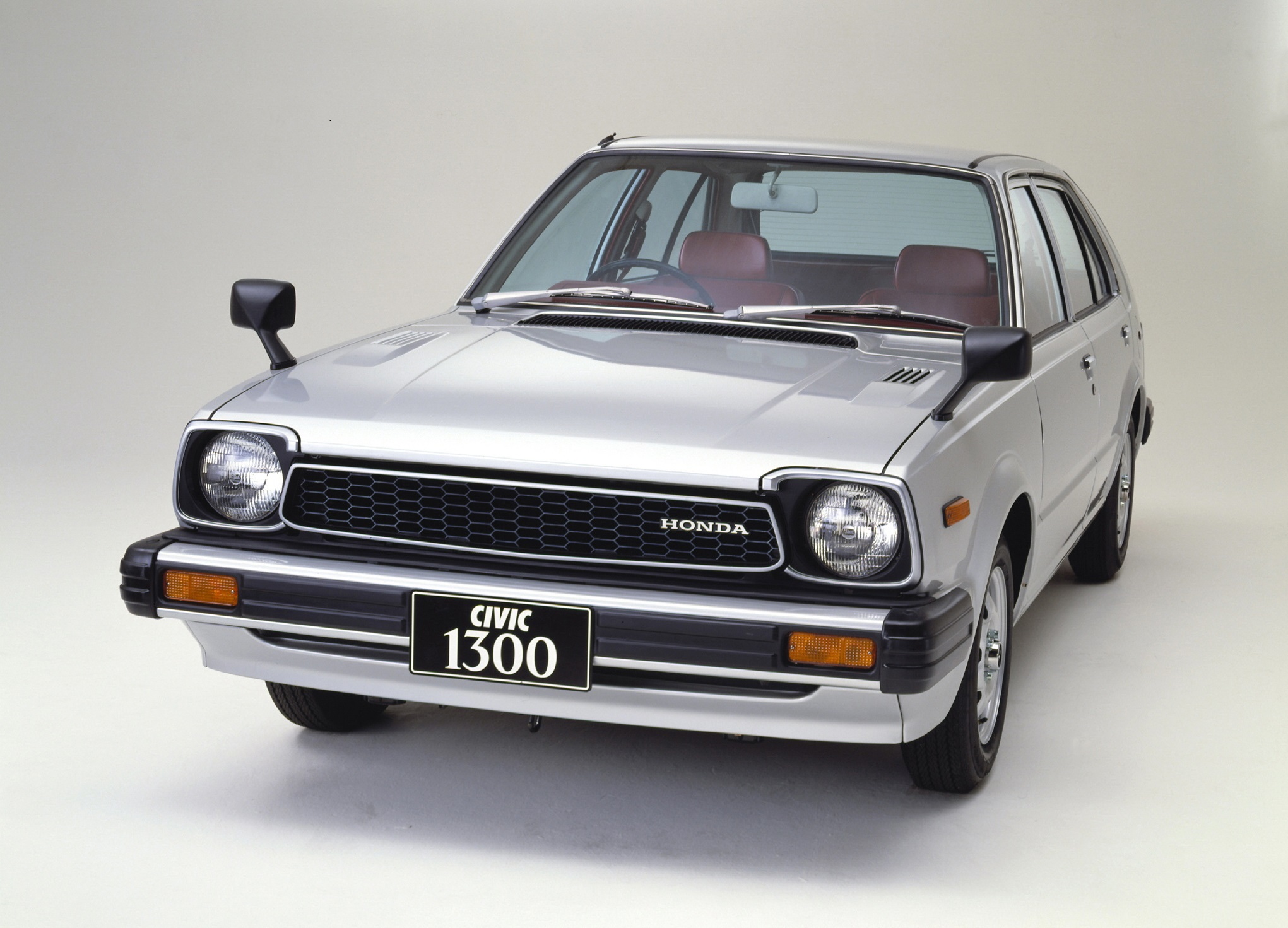 More than 3.3 million second-generation Honda Civics were made in just four years. That tells you this was a very popular car in period and also means there are still a few around now. This model was very much an evolution of the first Civic and also formed the basis of the Triumph Acclaim.
How much is a Honda Civic Mk2?
Values of the second-generation Honda Civic remain low compared to many cars of the same period that are now considered desirable classics. £2500 should net you a very sound, usable Mk2 Civic with a 1.3- or 1.5-litre petrol engine, both with a five-speed manual gearbox as standard. Exceptional cars can make £5000.
What's the best Honda Civic Mk2 to buy?
The larger 1.5-litre petrol engine is the better bet for anyone who wants to drive their second-generation Honda Civic on a regular basis or even daily basis. It has more performance than the 1.3-litre motor and is a more relaxed cruiser. All were hatchbacks to give good practicality.
Is a Honda Civic Mk2 reliable?
With regular service work carried out, a Mk2 Civic will be one of the most reliable older cars you could hope to own. The engines are tough and so are the gearboxes, while the suspension is simple to look after and replacing any worn parts will not be expensive. Check all of the trim and rubber seals are present and in good condition.
---
Honda Civic Mk1 (1972 - 1979)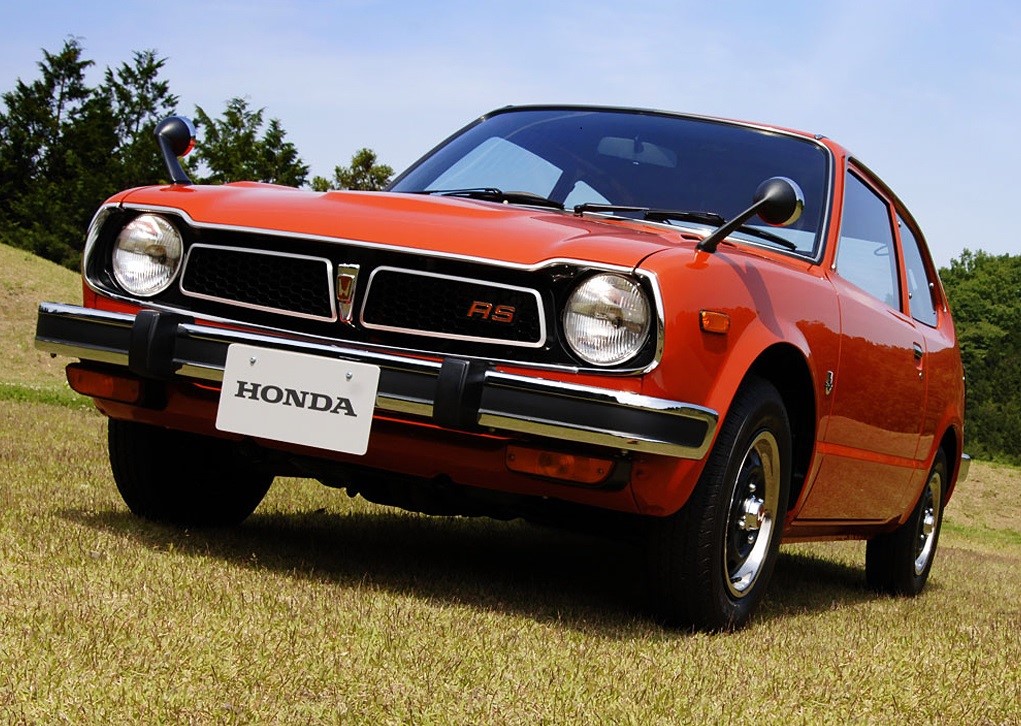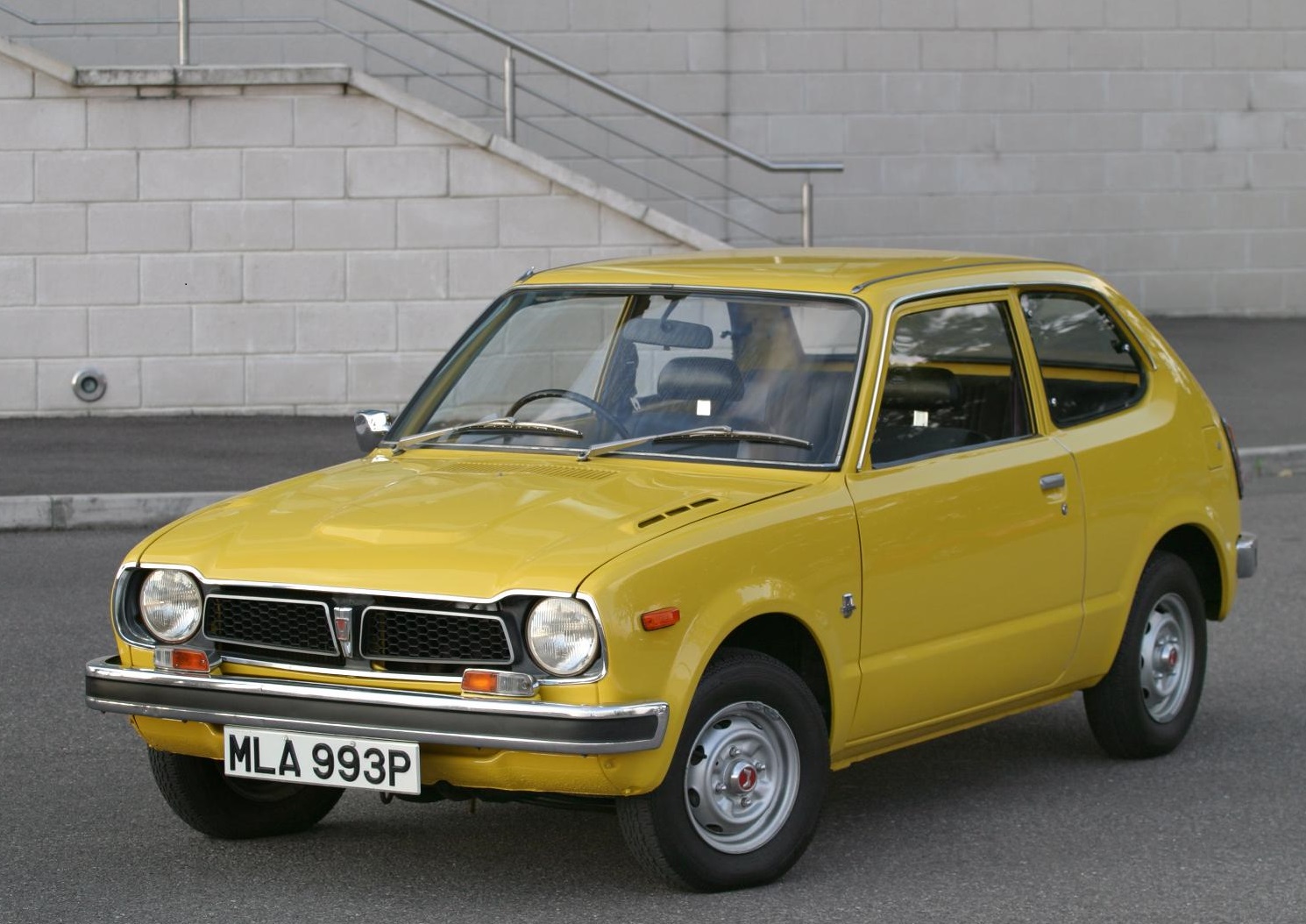 Honda was already well-known for its small cars when it launched the Civic in 1972, but its new model was a distinct step up in practicality and cabin space. Two, three- and five-door body shapes gave buyers more choice than with most rivals, and the Civic was also better equipped than the competition for the same price.
How much is a Honda Civic Mk1?
Finding a Honda Civic from this period will be a challenge as few have survived. However, when you do come across one, good solid examples will fetch around £3500, while scruffier ones will cost from £1500. The very best on sale can make as much as £5500.
What's the best Honda Civic Mk1 to buy?
Very early two-door models are sought by collectors, but the three- or five-door versions are more common and practical to use. The 1.5-litre petrol engine is best choice as it gives the Honda enough performance to mix easily with modern traffic, and the manual gearbox is preferable to the sluggish Hondamatic auto.
Is a Honda Civic Mk1 reliable?
In common with many cars from the 1970s, the Honda Civic suffered from corrosion problems and many have since rotted away. So, check any car for rust. Otherwise, the engine and mechanical components are much better than most of the Civic's contemporaries and easy to fix.
---