Best estate cars 2022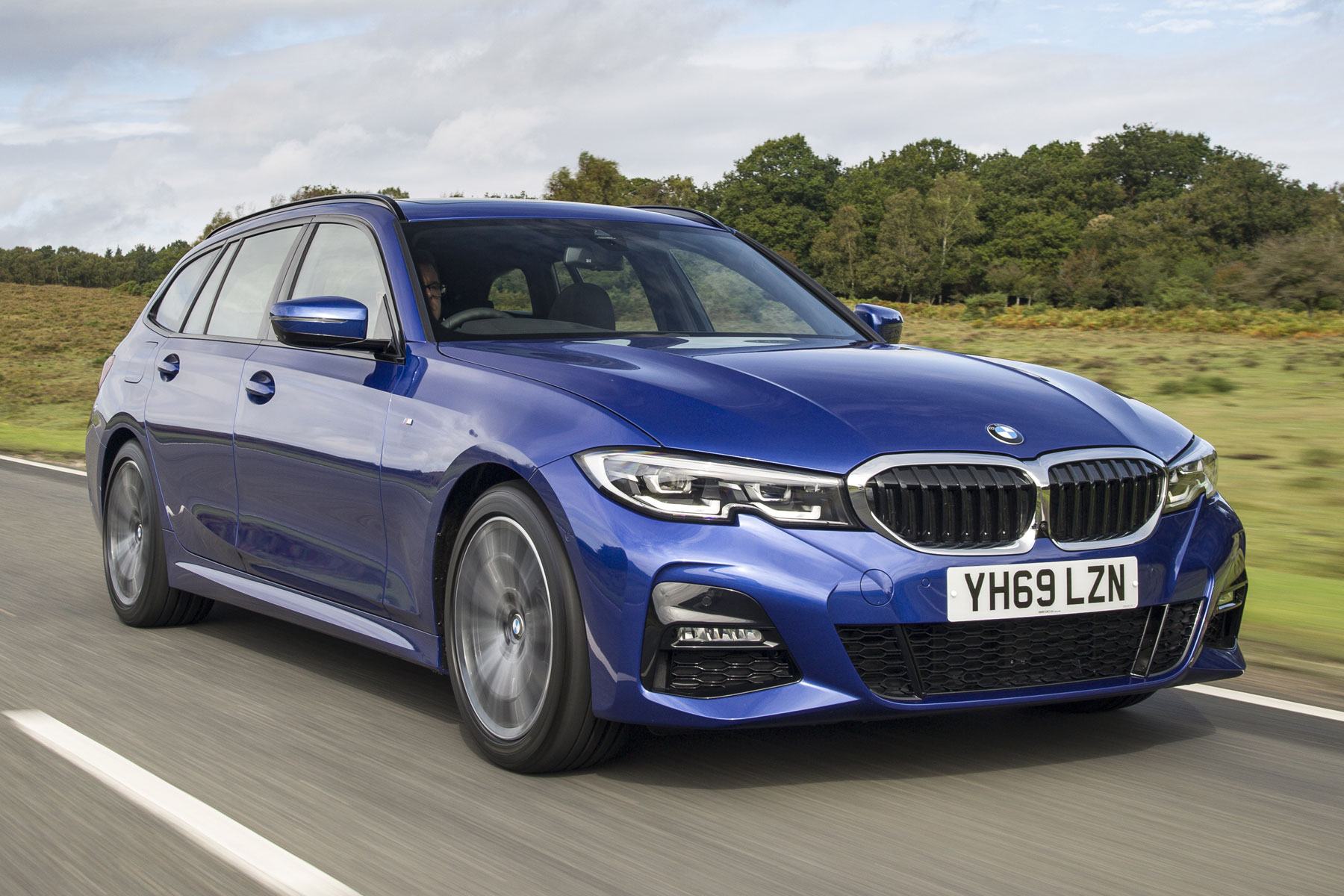 Estate cars didn't used to be cool. They were the boring, boxy wagons that you chose when you simply had no other option; you needed to carry bulky loads, and a regular hatchback just wouldn't do.
How times have changed. Today, estate cars can be seriously desirable machines, sometimes even more so than the cars they're based upon. And they often have fancy names to suit, such as 'sports tourer' or 'shooting brake'.
The best estates still do the fundamentals really well. They have huge load bays that swallow endless amounts of luggage, or pets, or whatever else you want to pack in there. They are well-shaped too, making carrying things far easier than with a conventional car.
With their added cool-factor, though, the finest estates are enviable cars in their own right. Here is our guide to 10 of the best estate cars on the market right now.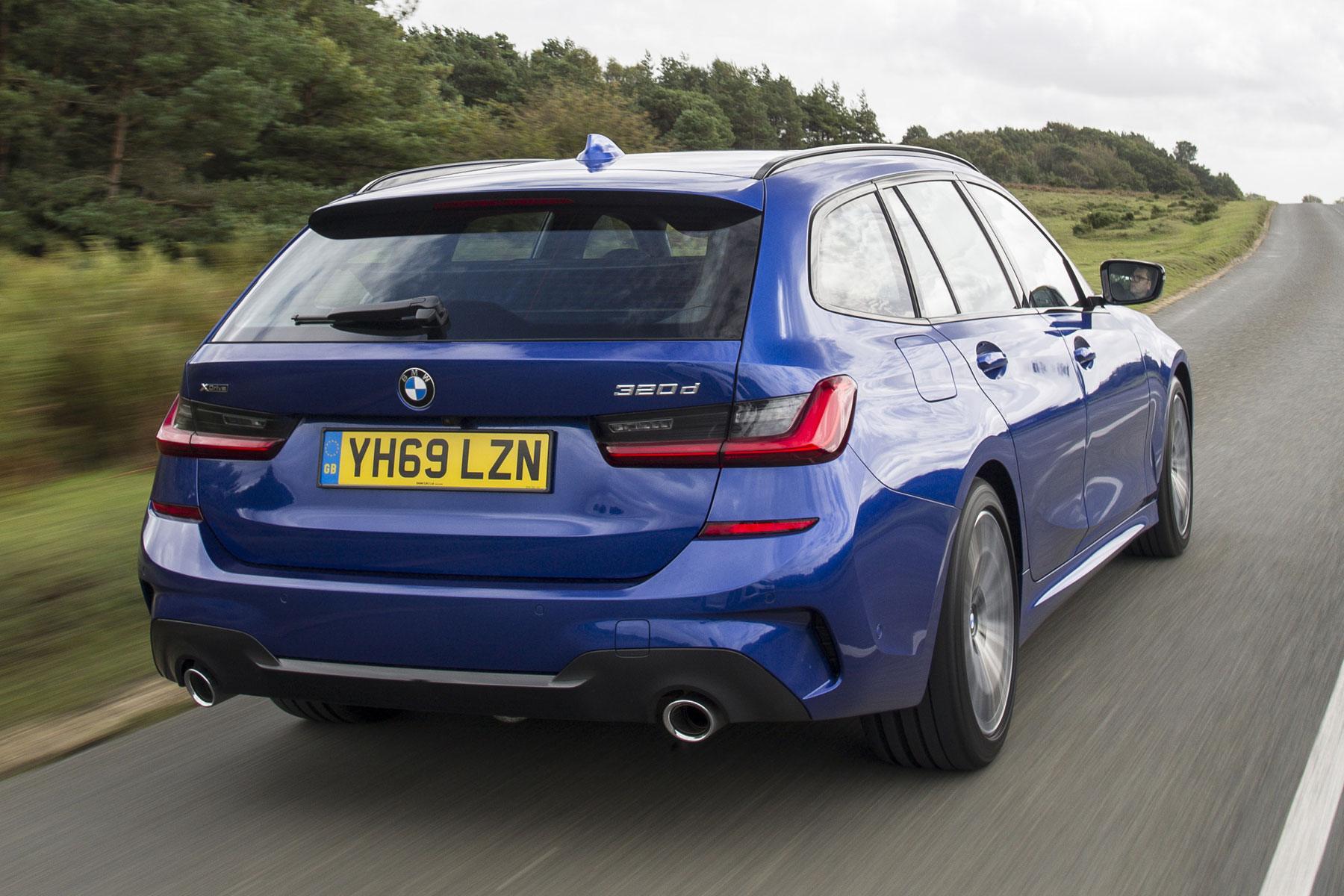 BMW 3 Series Touring
The BMW 3 Series Touring has been an excellent estate car for decades. It's always offered a sporty alternative to the regular 3 Series saloon, with a rakish rear end and the ever-novel feature of a separately-opening tailgate window. The boot is an open-plan 500 litres, and we love BMW's ingenious anti-slip ribbing on the boot floor. Further forward, headroom is better for rear-seat passengers and those in the front enjoy a very high-quality dashboard. Pick from a broad range of engines, including the 330e Touring plug-in hybrid and the very entertaining M340i xDrive performance flagship. Like all versions of the 3 Series Touring, it handles beautifully.
Volkswagen Golf
The Volkswagen Golf estate is a very commodious machine indeed. Boot space of more than 600 litres is over 200 litres more than the Golf hatchback: a huge step-up in space. But the sensibly planned cabin remains the same, with good comfort for passengers and a perfect driving position behind the wheel. Volkswagen's latest touchscreen infotainment system is so-so, but is improving all the time via over-the-air updates. Refinement in all Golf estates is very good, and the range includes fuel-efficient petrol and diesel models, an eHybrid plug-in hybrid and even the high-performance Golf R range-topper with over 300hp.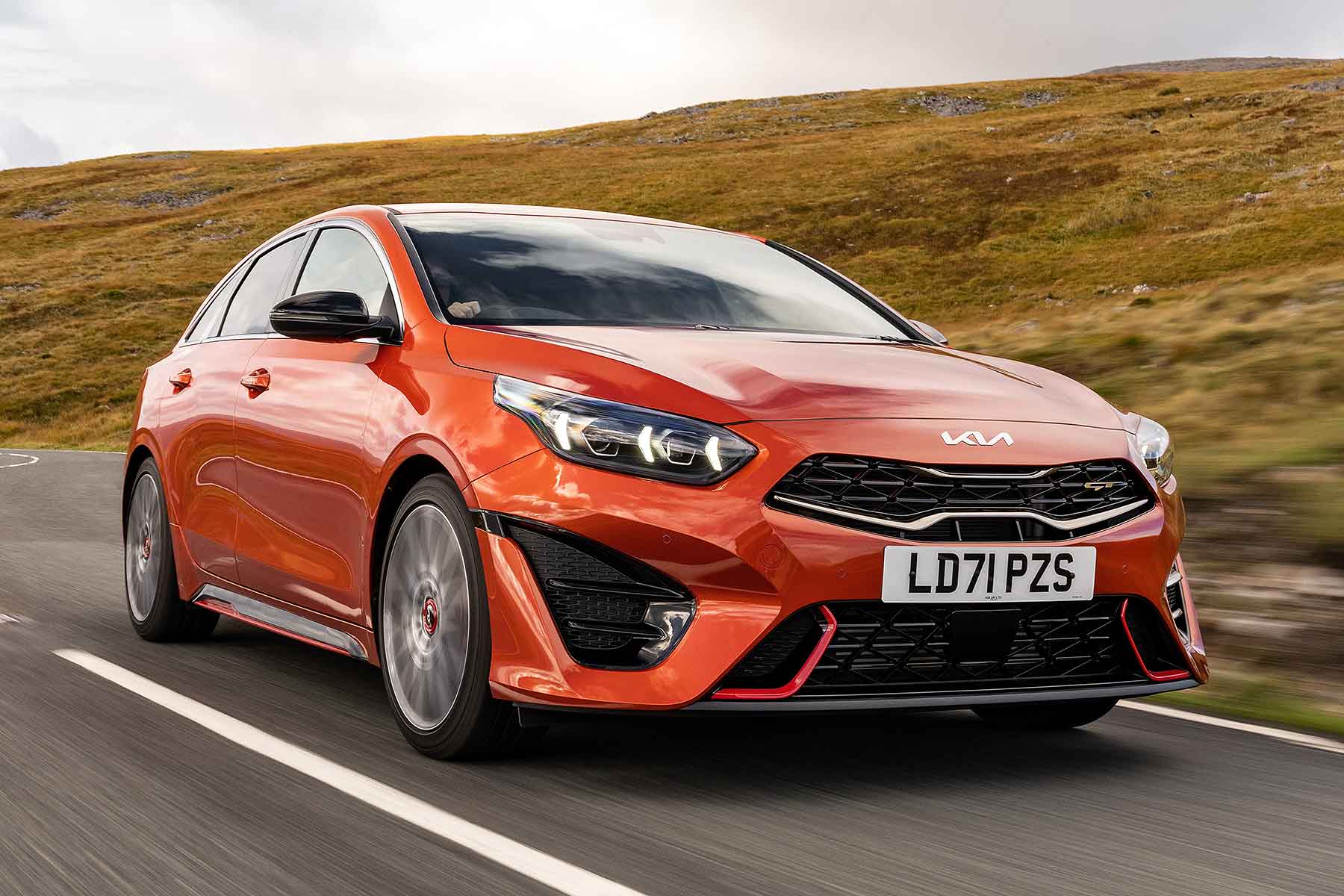 Kia Proceed
The Kia Proceed is a very good-looking alternative to the regular Ceed Sportswagon estate. The Proceed is what's known as a shooting brake, or a racier, more coupe-style five-door estate – a look popularised by the Mercedes-Benz CLS. Although the Ceed SW has a bigger boot, at 625 litres, the Proceed isn't far behind at 594 litres. Its step-in tailgate opening makes for an easy space to manage, too. Just don't expect to pack in long and square loads, as the curved tailgate won't close properly. Not simply stylish, the Proceed is well-equipped, smooth to drive and has a fantastic seven-year warranty – all for prices that definitely qualify as great value.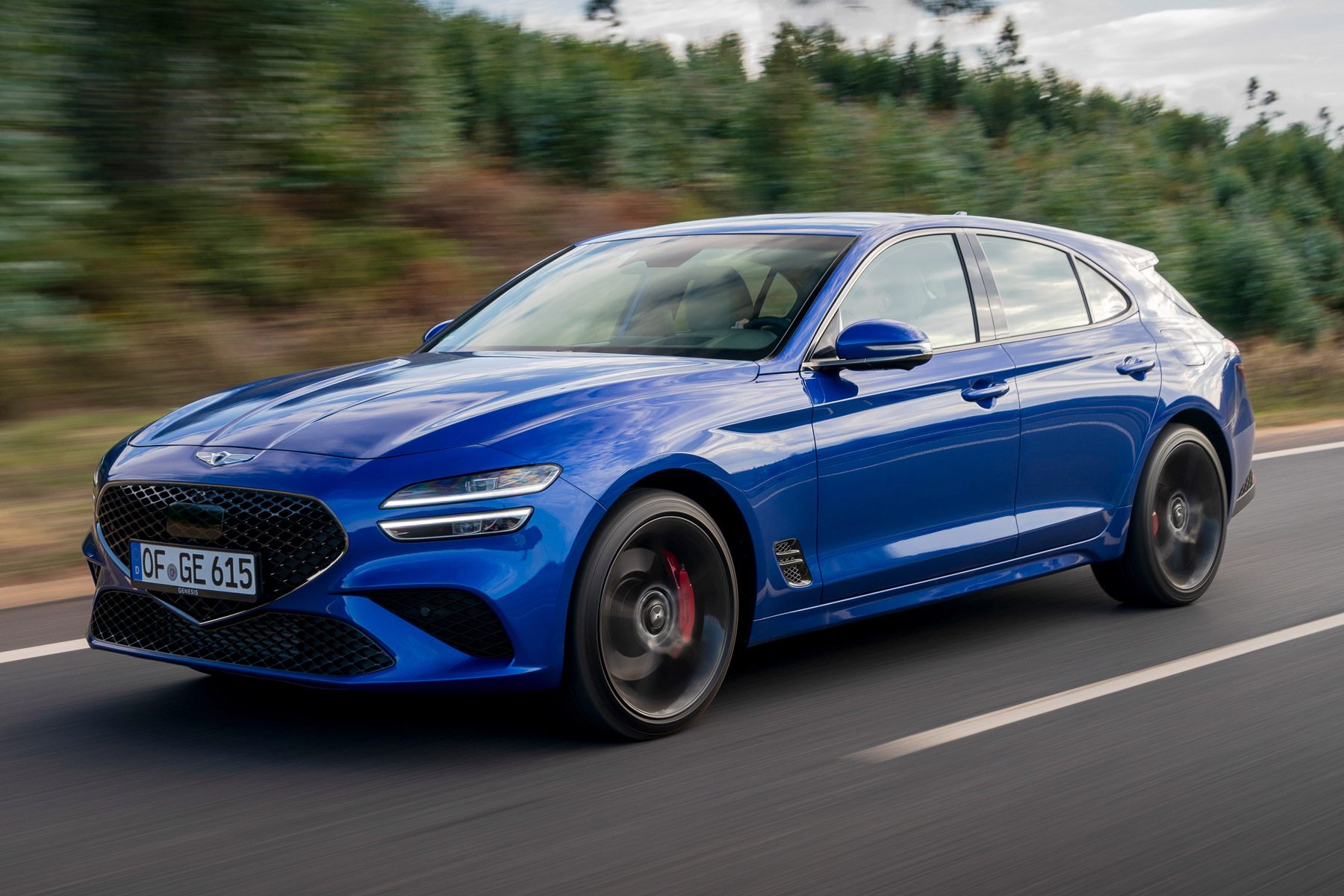 Genesis G70 Shooting Brake
With the G70 Shooting Brake, Korean brand Genesis has created a car just for Europe. It has taken the example of the original BMW 3 Series Touring and built a sporty, fashionable estate version of the G70 saloon. It certainly isn't the biggest car in its class, but ultimate load-lugging ability isn't the sole aim here. The idea was to create a more practical version of the regular saloon, but with a more distinctive appearance. It uses the same rear-wheel-drive platform, for enthusiast-pleasing handling, and is particularly engaging in Sport Line grade, with adaptive suspension and big Brembo brakes. Genesis aims to deliver an enhanced ownership experience, with top-notch levels of customer service.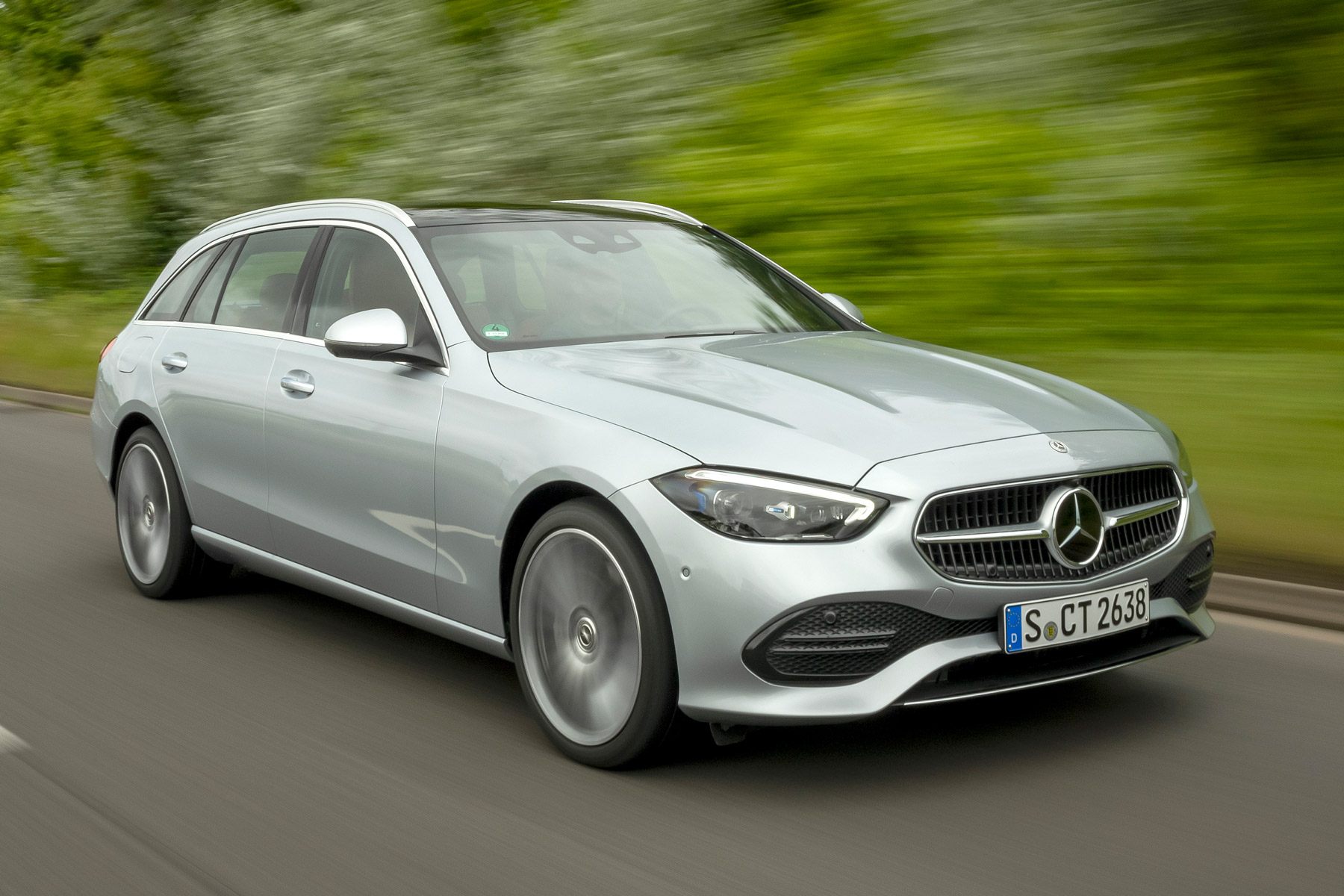 Mercedes-Benz C-Class
The sleek Mercedes-Benz C-Class estate has a very clean, flowing design, with impeccable attention to detail. It definitely looks like a premium car, and you can add a sporty twist by choosing AMG-Line grade. Impressively, estate prices are less than £1,000 more than the C-Class saloon, for which you get a 490-litre easy-access boot (although this, curiously, shrinks to 455 litres in the 258hp C 300 – and to just 360 litres in the C 300 e plug-in hybrid). All versions of the C-Class have a magnificent interior, including a huge centrepiece touchscreen, plus a list of high-tech options as long as your arm.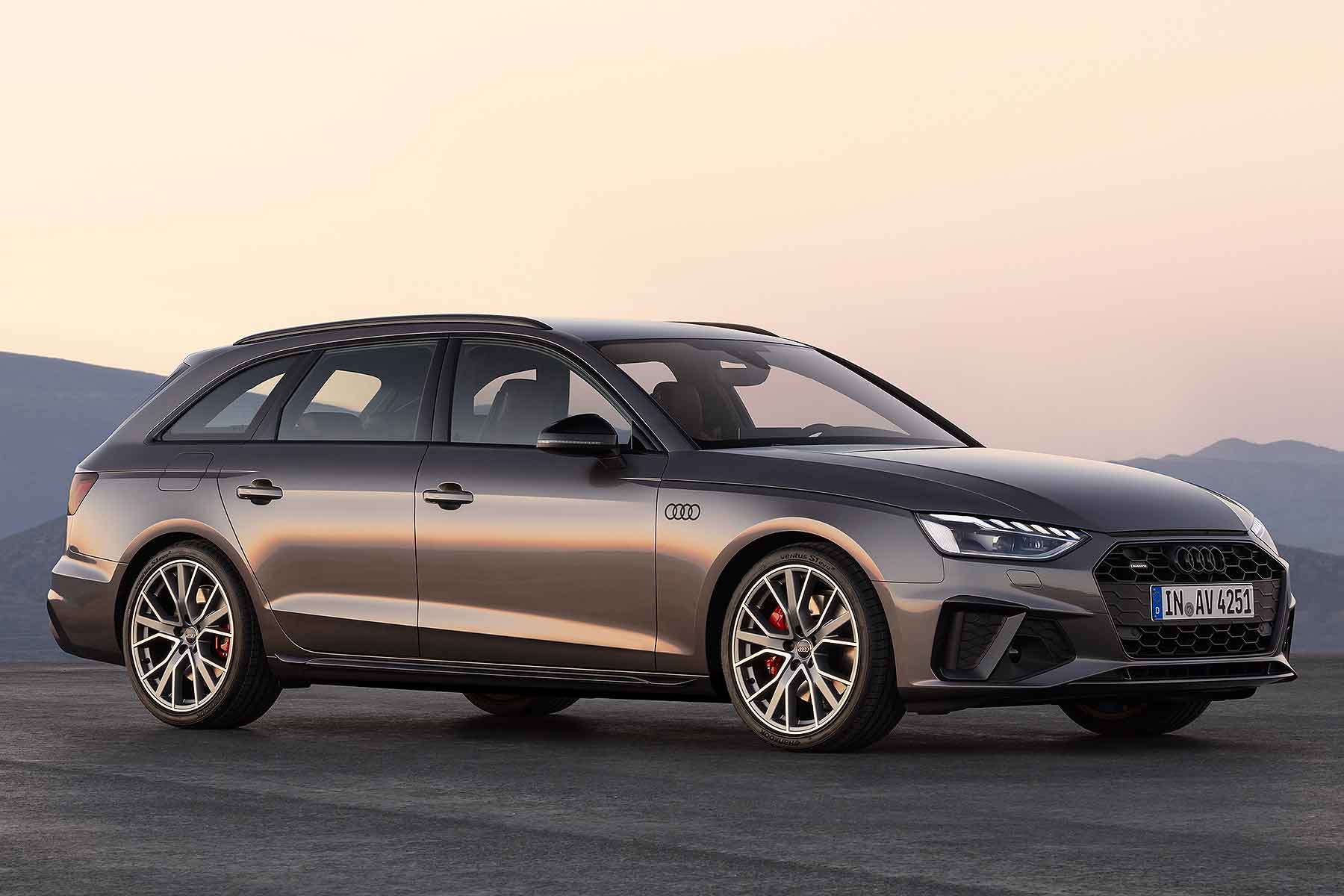 Audi A4 Avant
The Audi A4 Avant is the more distinctive alternative to the A4 saloon, with the classic estate profile that Audi has done so much to popularise over the years. It built the original fast estate with the RS 2 back in the 1990s, and references that model with the latest A4 Avant's flared wheelarches and aggressive front air intakes. Build quality inside is impeccable and the boot is a handy 505 litres. Mainstream engines range from 150hp to 204hp, many of which are available with quattro all-wheel drive, and you can pick hotter versions in the shape of the S4 RS4. The latter comes with a snarling 450hp and an even broader stance.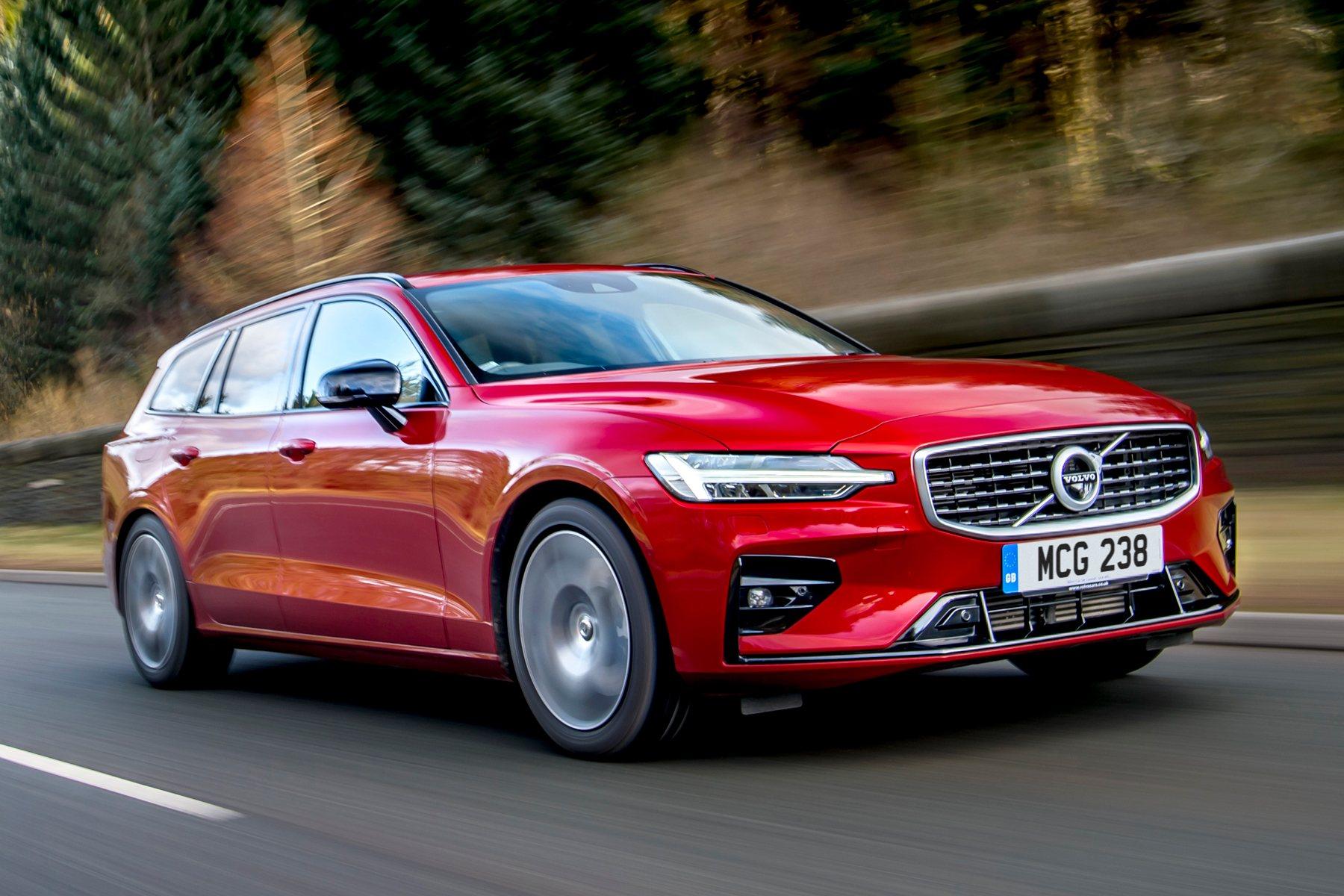 Volvo V60
The Volvo V60 is a very stylish and attractive estate from one of the stalwarts of the sector. The crisp lines are rakish, sporty and appealing, particularly with the sparkling colours and big alloy wheels Volvo allows you to choose. With 529 litres of space, it's a practical estate car, while passenger space is good and the dashboard is a work of art. We love the portrait-format touchscreen and exceptionally supportive seats. Regular mild hybrid versions are available alongside high-power Recharge plug-in hybrids, now with an EV range of more than 50 miles. You can also have an all-wheel-drive V60 Cross Country with more rugged body addenda.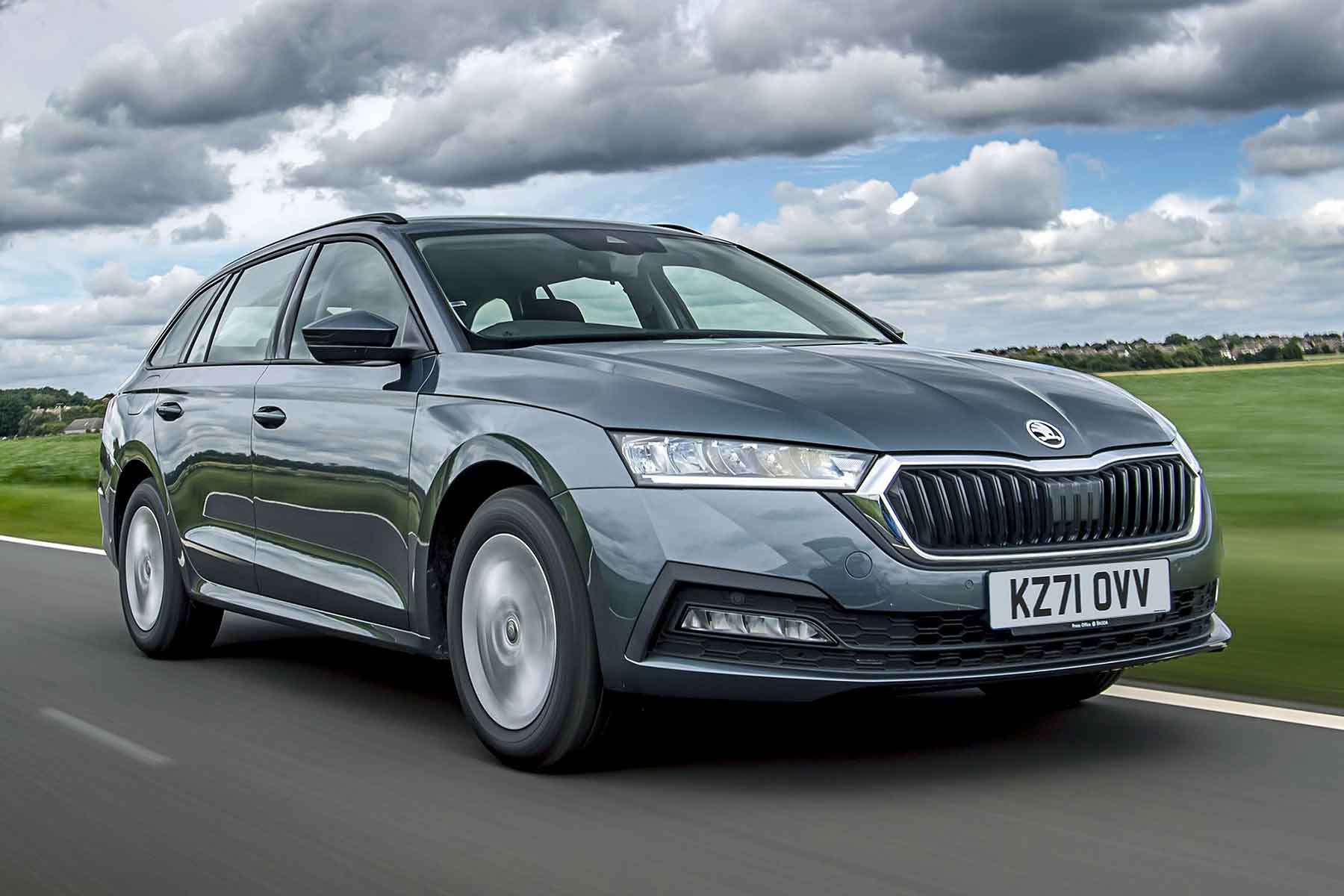 Skoda Octavia
The Skoda Octavia has been a highly regarded estate car for years, because of its sheer practicality. Even with the seats up, it offers 610 litres of exceptionally well-planned space; fold them down and it carries a mammoth 1,740 litres. This makes it one of the biggest family estate cars you can buy – yet still for prices that are decidedly attainable and good value. The simple elegance of the interior conceals a good amount of gadgetry, and you'll hear no complaints from those in the back as rear-seat space is vast. You can even get a high performance Octavia vRS estate, which Skoda is now offering in plug-in hybrid guise with a similarly fruity power output.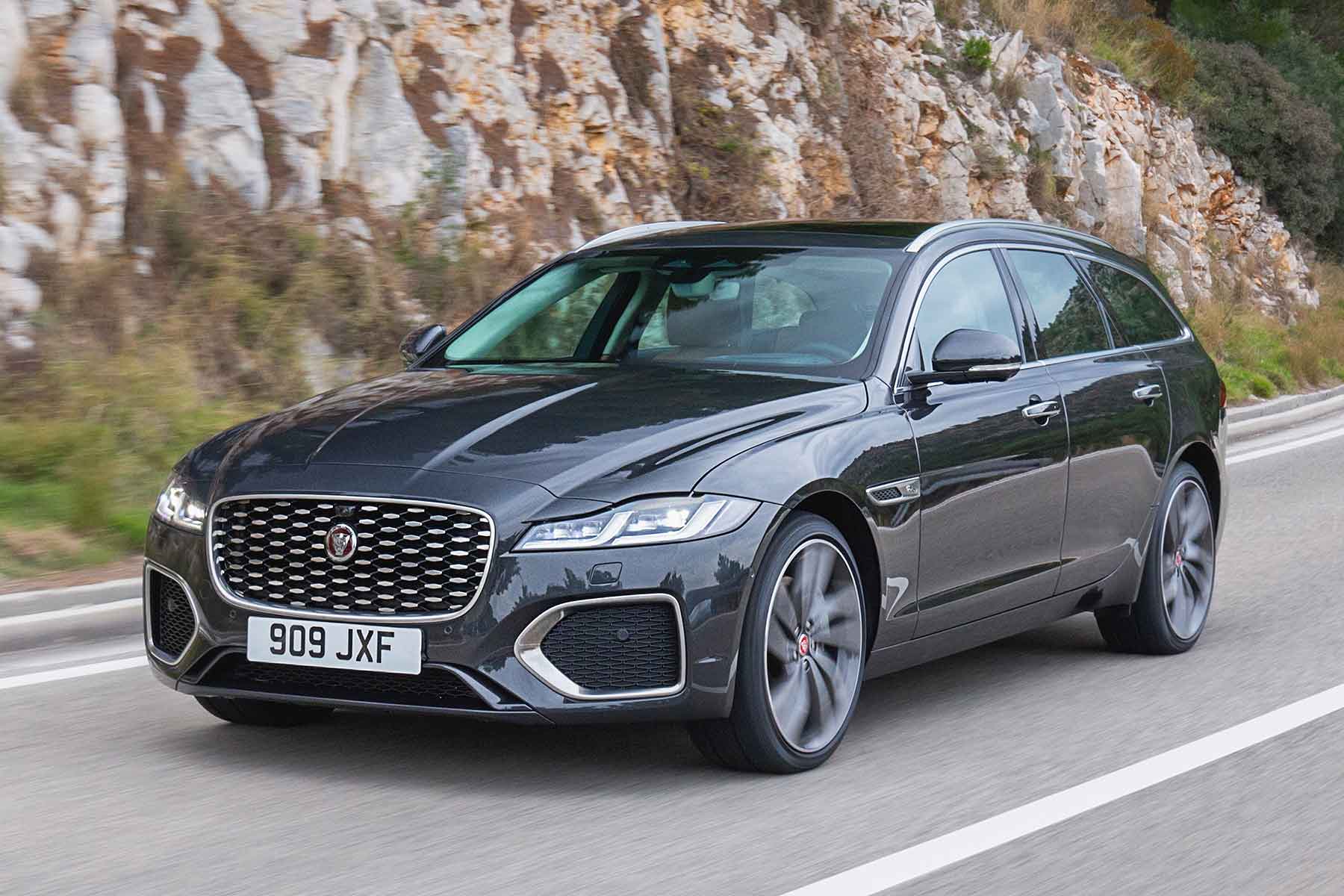 Jaguar XF Sportbrake
We're including the Jaguar XF Sportbrake here because it is a large estate car that offers exceptional value for money. Jaguar slashed prices a while back, meaning you can get into an XF Sportbrake from just over £37,000. For comparison, a BMW 5 Series Touring starts from almost £43,000. The XF has a beautiful new interior that is luxuriously finished and equipped with the firm's latest Pivi Pro infotainment system. Active noise cancelling means it's particularly refined, even alongside hushed rivals. The XF Sportbrake also drives beautifully, with engaging handling and a comfortable ride, meaning the only downside is a lack of fuel-saving hybrid engine options.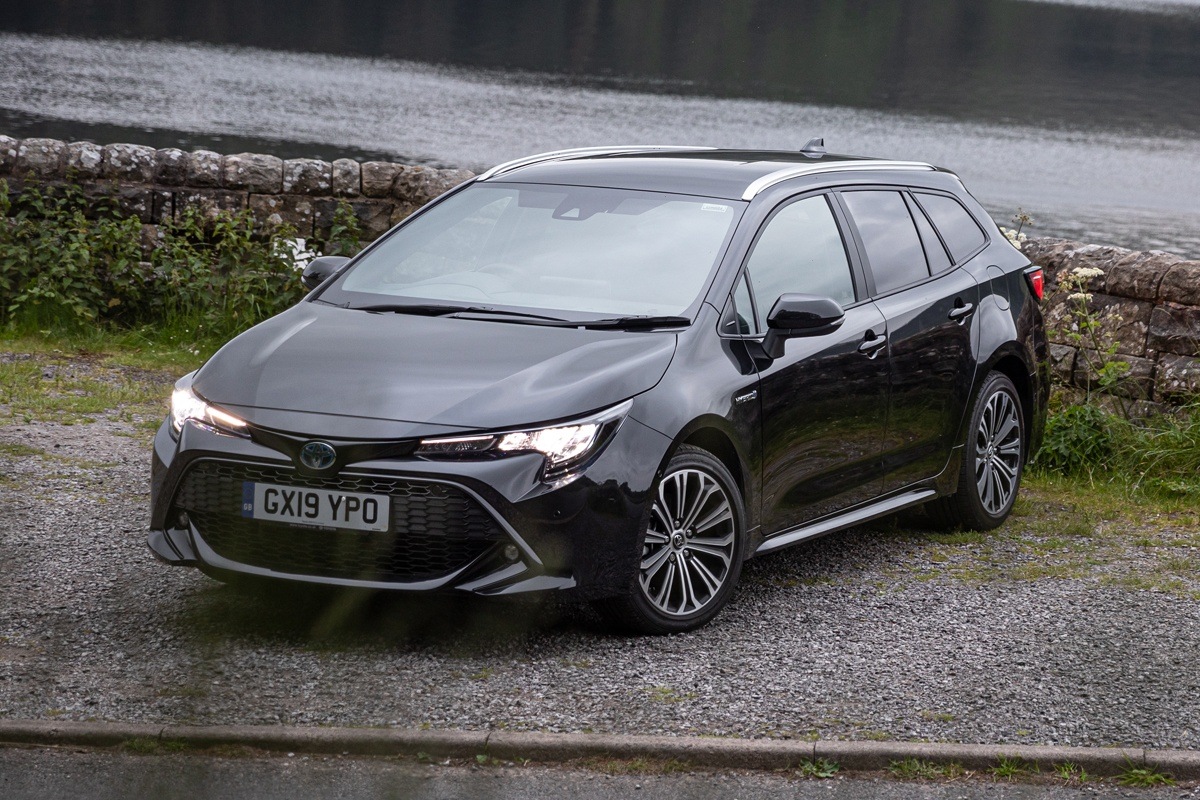 Toyota Corolla Touring Sports
Speaking of which, the Toyota Corolla Touring Sports is a pure hybrid range of estate cars. Pick from a 1.8-litre hybrid (the same engine used in the Toyota Prius) or a newer and more powerful 2.0 hybrid option that, despite its 184hp output, is almost as fuel-efficient as the smaller motor. Both serve up a surprising amount of real-world electric motoring. Go for racy GR Sport grade and you get 18-inch machined-face alloys and sports seats. The regular model has almost 600 litres of boot space, which dips slightly to 581 litres in the 2.0 due to its bigger hybrid batteries.
Which is the roomiest estate car?
Larger estate cars are generally roomier than smaller ones, but don't take that as a rule of thumb. Much also depends on the shape of the car's rear end; smaller and boxier estates can actually pack in more than bigger but sleeker models. One of the largest and best-value estates with the seats down is the Skoda Octavia, while the Volkswagen Golf impresses with its seats-up space. If you want the most capacious car overall, consider the Skoda Superb estate or Mercedes-Benz E-Class estate.
Can you get an electric estate car?
A growing number of electric estate cars are coming – Volkswagen plans to show a production version of its ID Vizzion EV concept car later this year, for example – but for now the choice is limited to the MG 5 EV. Otherwise, if you want to drive an estate car that can run on electricity, you need to pick a plug-in hybrid. Some of the latest plug-ins have a seriously impressive electric range, with the Volvo V60 offering over 50 miles, and the Mercedes-Benz C-Class estate pushing this beyond 60 miles.
Which is the fastest estate car?
The fastest estate cars are load-lugging thrillers that will carry the dog to speeds it never knew existed. While many are capable of over 155mph, a 'gentleman's agreement' between car manufacturers means most of the fastest estates are capped to that speed. However, some manufacturers will allow you to pay extra to have this limiter removed. The Audi RS6 Avant is capable of up to 174mph, for instance, while the remarkable Mercedes-AMG E 63 S estate will reach 186mph.
More family car guides
More expert car guides